Best Instagram Video Format and Resolution for 2022
Today, when we talk about content on Instagram, the most engaging and addictive content medium has to be videos! And to make and post these high-quality videos, it is necessary to be aware of the best Instagram video format and resolution, size, and specifications that come along with each kind of video.
Instagram has become one of the most popular means of sharing top-notch content for businesses, brands, influencers, and many more. Everyone is chasing that organic Instagram growth, and making sure your videos are top-notch is one way you can go about this.
There are a few technical aspects you should pay attention to, before uploading your Instagram video. But before we get into these technical specifications, let's look at how important it is to choose the best video format for Instagram through a few stats.
It's pretty confusing to decide whether you should post your videos in landscape or portrait, or even square mode! But maybe these numbers can give you a little more clarity.
Square video (1:1) results in 30-35 percent more video views and an 80-100 percent increase in engagement than landscape video (16:9).
Square videos take up 78% more real estate in a person's mobile newsfeed than a landscape video. So, the more space you are occupying on your user's screen, the more likely you will sell more.
Vertical video format drives more engagement within the Instagram feed. This is because 96% of mobile consumption is vertical.
Over 1 billion people use the vertical video format on Facebook-owned properties like Instagram and Whatsapp.
Now that we've got our numbers let's look at the different options Instagram offers to post quality videos.
● In-Feed Videos: In June 2013, Instagram entered the revolution of incorporating videos in one's feed and it began with the option of posting short videos of 15 seconds and increased to 60-second videos over the years. Instagram also introduced the option of posting multiple videos ranging from 2 to 10 as a single post that users can just swipe through.
● Instagram Stories: Then, three years later, Instagram stories came with a feature of posting photos or videos and adding desirable layers and effects. These stories would disappear automatically from the user's profile in 24 hours.
● Instagram Live: Soon, the option of going live was introduced, allowing users to have real-time interactive sessions with their audience.
● IGTV: In June 2018, Instagram put an end to the difficulty of posting just short videos by launching IGTV, which lets users post videos of up to 10 minutes.
● Instagram Reels: Finally, in July 2020, Instagram launched Reels. Like the popular video-making app Tiktok, it allows users to record videos with desired songs and plenty of other exciting features.
Now let's get a clearer idea about the best Instagram video format and resolution along with other specifications for posting videos on Instagram.
The Best Video Format for Instagram Video
---
The best and most common Instagram video format is MP4. So, whenever you export your video, make sure to do so using the file extension .mp4. It is the best Instagram video format based purely on its simplicity and accessibility.
Almost all smartphones or various editing software allow you to create videos as an mp4 file. Typito too acts as an Instagram video format converter, and you can use it with ease to export videos with the necessary dimensions.
Let's look at some of the Instagram video specs in 2021 required for the different video types if we're going to get into specifics.
Instagram Feed Video
Videos on Instagram can vary with a duration of 3 seconds to 60 seconds. You can also post multiple videos as a single post and each of these videos can be 60-seconds long.
Instagram accepts MP4 or MOV formats for Instagram videos.
The maximum filesize for square, portrait, and landscape videos is 4GB.
Instagram Story
Instagram stories should be vertical and must be a maximum of 15 seconds long. If your video stories are more extended, these get split into several clips that play in sequence.
The video should be in MP4 or MOV file format.
The maximum file size can be 4GB but try to stay under 15MB because it will help reduce the upload time, especially when you have to post multiple stories.
Instagram Live Video
Instagram live videos should be vertical and can be a maximum of 60 minutes.
The videos, just like the rest of them, should be in MP4 or MOV file formats.
The maximum file size is 4GB.
IGTV Video
These videos can vary between 15 seconds and 10 minutes.
They should be uploaded as MP4 or MOV file formats.
The maximum filesize for videos 10 minutes or less is 650MB and 3.6GB for 60-minute videos.
Instagram Reels
Instagram reels allow users to make fun and exciting 30-second videos.
The file format should be MP4 or MOV to upload it.
The maximum file size is 4GB.
So make sure you incorporate these Instagram video specs to create amazing videos.
The Best Aspect Ratio, Dimensions, & Resolution for Instagram Videos
---
The aspect ratio of a video is just the relation of its width to its height. For instance, a video with an aspect ratio of 9:16 means it is 9 units wide and 16 units high.
Dimensions are determined by the number of pixels in a single frame. A video with dimensions 1080px by 1920px means it will be 1080 pixels wide and 1920 pixels tall.
Now, there are different Instagram video sizes and resolutions used for each kind of video on Instagram. Let's look at each of them and what type of video works the best with each.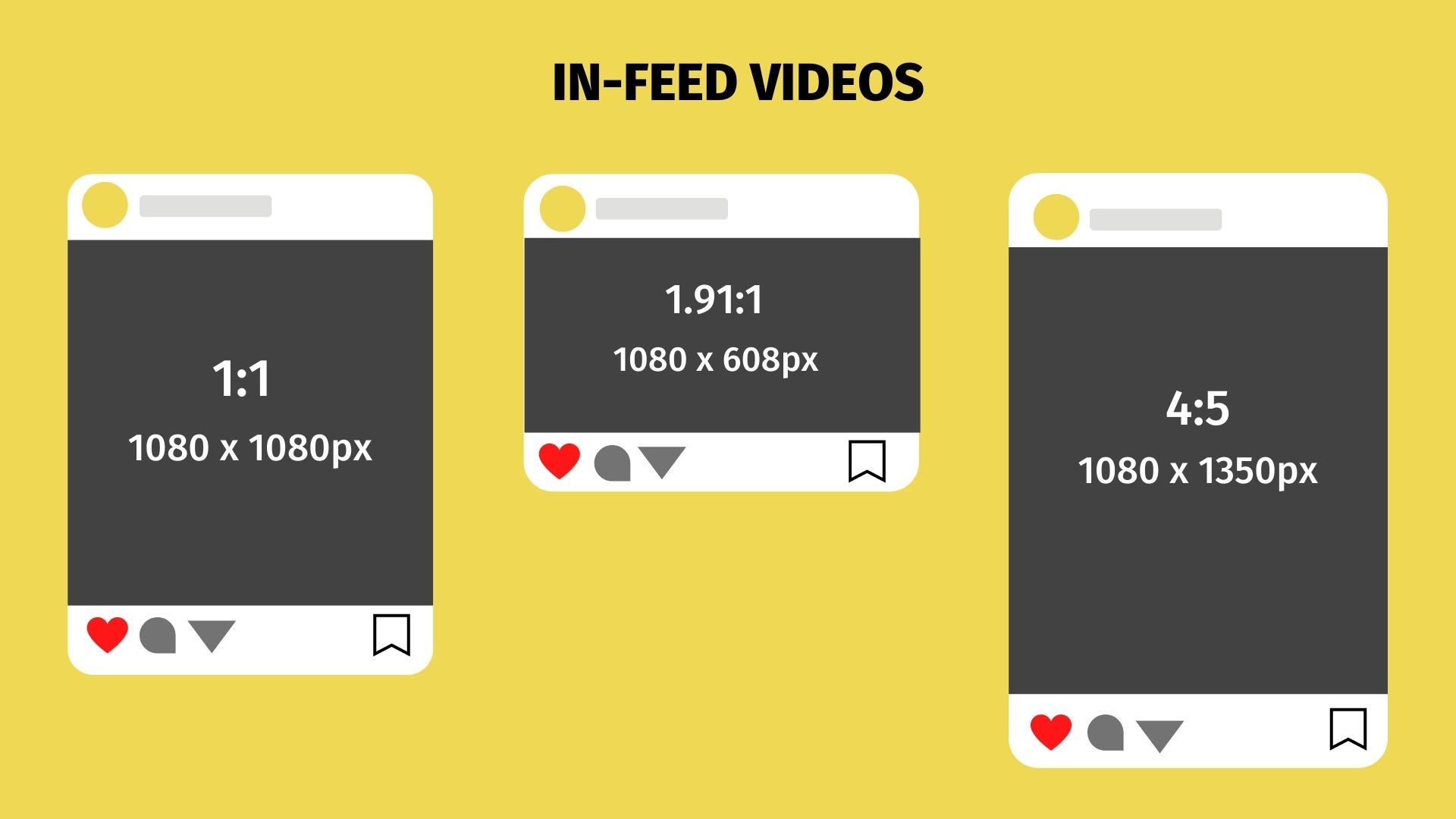 The aspect ratios for In-feed videos on Instagram (Square, landscape, and portrait)
Square Videos (1:1)
Square videos are suitable for posting In-feed videos and Instagram Carousels.
The recommended resolution for the best quality would be 1080px by 1080px and the minimum resolution is 600px by 600px.
Square videos gain more engagement and views in comparison with landscape videos.
Portrait Videos (4:5)
This is again used for In-feed Videos and Instagram Carousels.
The recommended resolution for portrait videos is 1080px by 1350px and the minimum resolution is 600ox by 750px.
Portrait videos are highly preferred because vertical videos allow you to add captions and more information to the video.
Landscape Videos (1.91:1 to 16:9)
Landscape videos are mostly used for In-feed Videos and Instagram Carousels. IGTV videos can also be viewed in the 16:9 aspect ratio by turning your phone.
The recommended resolution for these videos is 1080px by 608px and the minimum resolution is 600px by 315px.
Landscape videos are not that popular or chosen these days because people have shifted to vertical videos but they are still used to maintain the look and feel of a previously recorded video.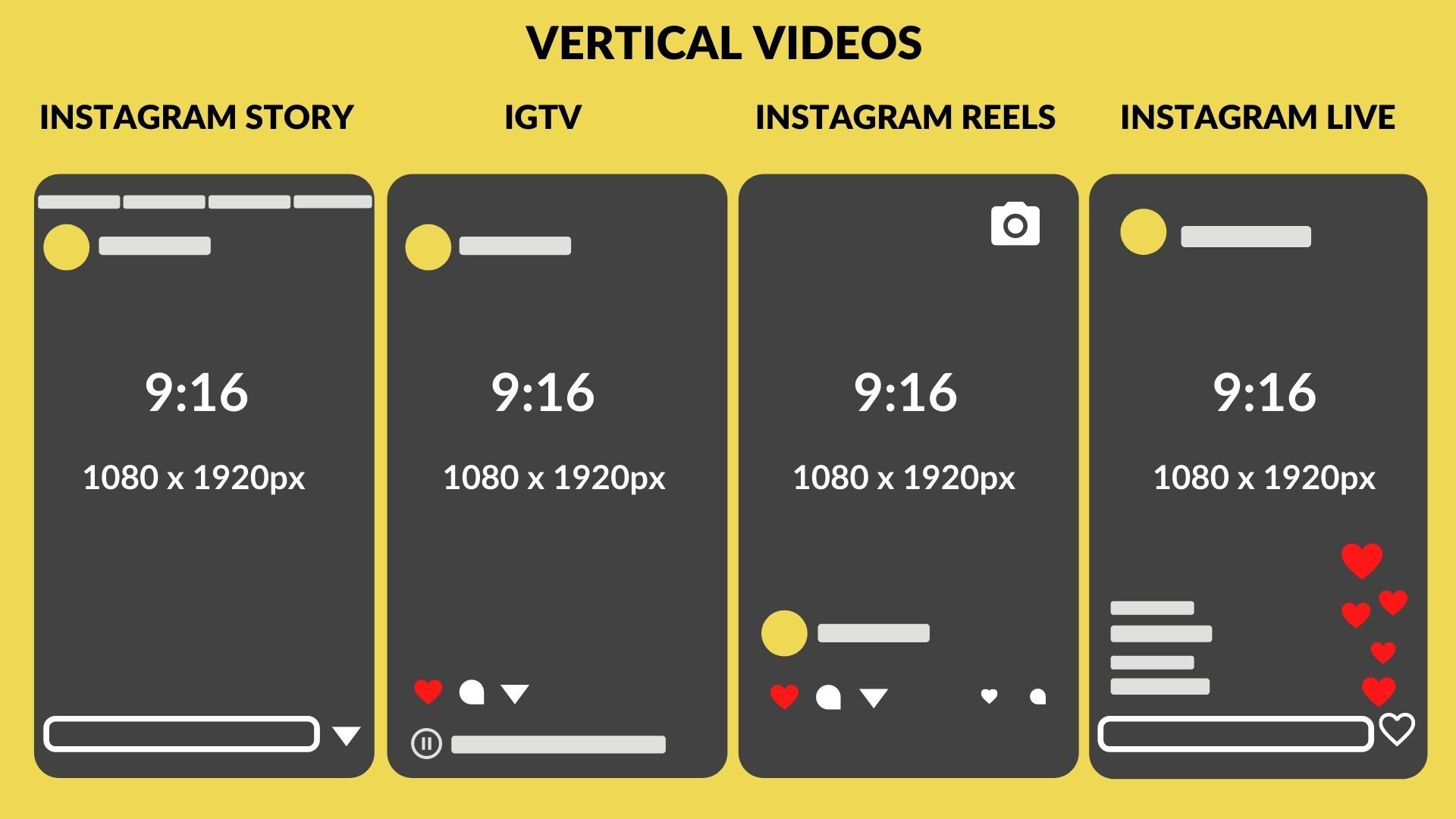 The aspect ratio for vertical videos on Instagram (Instagram story, IGTV, Instagram reels, Instagram live)
Vertical Videos (9:16)
This is the best aspect ratio for Instagram videos and is used for Instagram Stories, Instagram Live, Instagram reels, and IGTVs.
The best resolution for vertical videos is 1080px by 1920px and the minimum resolution is 600px by 1067px.
Vertical videos have proved with their numbers to be much more useful than square videos and landscape videos. So to keep up with the trend, it's time to start shifting to vertical videos.
How To Edit Instagram Videos Online
---
Well, now that you're aware of all the technical specifications required to create the best Instagram videos let's get to work and make some amazing videos!
Here's a simple guideline on how to use Typito to create Instagram videos with the best format and aspect ratios.
STEP 1: Choose an Instagram Video Format
Now before we begin, make sure you've logged into Typito. You can create an account for free to start editing your videos.
Once you've done that, you're good to go!
Create a new project and select the type of video you would like to create. In this case, it would be an Instagram video.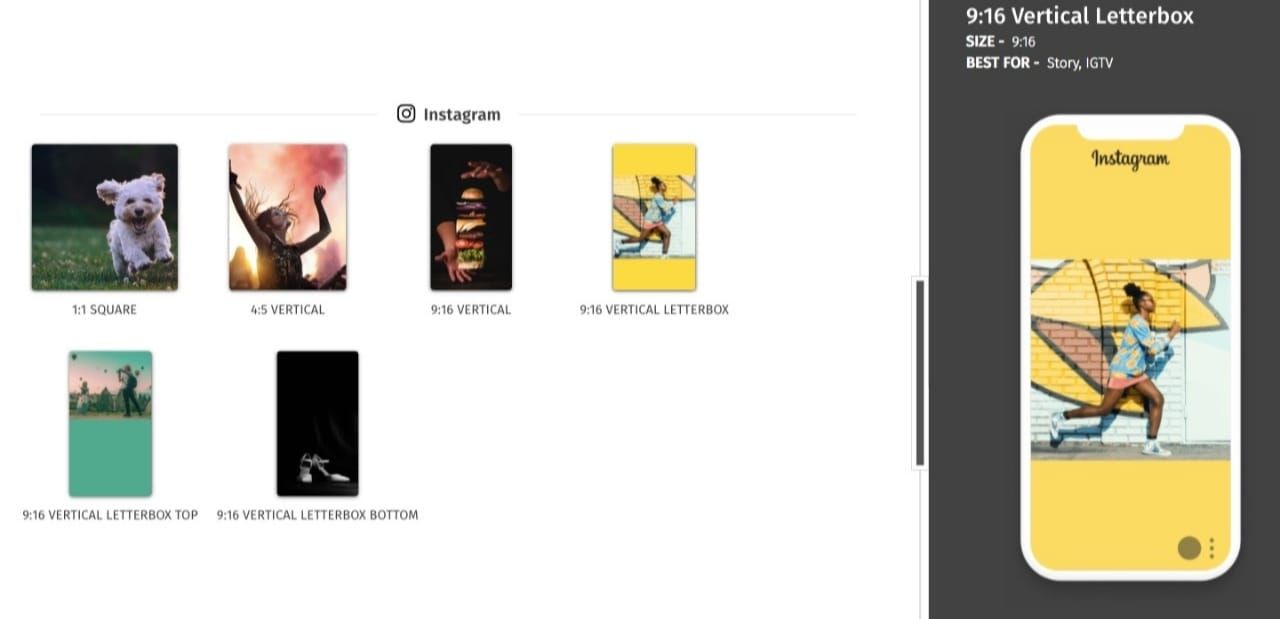 The different aspect ratios Typito offers for Instagram videos
As you can see, you can choose your desired format and aspect ratio as per your needs. Typito also recommends the kind of video (IGTV, Stories, etc.) that would work the best for each format and aspect ratio.
Here's a list of the different aspect ratios Typito offers for your Instagram videos.
● 1:1 SQUARE: a recommended format for your Instagram feed videos. It's way better than any landscape video and tends to be more engaging.
● 4:5 VERTICAL: It is another highly recommended format for your Instagram feed videos. It displays videos well for vertical view and makes it easier to post across all mobile channels. Mobile users tend to hold their phones upright 94% of the time, and this format makes it easy to grab attention.
● 9:16 VERTICAL: This is the best Instagram aspect ratio and works best for Stories, IGTV, Live videos ad Reels. It gives you a nice full view and fits your entire mobile screen for better viewing.
● 9:16 VERTICAL LETTERBOX: Letterboxes are nothing but small bars that can be added to your footage to give it an irregular aspect ratio while still maintaining its 9:16 size. They optimize square videos for IGTV and Stories. They give you the advantage of adding captions to your videos without disturbing the actual video.
● 9:16 VERTICAL LETTERBOX TOP/BOTTOM: They, like the others, work best for Instagram stories and IGTV. You get a lot of space at the bottom or top to make your videos much more informative by adding captions and other forms of text.
You might have noticed that almost all the formats for the videos are vertical. That's because Instagram videos are the best when vertical and well Typito provides you with the best!
Choose a format to work with and click the create button. If you want to resize your video later, you have the option to switch to an alternate video format from the editing workspace.
STEP 2: Upload your Video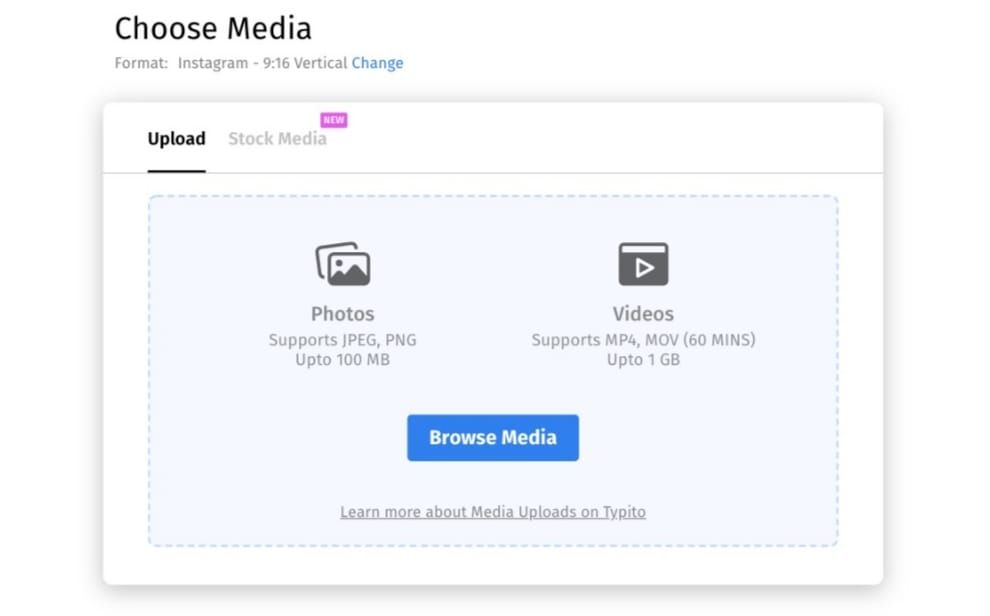 Here, you can upload your videos from your computer or the stock media
Once you've chosen your format, it's time to upload your video.
You can choose to upload your video from your computer or use the high-quality images and videos under the stock media tab. Either way, do wait for a few seconds to import your video before you're ready to edit it!
STEP 3: Edit your Video, Add Captions and More
Now, it's time to design your video and bring life to it.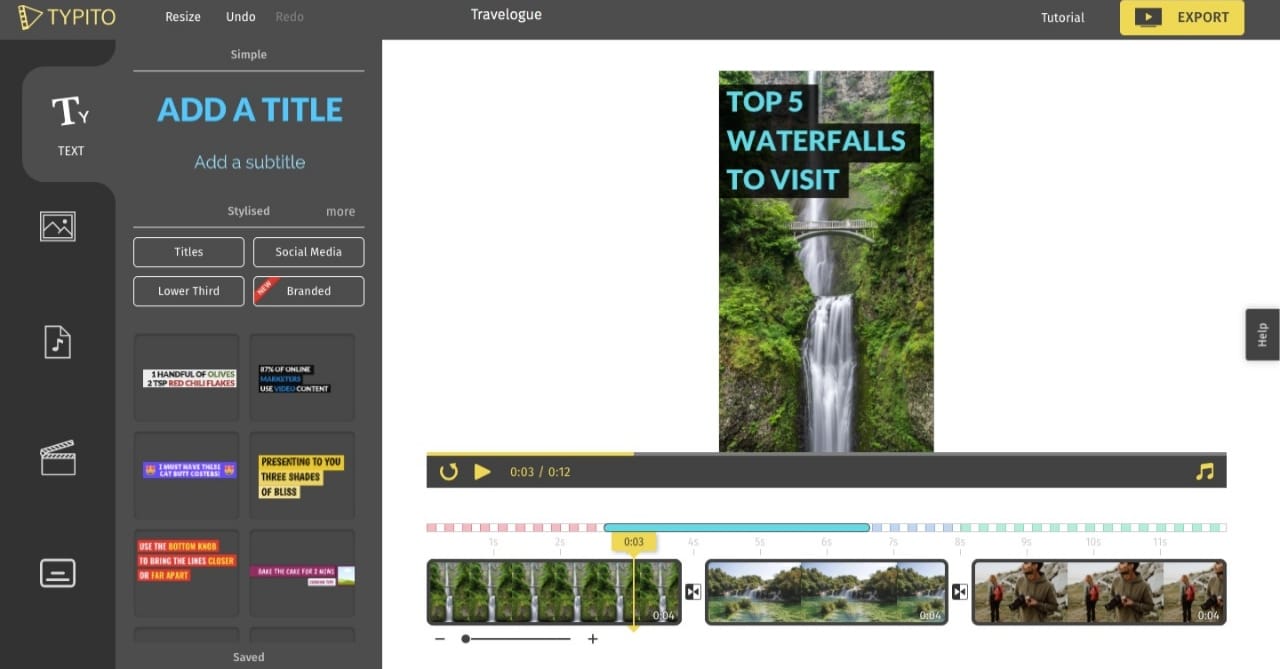 Add text and other animations for your videos here to enhance them
Feel free to explore your editing workspace, but to give you a small tour - you'll find the main editing tools displayed on the left panel.
You can add text in the form of titles, captions, and a lot more. Click on any of the stylized text templates to add it to your video. You can customize to change the font color and more, to match your video tones and style.
If you're editing a podcast or an Instagram Live video, you might want to consider adding subtitles to your video to make it more engaging even if watched on mute.
Typito's auto-captions feature comes in handy to auto-transcribe your videos with subtitles. You can also add subtitles and captions to your video manually or by uploading an SRT file.
You'll also find tools for adding images, shapes, and various icons related to social media to make your videos much more effective.
You can also add background music to your Instagram videos from the Audio tab. Click the Audio tab to browse through several audio tracks that you can add to your video or upload your own audio track.
ProTip - If you change your mind about the dimensions of your video, you still have the option to resize your video. You'll find the resize option on the top left of your screen.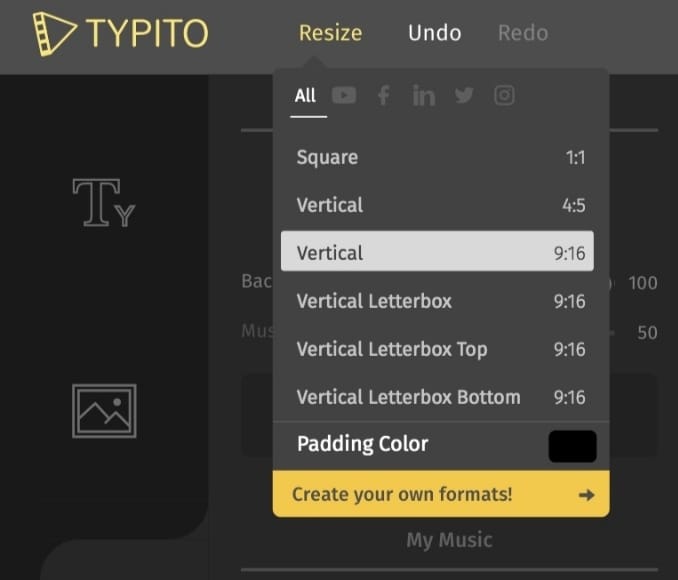 You can resize your video here if you change your mind while editing them
STEP 4: Export your Video
Once you're done editing your video, you can give your edited video a quick preview to ensure everything is in place before hitting the export button.
Click 'Export' displayed on the top right corner of your screen, and you're all done!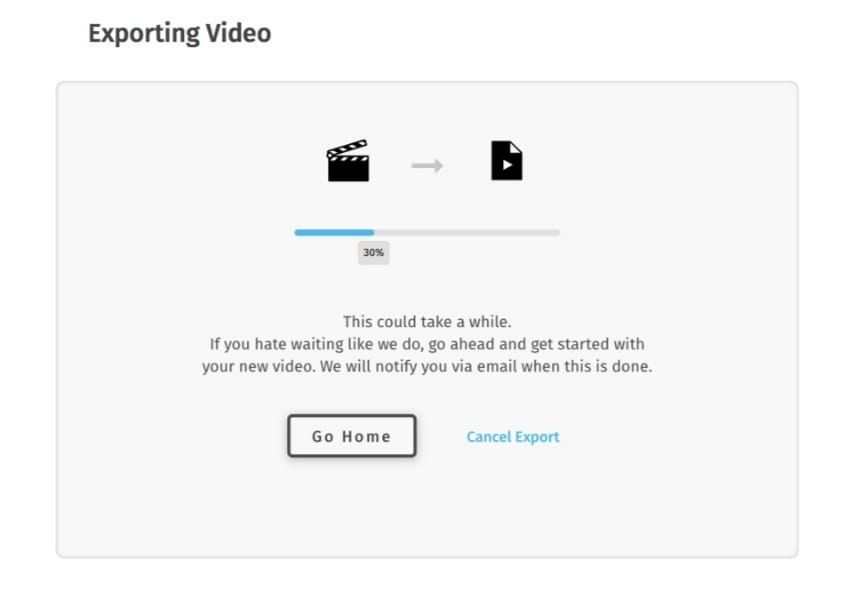 Exporting your final output with all the edits
Now you've just got to wait for a few minutes until the video is exported and then you can go ahead and download your project or share your Instagram video directly via a link.
Tips to Upload High-Quality Instagram Videos
High-quality videos are an absolute need if you're looking to make your videos stand out (well, the content matters too, but stunning high-quality visuals grab attention at first glance). If you're looking for more followers for your page, this is something you need to focus on along with other techniques like the best time to post content.
Instagram tends to use its built-in algorithms to shrink videos to balance its user experience. This is why it is essential to meet every video requirement like the Instagram video format and resolution down to the detail, although this can get pretty challenging sometimes.
To help you stay on top of your Instagram Video game, here are a few tips you might want to consider:
Be sure of the type of video that you're uploading so that you're ready with the necessary file format before posting it.
Try to shoot with a professional camera so that your videos are of 4K quality. The higher the quality of your pre-recorded video, the better your Instagram video will look after uploading it.
Connect to wifi while posting on Instagram.
And finally, use a video editor like Typito to edit your videos so that your videos are exported in the right video format and dimension.
Things To Keep In Mind For Making Great Videos On Instagram
By now, you're familiar with how impactful Instagram videos can be. Apart from knowing the best Instagram video format and resolution required, it's time to make the most of this medium and capitalize on video with some powerful tips to ensure your videos cut through the clutter and stay optimized.
● Keep Your Videos Short
As human beings, we're all guilty of a pretty short attention span, and so you have to make sure you grab their attention in the first few seconds of your video.
Here's a 14-second video by Brit + Co who posts a lot of creative content to give you an example. This video is not only short but also grabs the viewer's attention because of its appealing visuals.
● Add Subtitles to Your Video
Here's where Typito comes to your rescue again! Text in the form of captions, titles, and subtitles can help enhance your video. It also helps the viewers follow your video and understand them a whole lot better.
Here's an example of Farrow & Ball, who share videos on how to decorate homes better. The subtitles under the video help you follow through and understand the video a whole lot better.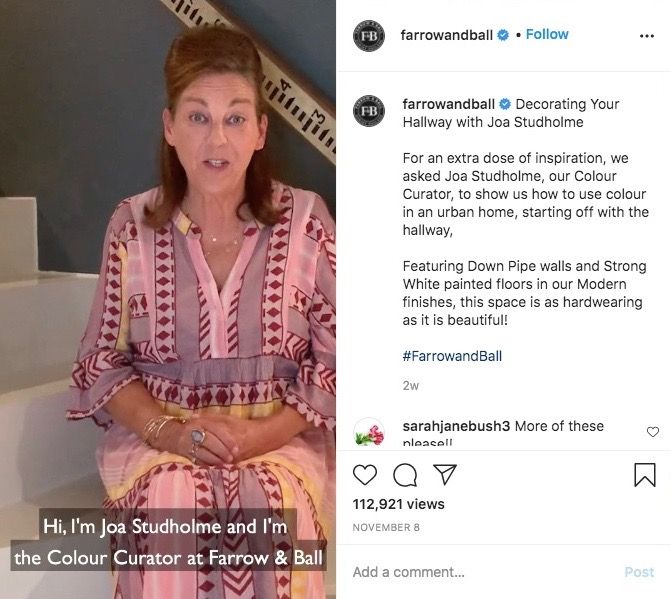 Use captions like Farrowandball for videos that provide instructions and descriptions
● Simple Language Works Wonders
The audience just wants to get to the point. So using complicated language and sophisticated words like 'sophisticated' make your content difficult to understand. A recent video campaign posted by Ben and Jerry's of a recipe blends compelling visuals and the use of simple language to craft a great video.
● Doubledown on Instagram Stories
Instagram stories are viewed by millions of people. What's great about Instagram Stories is how interactive these are. You can use stickers, links, hashtags, and various other features to create the most engaging post for your brand. Oreo's Instagram stories are an excellent example of eye-catching content with their use of bold text captions, stickers, polls, quizzes, that users can tap on to interact with.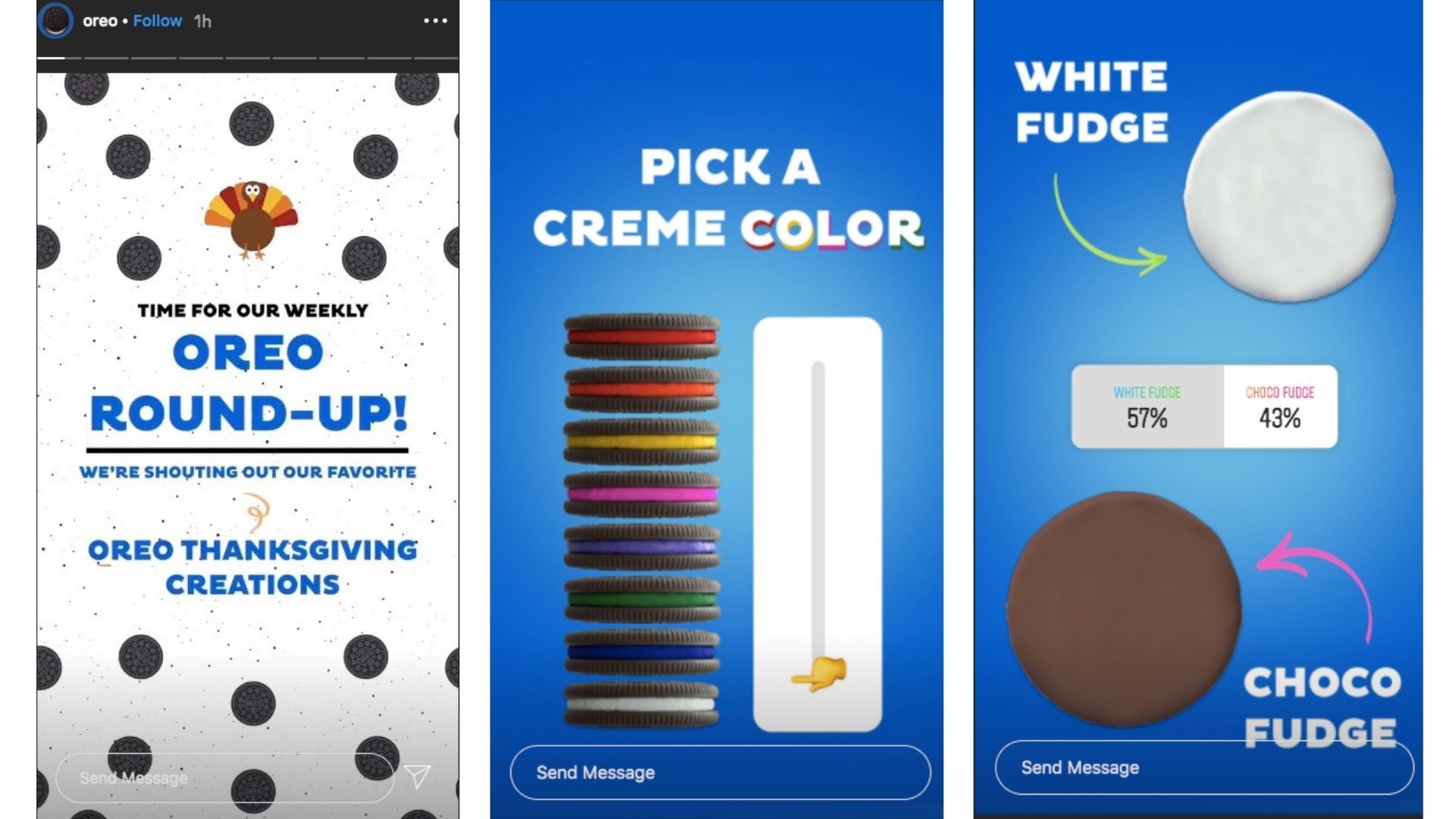 Make use of all Instagram's story features creatively like Oreo here!
● Hype Up Your Instagram Live
Going live is a great way to promote your product as you get to answer questions and interact in real-time with your audience while marketing your product. Be sure to stir up a lot of hype before your scheduled Instagram live by uploading Instagram stories with countdowns to build up the wait.
Benefit Cosmetics is one brand that makes use of Instagram live effectively. They add a friendly touch to their videos and show their viewers how to use their products while also giving them various beauty tips.
● Choose an Engaging Thumbnail
Thumbnails decide whether the person will view your video or skip it, so make sure you only settle for thumbnails that are appealing and catchy.
Preferably, try and add text and captions to the thumbnails to give viewers context about the video and arouse curiosity in them. Here are some examples of how fitness page mindbodygreen creates elegant thumbnails to give you a bit of inspiration.

Instagram reels of Mindbodygreen with their engaging thumbnails
● Use Instagram Insights to Review your Video's Performance
This is a very useful feature as it helps you keep track of what kind of videos appeal to the audience and what doesn't. It helps you keep improving and focusing on what's best for your audience.
Remember to have a business account set up to access this analytics tool.
These are some of the key metric points you can analyze using Instagram Insights.
You can get insights into your followers' demographics and behavior. It will help you target your audience more precisely.
You can view metrics for individual posts as well. This allows you to find engagement stats like the number of likes, comments and saves, and information like profile visits and website clicks.
You also have the option to evaluate your Instagram stories. Since Instagram Stories are incredibly engaging, this is great to know how many people tap your stories forward to know more, tap them back, swipe away, exit, and reply. The numbers here will help you understand what types of content actually resonates with your audience.
To Conclude,
Instagram has become very essential in marketing brands and promoting content. There are a billion accounts on Instagram and about 900 million users follow at least one business account, making high-quality videos the need of the hour.
As of 2021, the platform is expected to have 117.2 million U.S users. And let's keep in mind that U.S users only account for 11% of the total Instagram audience.
I hope these whopping numbers encourage you to up your game and invest your creativity to make great videos for your brand. For any additional help to design highly engaging videos, Typito has a ton of tools to help enhance your videos.
While we're rooting for your creative ideas, we're also here to ease out your process of creating well-designed brand videos for your Instagram Video Marketing.