How to Make a Video Resume: A Detailed Guide
If you're a 'How I Met Your Mother' and 'Barney Stinson' fan, you remember the crazy video resume he shares in one of the episodes. Not to rain on your favorite series or character but steer clear of his "how to make a video resume" idea because it is not only outdated but, for the lack of a better word, outrageous as well. That being said, Barney was on to something.
Video Resumes are the new-kid-on-block with a promise of changing the conventional route of hiring and job application. With video resumes, you tend to avoid the Resume Black Hole, in which your resume gets sucked into the 'never-to-read' pile. In fact, there are chances that recruiters might not even open your conventional resume, let alone consider it.
Did You Know?  Contrary to the popular belief, recruiters recommend  two-page resumes. Data shows that recruiters are1.4x more likely for entry-level positions and 2.9x more likely to pick a candidate with a two-page resume for managerial roles.
The idea is to sell your resume and you can do this by interactive storytelling and what better way to do so than making a custom resume video?
In 2021, a video resume is the best way to showcase your personality visually and not just on a piece of paper.
In many cases, a video resume is your first introduction to the hirer and you have complete control of the process, as opposed to the awkward exchange of nervous pleasantries when you meet an HR for the first time.
So, stick around until the end to learn the scripting, shooting, editing, and everything in the process of creating a great video resume.
How Can a Video Resume Help You in Your Job Hunting?
This has a lot to do with respect to the industry. A video resume can be a great addition to your portfolio if you are applying for a job interview at a design agency or probably a startup that likes to take things differently. However, it does not mean you cannot go to traditional industries with a video resume. You double-check with the recruiters if you can submit a video resume.
All said and done, a video resume is a helpful tool in getting that job as:
It gives your potential employer a preview of your overall personality.
Makes it more engaging and interactive.
Gives your employer an insight into your soft skills and enthusiasm for the position.
Good to Know:  Ask your HR if a video resume is possible because many companies do not prefer this format for the fear of discrimination and other unlawful acts. It is always good to know before you pour your efforts into making one.
Are Video Resumes a Good Idea?
Now that is a million-dollar question!
Let us take a look at where your video resumes might work like a charm.
Creative Fields: If you are looking for opportunities in creative fields like motion graphics or cinematography, a video resume is sure to give you an edge.
Performing Arts: Maybe if you are into performance arts, then a performance-based video resume will give your potential employer a direct insight into your talents and skills!
Sales: Going for less contemporary roles like sales, a video resume shows your charisma and your ability to convince people to buy stuff, basically a thumb of rule skill every company looks for in its salesperson.
So long answer short, if you are in an expressive profession, slightly less conventional like manufacturing, video resumes are a good way to go!
What Should I say in Video Resume?
Like your paper resume, your video resume needs to follow few instructions to catch the recruiter's eye. It needs to be concise as well as highlight your skills and qualities.
Here are some points you must include in your video resume:
A brief mention of academic qualification.
Prior experience and key learnings.
Skills and expertise and how they can help the organization.
Professional incorporation of graphics.
High-resolution visuals
Consider your video resume your branding tool, now sell your candidature the right way!
Popular Types of Video Resume
While many may believe that there is only one type of video resume, we can categorize it into two parts:
Talking-Head Video Resume
Text-Based Video Resume
Let us take a deeper look into it each.
Talking-Head Video Resume
In such a video, the sole focus lies on the person aka  the candidate talking into the camera. You talk about your experience and qualification in a succinct manner and prove your mettle as a candidate worthy of the position.
Text-Based VideoResume
If you are camera shy, that's all right - not every resume needs to show the candidate's face. However, it does not mean that you are excluded from the benefits a video resume has to offer!
There are other styles that you use:
Slideshow Video Resume: Your resume in a presentation format where each slide talks about your strength, skills, academic qualifications, and other attributes that you would list in a paper resume.
Animated Video Resume: Usually leveraged by those with a vocation in graphics or motion pictures, animated resumes are compelling video resumes that can hook your recruiters and also display your skills at the same time. A win-win indeed!
How do I Make a Video Resume?
It all starts with a structure. The structure usually involves 3 basic and simple steps:
Planning and ideating
Filming
Editing, exporting and emailing
Planning & Ideating
If you're planning on creating a video resume, you must already have an extensive traditional resume, and this is a good place to start.
Go through the entirety of your updated resume and start writing a script which you would later read for the video resume. Make this script crisp, conversational, confident, and contextualized to the field of your profession.
In the end, read the script out loud and note the time it takes for you to clearly present it. Ensure that you're not adding or leaving out crucial information in the process, and the optimal duration of a video resume would be between 45 seconds to 1.5 minutes.
Make sure to answer the most frequently asked questions like "tell us about yourself" or "why should we hire you", but don't overdo it. Emphasize your qualification, skills, experience, and other important aspects whilst maintaining sentences written with strong action verbs.
Introducing yourself based on the type of position you're looking for works wonders for the hirer to picture you in that place so make use of this. Try to seem charming and jovial and not glum and uptight because no one likes to work with a nervous nellie.
The last part of the ideation is the rehearsal. It helps to speak in front of a mirror for practice. Put on your best professional attire, look more than just presentable, wear a smile, and get ready to film.
Good to Know:  In addition, if you're creating a video resume for a specific company or an employer, add cover note information specifically for that company. This not only helps the employer picture you in the position but if you fit the company's environment at large.
Filming
Ask anyone who's held a video camera long enough, they'd say lighting is everything. It is best to shoot in the morning when the light hits from an obtuse angle which will make for a cinematic shot.
Let there be light!: Indoor shooting can be tricky in terms of adjusting the lights. You can use different types of curtains and light reflectors to soften the brightness and diffuse the direct light. Allow the light to fall from the right, left, or directly on your face and ensure nothing messy, bland, or obscene is visible behind you.
Hold there steady: Place a camera or a phone in front of you, ensuring it is steady, and use a tripod for best results. Audio is as crucial as the video so it pays to have no ambient noise around you and that your voice is heard clearly.
Furthermore, take a few rough shots, test the focus, voice clarity, brightness, exposure, and other visual aspects and feel free to use a microphone, ring light, or other shooting gear if you own them.
Keep the frame centered: Frame yourself in the middle including your shoulders at least until half of your torso is visible. Observe how news reporters on popular channels like CNN and BBC are framed and seated for a better idea.
Go-time!: After testing everything, it is go-time. Press record and start narrating from the script you wrote earlier. Memorize your script the best you can as we all know how hilarious news reporters look when they read off a teleprompter above the camera.
Things to Know
Note that if you don't have experience filming or editing videos, more footage is better so shoot snippets, and shoot multiple angles.
Try to visualize the final results every time you watch the recorded video before editing it. Ignore minor errors as they can be easily removed during editing as tools provided by Typito allow you to edit like a pro.
One of the most important aspects of making a video resume is the closing statement. Closing with a strong and straight forward statement establishes you as a confident, independent, and hard-working employee most companies look for.
Editing, Exporting, and Emailing
Editing is the step where all your hard work can be tied in a neat little bow. When done skillfully, a mediocre video can come alive during processes like color grading, audio mastering, and many others.
To begin with, review all the captured footage one after the other, make a folder, and save the best ones. Hold the script as a reference point and cut the footage and create a rough story.
Use simple template transitions from one footage to the other, and make sure you're not bombarding the viewer with contact information. Use fade in, fade out, and add animations/images to make your video more compelling when compared to others.
If these jargons or the thought of video editing overwhelms you, there is a nifty alternative you're sure to fall in love with.
How to Create and Edit  a Video Resume in 4 Easy Steps
Let's look at how you can make a video resume online in 3 simple steps:
Step 1: Choose a Format For your Video Resume
Log in to your Typito account, (if you don't already have an account, you can create one for free to create your video resume). Next, the Create New Project button to get started.
Since most video resumes are best viewed in a 16:9 video aspect ratio, we're going to select the Vertical Format to create a video resume.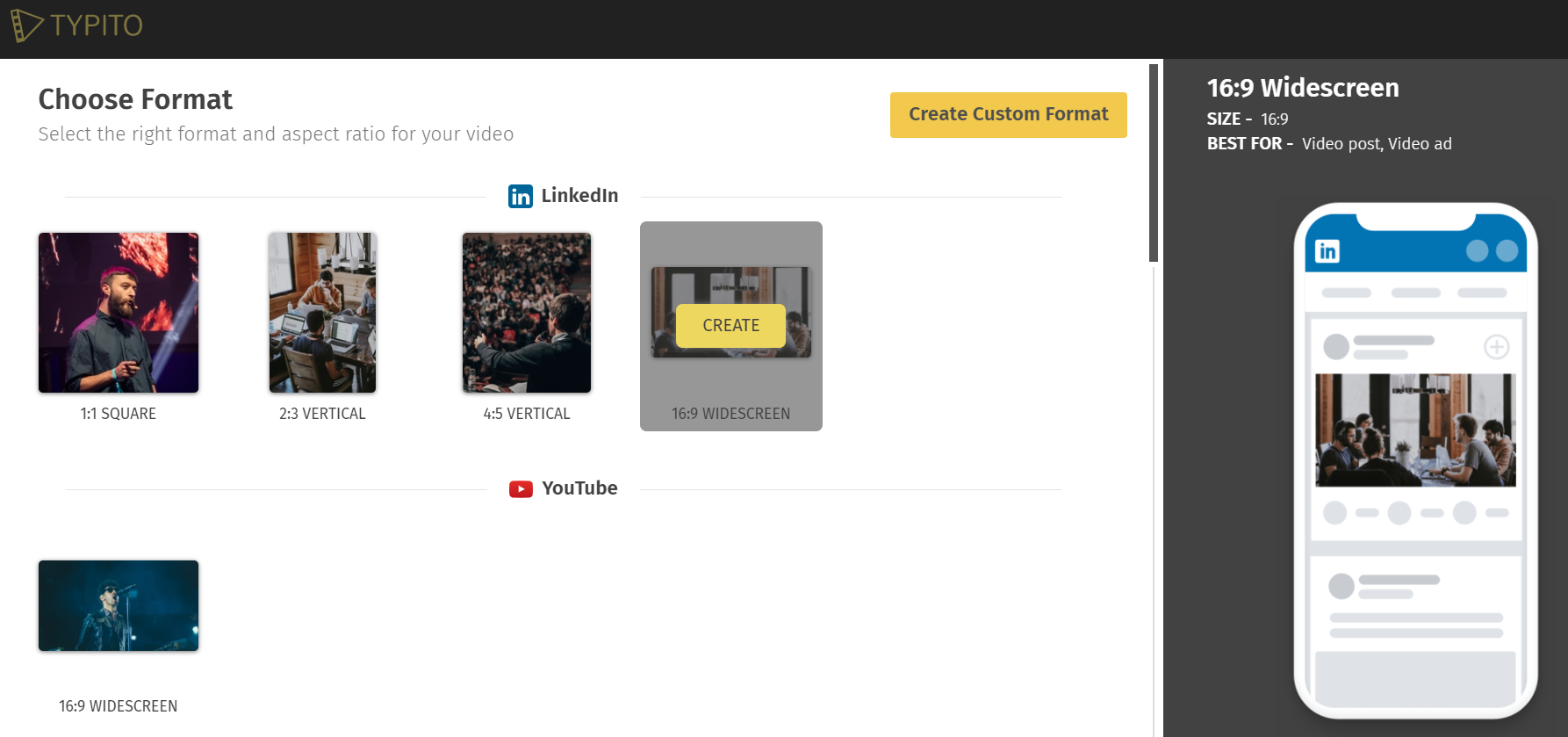 Step 2: Upload your Footage
Click the Upload button to upload your footage. Whether you've recorded a video of you speaking or you intend to use images to create a video slideshow resume, upload all of the footage you intend to use.
.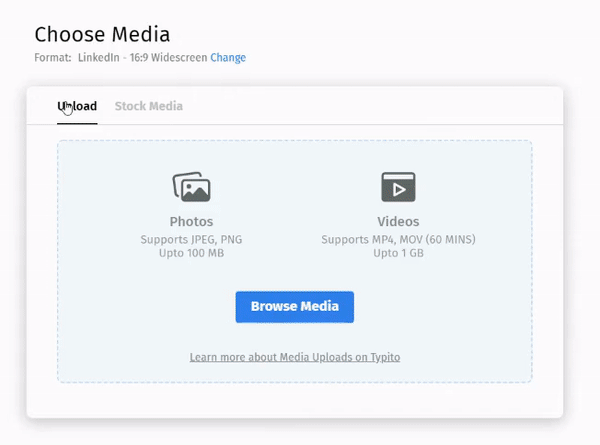 Note: If you want to use stock images or videos anywhere in your video resume (backgrounds for an intro or outro to your video resume or as background for a text-based video resume), you can click the stock media tab to add free stock footage to your project.
Step 3: Edit Your Video Resume to tell your story
The footage you've uploaded to your video resume will now appear on your timeline. Rearrange your video clips to the right sequence by selecting a clip and dragging it along your timeline. You can also trim video clips by clicking a clip and dragging the handles that highlight at the ends of the clips to shorten the beginning or end of a clip.
Next, we add in the most important elements to your video resume.
1. Add Intro Title -This is the introductory title that will define the direction of your video resume. Click on the Text tab from the left panel and choose a template for your resume.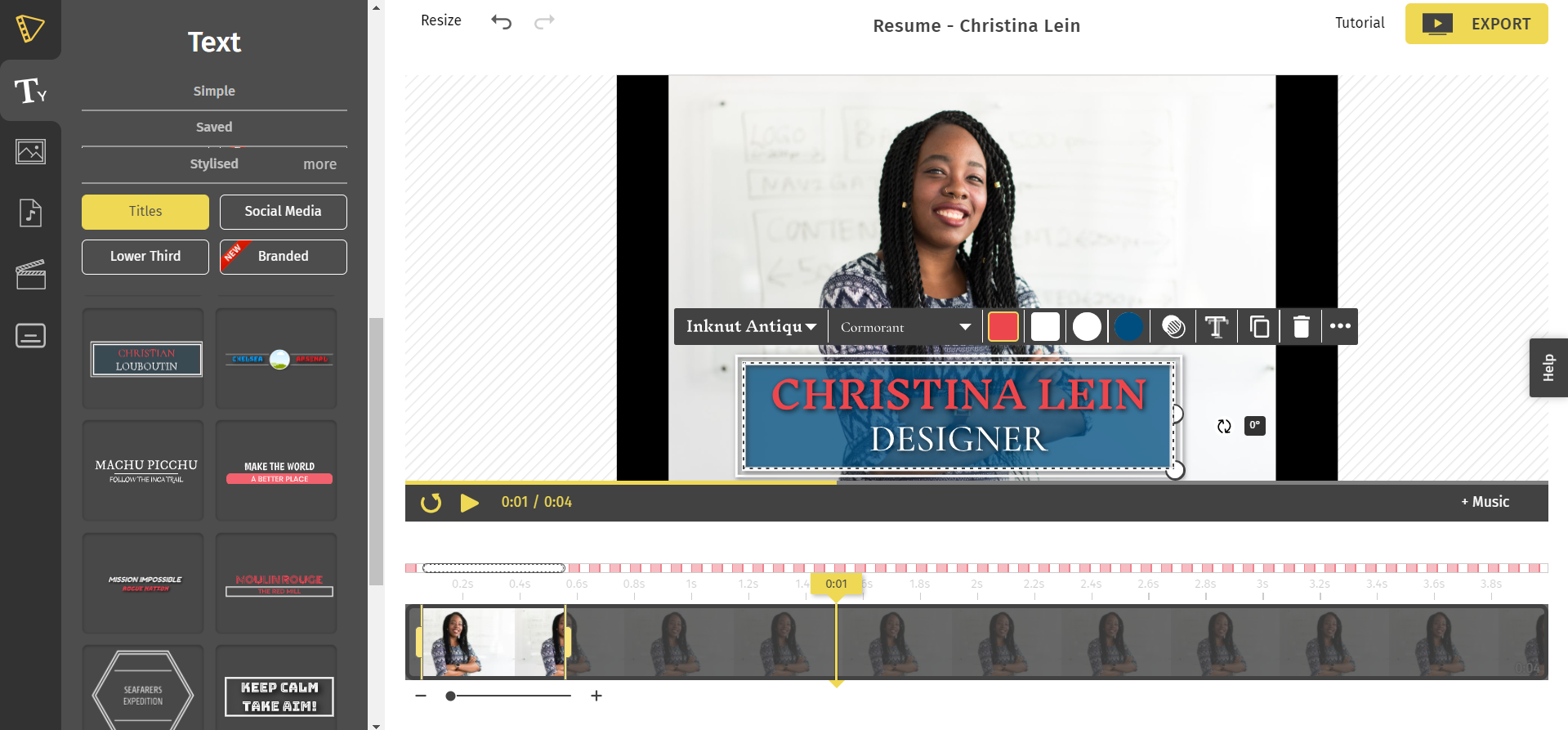 You can customize the template to match your color, text font, and background preference. Click the template to access your customization tools to change the color, font, and more. Drag the template to position it appropriately on your video, preferably in the center where it's most visible.
2. Text Captions - This is more about the information you will be filling in to explain your experience and skill set. You can choose any of the lower third templates for this. Use a different (but complimenting) color to highlight keywords or key phrases on your video resume.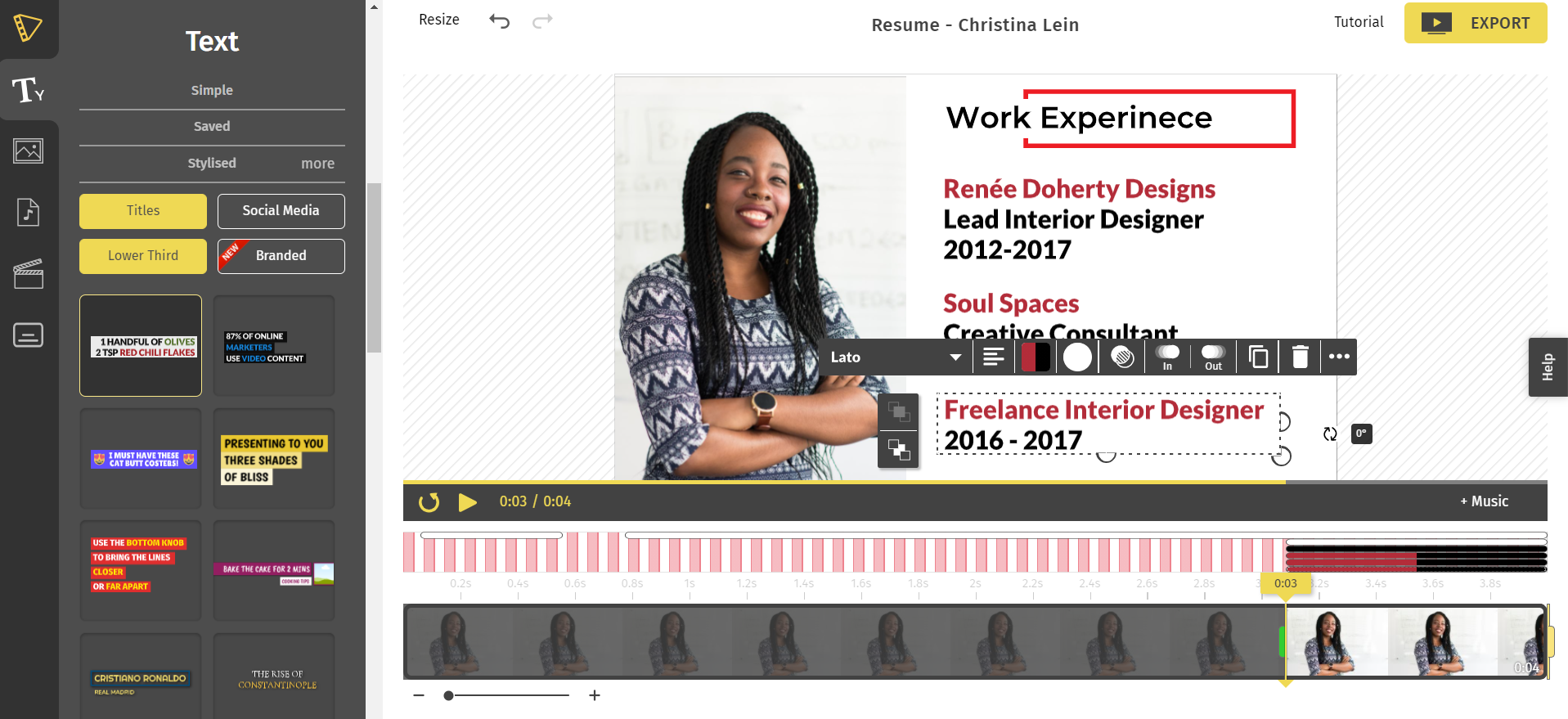 3. Closed Captions / Automated text captions - If you've chosen to use narration or a voice-over in your video resume, you should definitely include closed captions for your video resume. Closed captions or subtitles help your recruiter catch every word that you say in your video.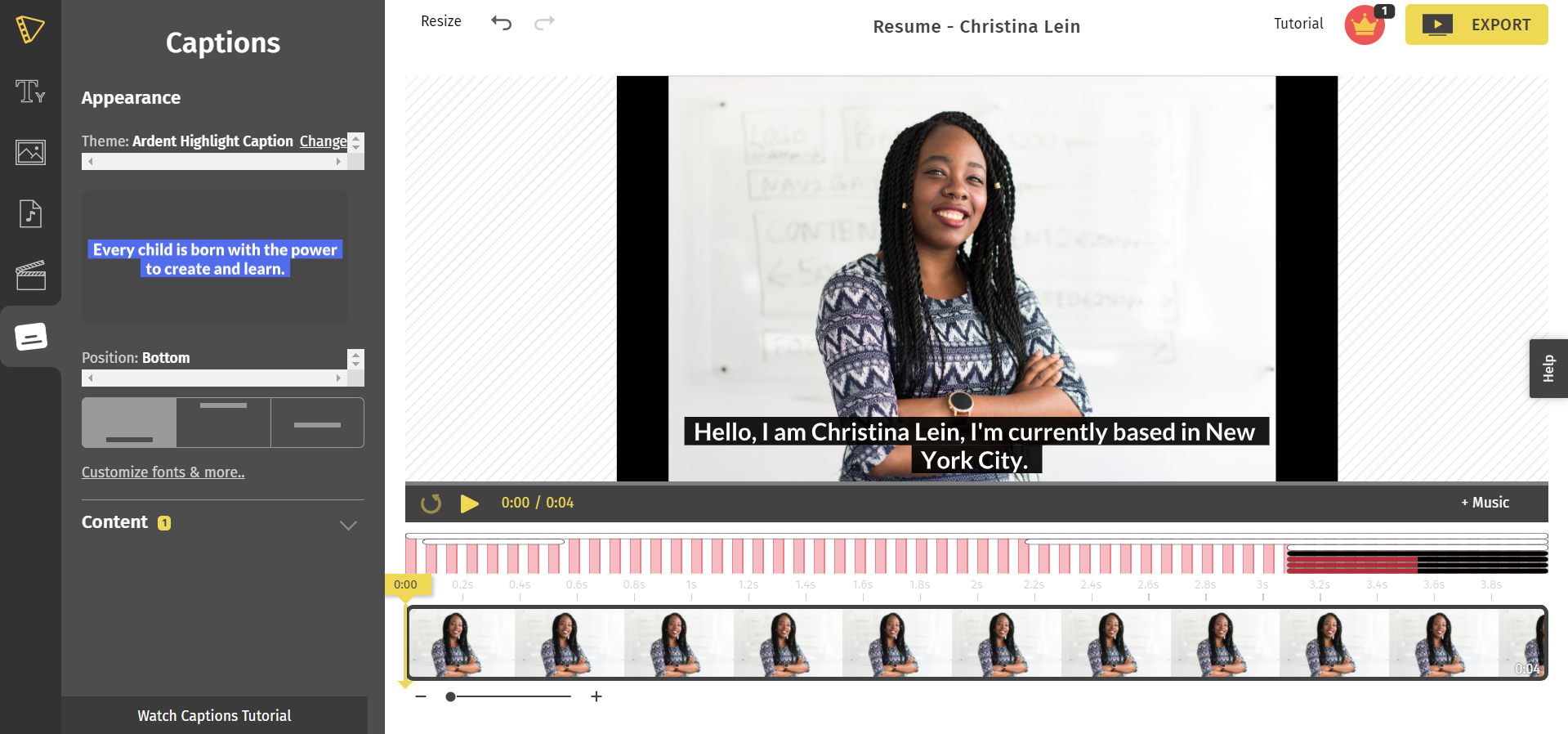 To add subtitles to your video, click Caption from the left panel and then choose any stylized templates. You can customize any of these templates and even change the position of the subtitle captions to place them at the top or bottom of your video. Once you've selected a theme for the subtitles, you can go ahead and auto-captions your video resume if your video already has a voice-over.
4. Outro - Outros are important when you want to end your video resume on a powerful note. You can add in links to your LinkedIn profile, or if you are a creative professional like a graphic designer, your Behance profile as an outro and encourage them to explore your work.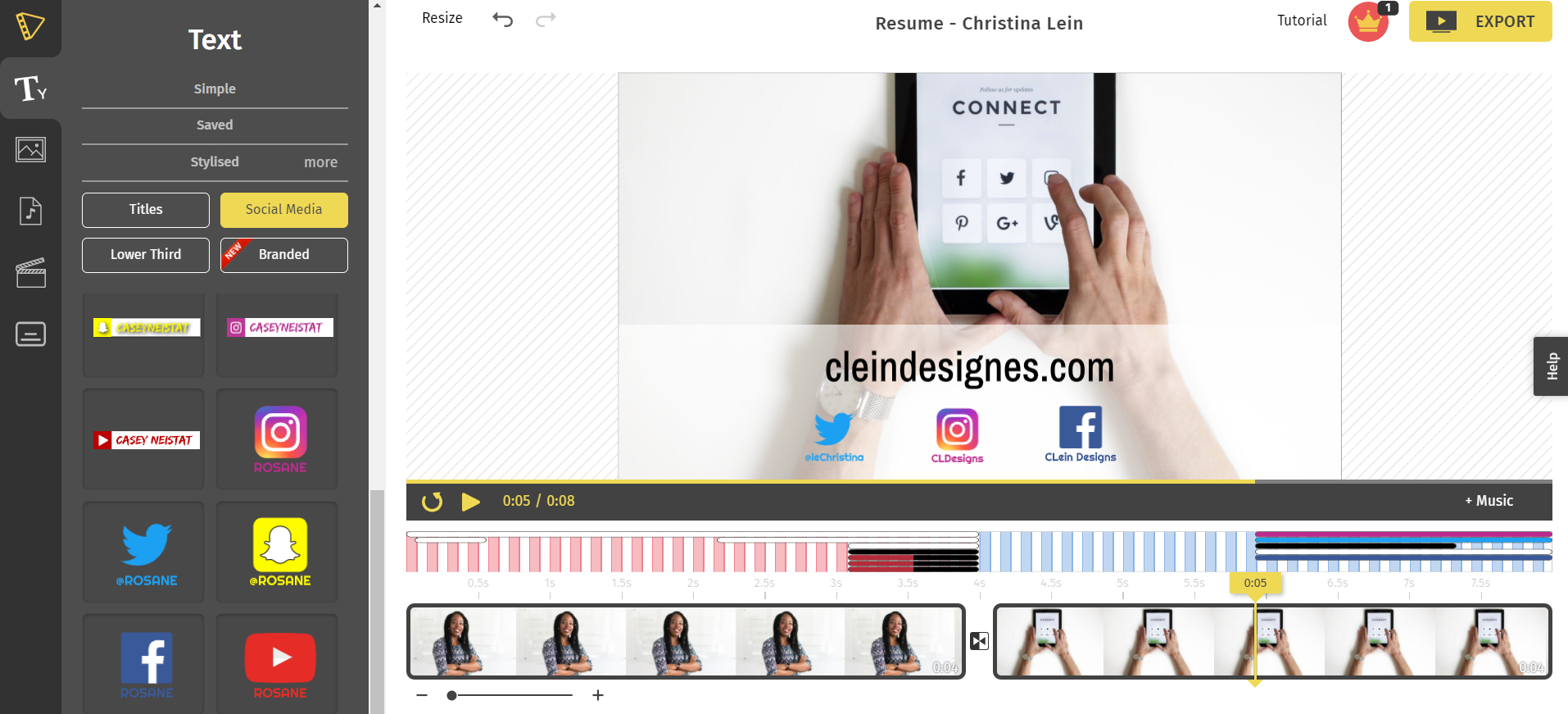 Step 4: Export your Video Resume/ CV
Once you are satisfied with the complete video, give your video resume a quick preview and then simply click on Export and download your Video Resume. Your video resume is ready to be shared.
And Voila! That is your powerful bow out!
Tips and Tricks  to Make  an Impressive Video Resume
A video resume requires time and effort. Ensure that you get your time's worth with these tips and tricks.
Keep it Short: A video resume needs to be short and sweet. A long dreary one will waste your recruiter's time, which might impact your chances of getting hired.
Prepare a Video Script: Any video production involves a sequence, Idea/narrative/story > script/screenplay > storyboard > production > edit > finishing. Your video resume needs to follow a similar pattern, and thus, you must create a video script.
Don't Read From the Script: This is for the ones going for an in-person video resume. While you must prepare a script, do not read out from it. Having your own tone is important to establish a rapport with your recruiter. Reading from the script is robotic and boring.
Attire Matters: Yet again for those opting for an in-person resume. While you may be working remotely at the moment, being sharply dressed in your video resume gives an aura of confidence and appropriation. If you are going for a startup, go for formal casuals, while any established MNC would prefer a more formal ensemble.
Edit, Edit, and Edit Some More: Just like you proofread your resume, you must edit your video resume. An unpolished visual resume is a big no-no and can dwindle your chances of getting hired.
Wrapping up
The moment you export the video resume after editing is when you'll fall in love with the process. Creating a video resume is not a one-time endeavor, so it always pays to be equipped with the tools.
Script, film, and edit your video carefully but try not to be hard on yourself. You can always rewrite the script, shoot, and edit again, but you need to be wise while choosing the right tools for the process.
So choose wisely and all the best for your job hunting.