The Power of Customer Testimonials: How to Make A Testimonial Video [Winning Examples + Practical Approaches]
4-step easy guide to making effective testimonial videos and best examples that inspire and convert.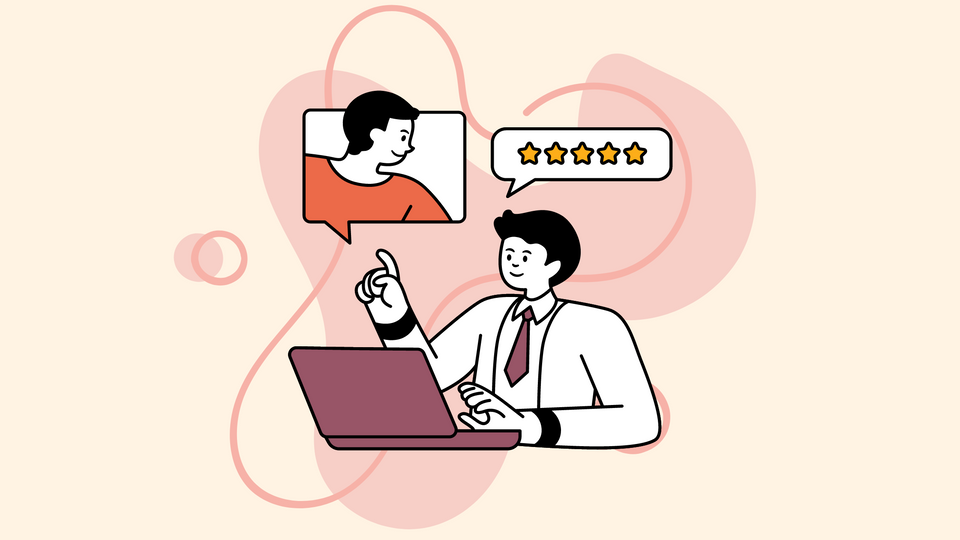 Nothing sways a customer's decision to buy much like recommendations from other people. This makes testimonials a powerful tool when you need to build credibility, and trust and ultimately persuade an indecisive customer to hit that call to action.
Now imagine putting a face, a voice, and a relatable story that perfectly encapsulates the pain point-to-solution journey to that testimonial! This is what gives video testimonials an edge over written testimonials.
Reviews and testimonials are here to stay. A local consumer review survey by Brightlocal estimates 76% of people "always" or "regularly" read online reviews for local businesses.
77% of people who have watched a brands testimonial video say it has played a part in convincing them to buy their product or service.
While video testimonials can be incredibly effective to turn your leads into customers, many businesses struggle with creating video testimonials. And we get it. It can seem daunting to find the right people to feature in the testimonials, what kind of questions to ask, film the videos, and edit videos to make them look professional.
However, with the right approach, creating video testimonials can be relatively easy.
If you're stuck at the drawing board wondering how to get past what story to tell, what customers to feature, what questions to ask, and how to keep it 100% authentic; here's some help:
---
Winning Examples of Great Customer Testimonial Videos
We've compiled some of the best testimonial video examples online and extracted simple lessons and takeaways you can learn from.
Instead of listing out best practices and tips, we'll take you through great examples of customer testimonial videos to help you understand different approaches to creating customer testimonial videos.
Tell a story that inspires action - Dropbox
In this example, Dropbox takes you through the story of one of its users. The video delves into a well-narrated story of the customer, their ups and downs, and why his art matters so much to him.
It doesn't put the hard focus on Dropbox directly all through the video and instead allows the customer the time to talk about his journey, and his passions and then wonderfully moves into how Dropbox was able to help him streamline, store, and help him in a small but invaluable way.
Takeaways: It's ok to let your customer talk about their entire journey, it shows you genuinely care about them and their journey; rather than just projecting a part of their story where you stood out as a shiny solution.

Highlight specific results to emphasize impact- Google Ads

You'll notice a different approach to the testimonial in this example. Google Ads starts off the video strong with Best Buy's mission and how Google AI-powered ads help them drive growth. It's a straightforward and powerful hook that keeps you latched on to know the 'how.'
It moves away from a pain-point narrative and dives into specifics. It allows the customer to directly put focus on the specific use cases that they use Google Ads for and the direct impact this has made. This allows anyone watching with a similar use case to visualize the kind of benefit they might also gain. Use Cases with the potential to create a direct impact like this are powerful for short video testimonials, especially if you serve a number of customer segments.
Takeaways: Apart from good storytelling, specific results, and numbers are another great way to show credibility in a video testimonial.

Capture a relatable 'Before v/s After' - Zoom
Testimonials work best when they're relatable. And in this example, you'll see exactly how to keep it relatable and simple. The video starts with a 'before/after' narrative structure - what the customer has been using before being introduced to Zoom, the challenges they faced, and then moves on to explain how they've been able to scale with Zoom.
What makes this testimonial relatable is the shared hurdles many individuals like your potential customers encounter when considering a migration. Questions such as "Is it easy?" and "Will I be guided throughout the process?" are common concerns. The video testimonial captures the customer's firsthand experience during their transition to Zoom, by using impactful phrases like "Easy migration, " documentation", and "great support." (if you missed it, watch *time* of the video again).
Keeping the testimonial relatable will have your customers watching the video thinking: "I have the same concerns - I think this can help me."
Takeaways: Be sure to use your video testimonial to answer the questions your prospective leads have about your brand. At times a simple, straightforward, no-fluff approach to video testimonials can be the most honest and powerful way to influence prospects.

Zero in on result and impact - Shopify
This example opens with the customer's mission. Quality products are central to their work right from sourcing to producing.
This approach stands out because it doesn't just share the customer's happiness at finding a solution. Instead, it goes beyond merely expressing satisfaction with the product. It constructs a compelling story that guides viewers through the entire journey - what matters most to the customer, and how it was able to help build a comprehensive experience.
Takeaway: Prospects going through the same journey are more likely to listen if it sounds less salesy and more like you genuinely care about their mission and goals.
Tap into influential customers - Hootsuite
A couple of points stand out in this example - the high-quality production, well-lit ambiance, multiple perspectives from the team, and of course the fact that this video captures the story of WWF - one of the largest conservation organizations.
The video highlights how communication is central to their work and how Hootsuite enables them to streamline and allocate campaigns around the world on social media. It explains this rather simple but emphasizes the impact this has made on WWF's organic reach on social media.
They marveled at the difference they were able to make with reach and shares (1:59) - seeing them so satisfied and eager to share their impact helps motivate potential customers.
Takeaway: Including different people in your video testimonial is a practical way to include perspectives and showcase impact across levels in a team. Tap into influential customers and well-known brands from your user base to build credibility and trust.
Capture genuine emotions - Airbnb
If you're unable to get video footage of your customers or they're simply not comfortable being in front of a camera but are still eager to share their experience as your customer - you can get creative with photos with a wonderful soundbite.
This example by Airbnb is not like the usual testimonial formats you see. No before/after narrative, nor problem-solution journey. Just a heartwarming, wonderfully pieced-together picture montage that narrates the experience of two travelers at an Airbnb stay and how their hostess offered them so much more than a stay.
And even without video footage - it works all the same!
Storytelling approaches like this can help when your brand has a lot to offer visually; whether it's beautifully designed products or a wonderful ambiance like with this example. The sound bite also adds a nice touch, and even though you can't see the speakers, you can tell from their intonation that they're happy and laughing when they recount their stay.
Takeaway: Don't shy away from trying something new. In the end, real stories from real people are best to compel emotions.
Finally, you don't need to browse through 20+ different approaches before you get started. See how you can bring out the best of your brand from the perspective of customers genuinely happy to endorse you to help potential customers figure out if you can help them too.
Remember, these are general approaches you can explore to create video testimonials, and the effectiveness of a video testimonial ultimately depends on your target audience and the specific product or service you offer.


---
A Step-by-Step Guide to Creating Compelling Video Testimonials
If the thought of adding video testimonials has enticed you but you've hesitated because you thought it had to involve hiring a professional behind the camera, drafting a crisp script, and having a pro video editor onboard- let's change that.
One of the biggest challenges with video testimonials is figuring out how to make video testimonials quickly and affordably without compromising on quality.
How to make a testimonial video:
Step 1: Upload the raw video footage to Typito
Upload your video to Typito. If you're using photos for your testimonial you can go ahead and upload these as well.