How to Loop a YouTube Video
Everything you need to know on how to loop videos on YouTube and tips to easily make a loop video.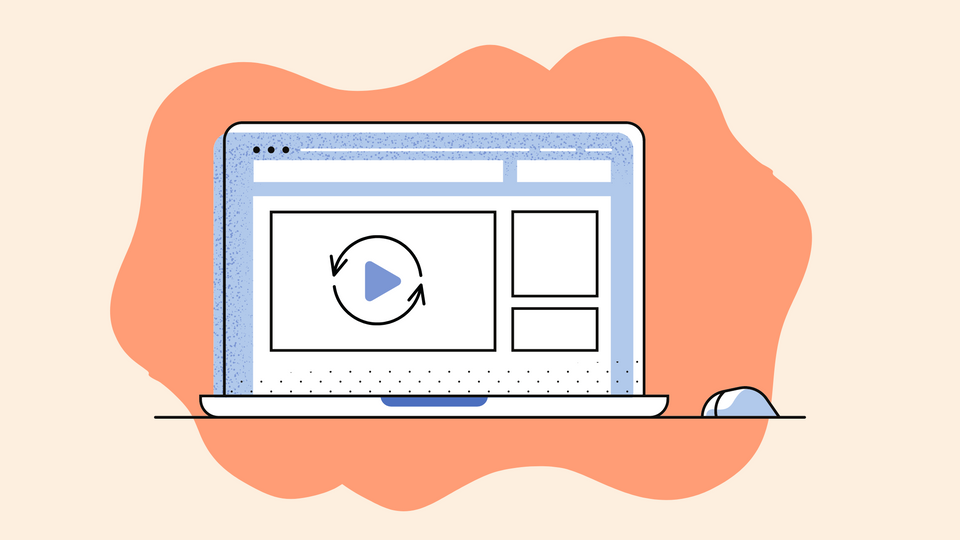 Looping videos can be a captivating addition to any website or social media feed. Typically the video is edited to play along with the audio in a repetitive cycle. It's similar to how a GIF plays but video loops can span from a few minutes to a couple of hours.
When used, creatively looping a video can result in a mesmerizing visual experience. Here are some other ways looped videos can grab attention:
Creating a mood or atmosphere with looped focus music or ASMR videos.
Showcasing a product by creating looped ads for previews.
Creating a virtual moving background for events, meetings, or webinars.
To add emphasis to instructional footage by showing playing specific parts that need reiteration in a loop
And finally, looping videos can be used to create cool video effects to enhance videos.
Now that we've covered the basics, let's dive into how to loop videos on YouTube and how to make a loop video easily.
Here's everything we'll cover in the next few sections:
Make a short video loop:
Loop videos on YouTube:
---
Video platforms like YouTube allow you to play normal videos in a loop directly from the video player settings. However, there are a couple of reasons why you may want to edit your videos to play in a loop.
Perhaps you need to post your video on your website or presented it on a big screen where you won't have the options to play it on a loop automatically.
Additionally, you may want to edit your videos to loop them so that you can:
create videos that play on a loop for a specific time duration.
add text cues or captions to your looped video.
Tailor your video to be posted on social media platforms with different video dimensions. Or maybe optimize it to play better on mobile devices.
How to Make a Loop Video Online?
You can create looped videos in just a few minutes with tools like Typito.
Step 1: Head over to Typito and upload your video.
Typito works right from your browser. You can create a new account or use your Google or Facebook account to log in.
Create a new project and choose a format that matches the dimension of the video you want to loop.
💡
ProTip
If you're looking to loop videos for Facebook, Twitter, and Instagram you can choose an alternate video format.
Upload the video you want to speed up or down. Once it's uploaded it should appear on your Canvas.

Step 2: Add the video to your timeline multiple times  
Click the clip on your canvas and add it as many times as you want to loop it.
Play your video to see if you've been able to loop it to the desired time duration. Pay close attention to the portion that loops to see if your video needs any trims or cuts for a smoother transition loop. You can also add captions or text to your video to enhance it.
Step 3: Preview and Export
If everything looks great you can export your video. Once your export is finished you click the download button to download your video.
💡
Pro Tip
When looping a video, consider adding text or music to enhance the viewer's experience and create a more memorable impression.
Tips to Create the Perfect Looped Video
For creating smoother looped videos it's important to keep a few pointers in mind
It's important to choose a visually interesting subject.
Keep the clip short and simple.
Pay attention to the quality of the video.
Ensure that your video is optimized for different devices and social media platforms if you intend to post your looped video in multiple spaces.
---
How to Loop Videos on YouTube from a Computer or Desktop?
To play a video on YouTube video, head over to your YouTube account.
Choose a video you want to loop.
In the watch mode, right-click anywhere on the video player.
You should see a menu like this -
Click 'Loop'  to play your video continuously.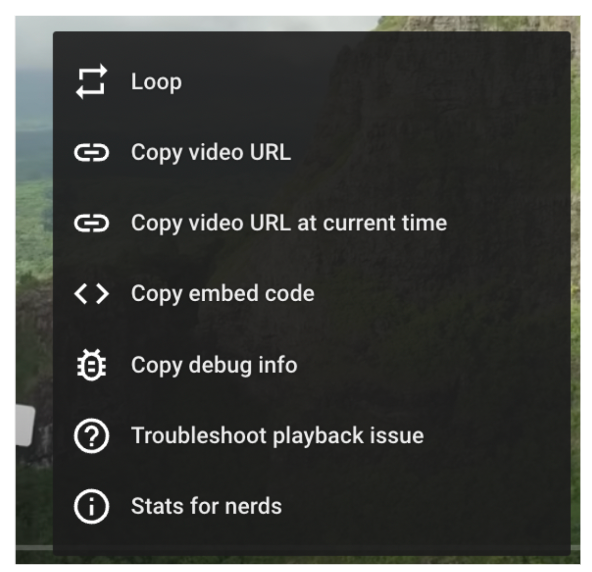 How to Loop YouTube Videos on iPhone?
From your phone, this may work a bit differently depending on what type of phone you use. On the iPhone and an Android here's how you can play videos on a loop.
Play a video you want to loop.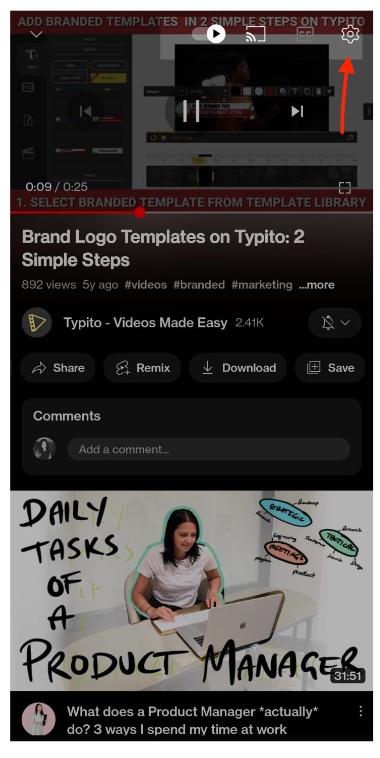 Tap the settings icon in the top right corner of the video player.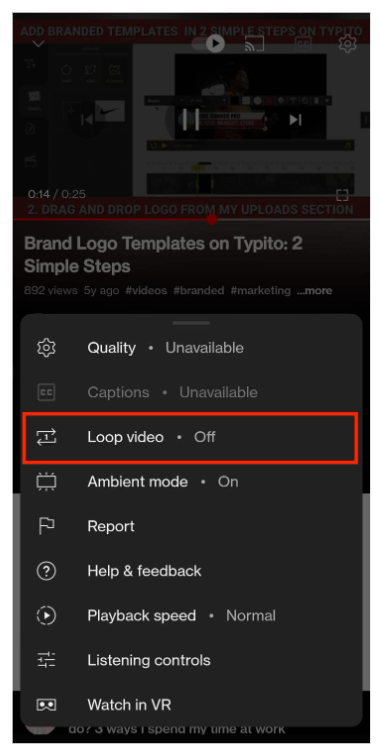 Now tap on Loop to play your videos in a loop.
How to Loop Multiple YouTube videos in a Playlist?
If you're looking to loop multiple videos in a playlist here's how you can do this.
1. Play a video that's part of a playlist.
2. On the right you'll see your playlist with all the videos listed. At the top, you'll notice options to loop or shuffle the playlist.
3. In the playlist box, click 'Loop' to play the entire playlist on the loop.
How to Loop Videos for Facebook, Twitter, and Instagram?
If you're looking to loop videos for Facebook, Twitter, or Instagram you can use the video you've created on Typito. Duplicate your project and choose a different format to adjust your video to the right aspect ratio. You could also create a GIF using tools like Canva, or GIPHY of your video clip.
---
Wrapping it up
We hope we were able to share how easy it is to loop your video and how you can create a looped video online in just a few clicks.
Looping videos can be a powerful tool for capturing attention and creating a strong visual experience for your audience. Whether you're creating ASMR videos, showcasing a product, or creating interesting moving backgrounds, a well-edited looped video can leave a lasting impression.
🏆
Creating videos that drive action doesn't have to be a strain. And we've built Typito to make video creation a breeze for creators like you. For easy video editing tools head over to Typito. You can try it for free and see how it smoothes your video creation process.