How to Add Captions to Videos Online Easily, Quickly, and Automatically
As the space for video content creation grows, talks about the must-dos, best practices, trends, and tricks become rather dizzying. Having a beautiful video alone won't work. Captioning is important too.
A video without attractive captions is like a good pianist playing in an empty room. Learn how to add captions to videos online in just a few simple steps. Trust me, it isn't as time-consuming or complicated as it seems to be.
Before we move forward, here are a few statistics that will help you understand the importance of captioning a video.
Statistics that are worth reading:
Seeing these stats, it's evident that videos have overtaken their position as the top-dog on the internet. The reason? They are far more captivating. Though well-made video content is important, captioning will increase its engagement levels too.
---
7 Benefits of Adding Captions to Videos
You would have put a great amount of hard work in creating an excellent video, but you are probably missing out on your "audience." So, ask yourself if the video content you have created is both inclusive and accessible.
Moreover, if you are creating it to rank on Google or any other search engine for that matter, will they give the video a thumbs up? So, make sure everything is extraordinary about your video before you could even think of uploading it to your audience.
Having said that, here are a few advantages to add captions to your video:
Better accessibility to people with hearing disabilities
To rank the videos higher on Google, either use captions or an audio transcript
Gives a good user experience
Making things understandable and easier for your non-English speakers
Improved watch time because captions grab your users' attention
Help your viewers understand your video even in mute
Adding captions to your YouTube videos can incline the views by 7.3%
---
Now, coming back to the step by step process to add captions to videos online, here's the truth—the internet is flooded with editing software, tools, and online platforms that can help you do that. But when you are shooting & posting numerous videos each week, adding captions can be an extremely tedious process.
When you ask a professional about software that can add captions to videos, they either suggest "Final Cut Pro" or "Adobe After Effects."
But these are high-end graphics & video editing tools that are overkill and expensive to own. Not to mention the hassle of a learning curve this software carries along with the ridiculously high-end hardware demand.
Why go through such hassle when Typito is here to offer you the simplest way of adding captions or texts to videos and even lets you animate them to produce stunning videos.
How to Add Captions to Videos Online
Now that you are aware of the importance of adding captions and the perils at the lack of it, let's learn how to add captions to video online, on Typito.
Step 1: Select from an array of formats
To begin with, shoot the video and have it ready on your desktop to add subtitles, text, or captions.
Go to typito.com, signup or login with your credentials (if you already have an account).
Once you are on the homepage, click New Project from the top right corner. Doing this will prompt you to choose a format.
You will find formats for Linkedin, YouTube, Facebook, Instagram, and Twitter here along with the video aspect ratios these platforms support.
If you don't want to choose from any of the predefined ones, click on the create custom format button.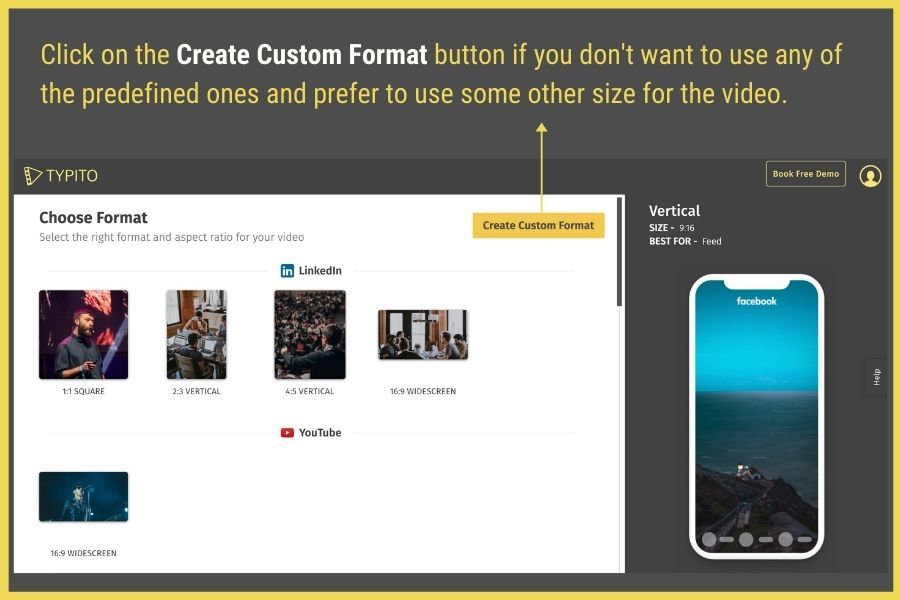 This is a pretty handy feature if you wish to use other standard video formats. You can use custom formats to place your captions on a padding area that is adjustable.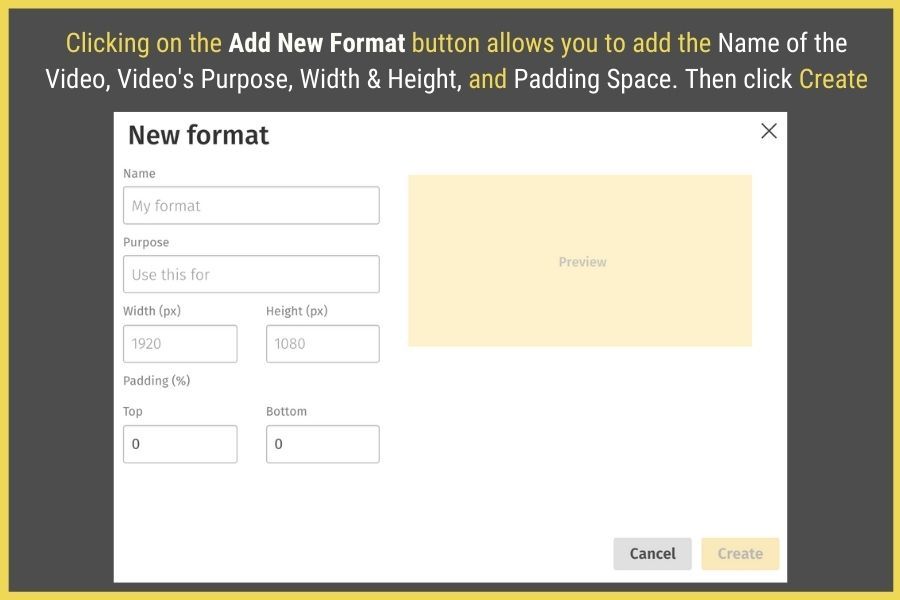 No matter what format you choose (be it Linkedin, YouTube, Facebook, Instagram, and Twitter formats or any Custom Formats), you will be then redirected to a page where you will be allowed to browse or import the video from the desktop.
Depending upon the size of the uploaded video, the importing process may take a few minutes and after which, you may click Create Project.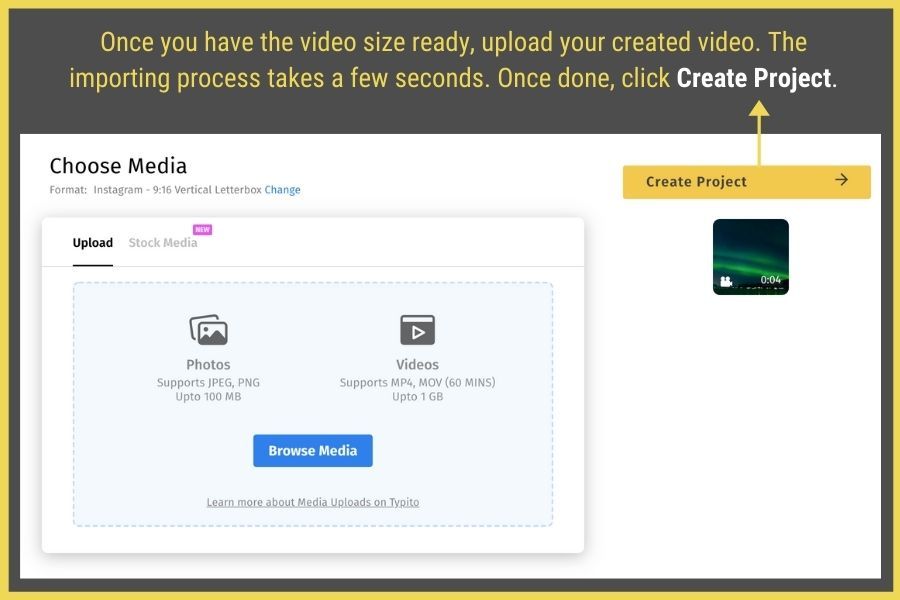 If you have done the above steps correctly, you will get the first glimpse of a simple, robust, and powerful video editing workspace where the fun begins.
Read through the next steps to learn how you can play around with captions at Typito.
Step 2: Select the "Captions" tab from the left panel
The workspace, with its different shades of greys, is appealing and easy on the eyes. With editing tools to the left, the resize, undo & redo options at the top left, and the editing workspace to the right, the simplistic appearance makes it easy for the user to navigate across the tool.
Although the text, image, audio, and media options seem graciously welcoming, let's jump right down to the "captions" option at the bottom where you learn how to add captions to a video like magic.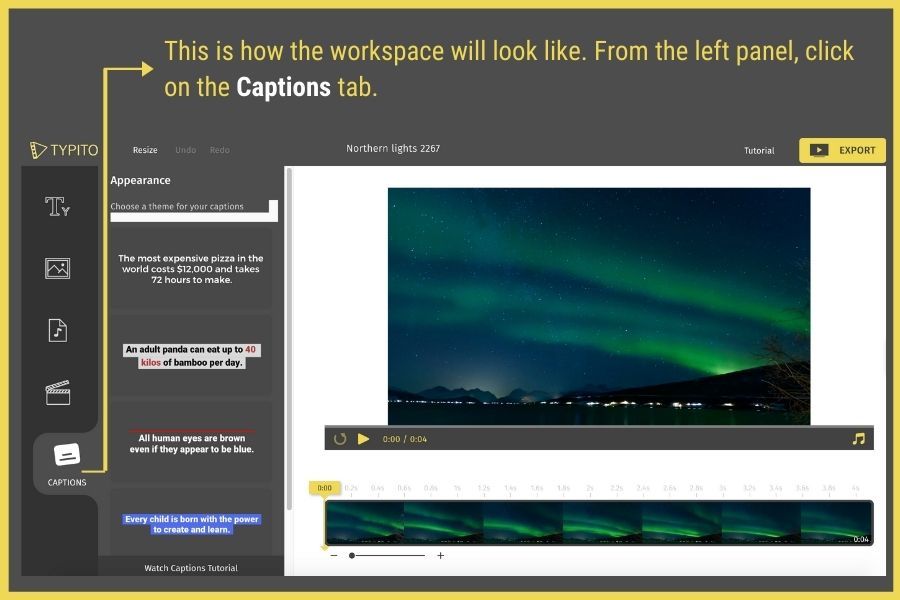 And not to worry about the tools mentioned above because we'll be learning about them, as we read further into the article.
Just a quick note though, if you want to trim off the video by a few seconds in the beginning and at the end before adding captions, you have an option to do that too. This feature is handy, especially if you don't want your captions to show up immediately.
From the left panel, click on the captions tab at the bottom. When you do that, you should see a variety of text themes (for your captions) to choose from.
You can choose anyone that complements your video. Clicking once on any of the caption-text templates will place a preview of the caption on the video.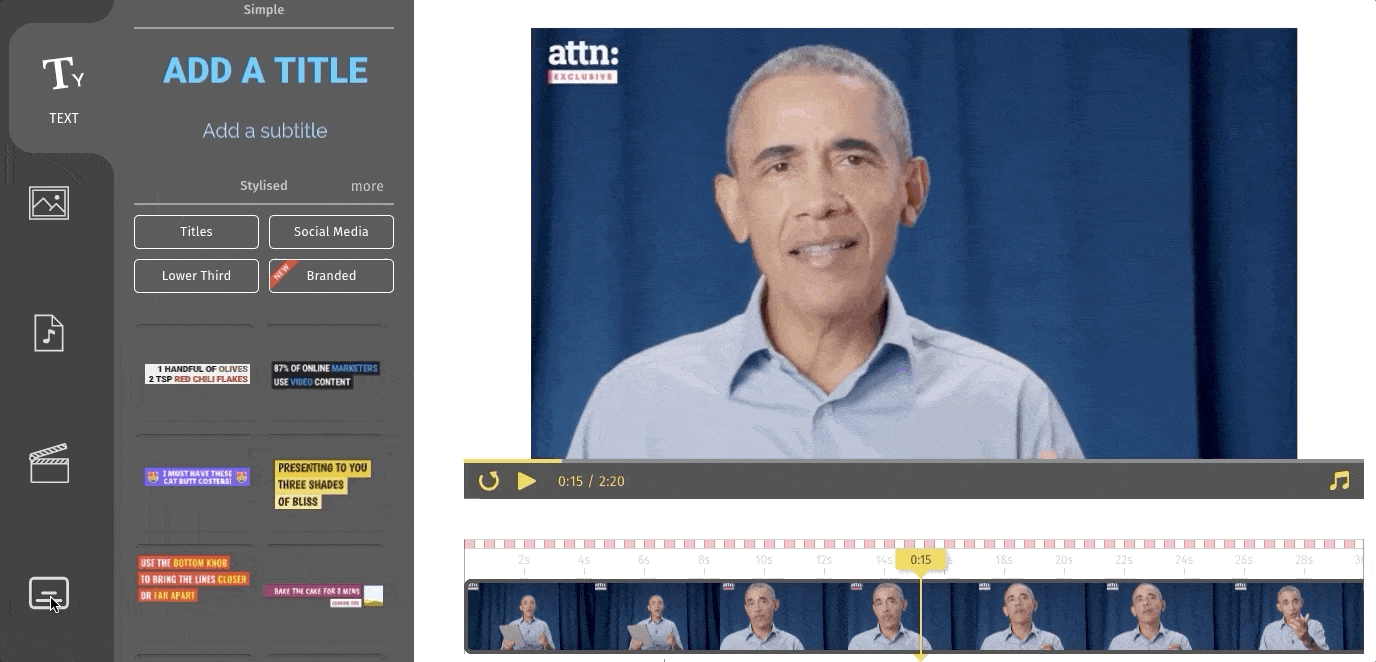 A few more easy-to-use features to play around with your captions:
When you click on the captions tab from the left panel, you are greeted with the appearance column, which displays different styles of captions you may add, along with posting a sample preview text on the video.
You will also see the "customize fonts & more" option and clicking on it will let you do different things. This is where things get fun.
You can use these features to beautify your captions:
Position: You can position your captions to Bottom, Top, and Middle.
Font Styles: Choose from 50+ font styles just by clicking the dropdown menu Font. You can upload your own font as well. Learn more about it here.
Font Size: Increase or decrease the size of the font based on your preferences.
Font Colors: Change the font color anytime by picking your favorite shade from the palette. You can set up your Brand colors.
Alignment: Align the text to the left, center, or right.
Shadow: Add shadow effects to the text.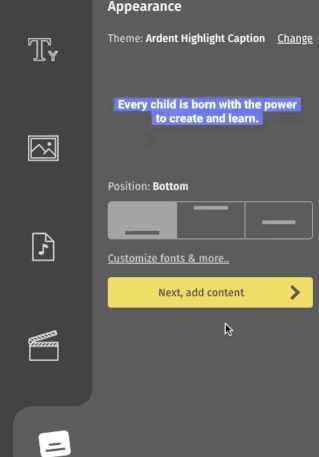 Now that you are aware of the fonts, alignment, shadow, and even colors, it is time to divert your attention to the animation effects. This option gives you the liberty to fade the text in & out for a smooth transition which is a rare feature across all video editing tools.
The "Animation" feature has two main options:
These help you choose how you want your animation effects on your captions to be. Interestingly, clicking on each of it will have a list of sub-options you can go about along with the speed at which you want the caption to be animated.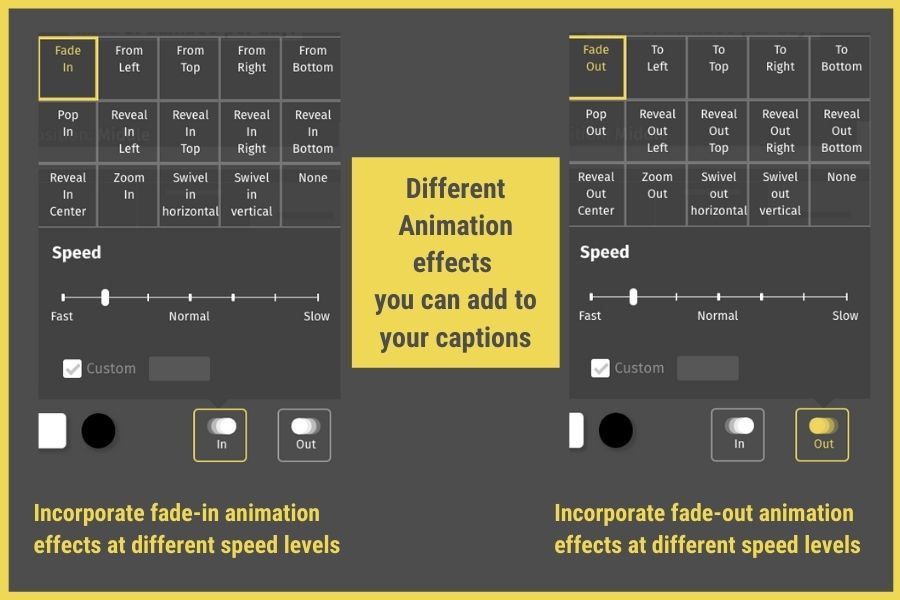 Apart from the above, the tool also provides Branded Text templates (available at the Text tab) to help you focus on branding. It's a combination of text, logo, and animations that are keyframed to perfection to highlight what you are branding. An ideal feature to plug your brand in style, you may use it to showcase your:
Link or URL
Your phone & name
Twitter handle
Instagram profile
Facebook account link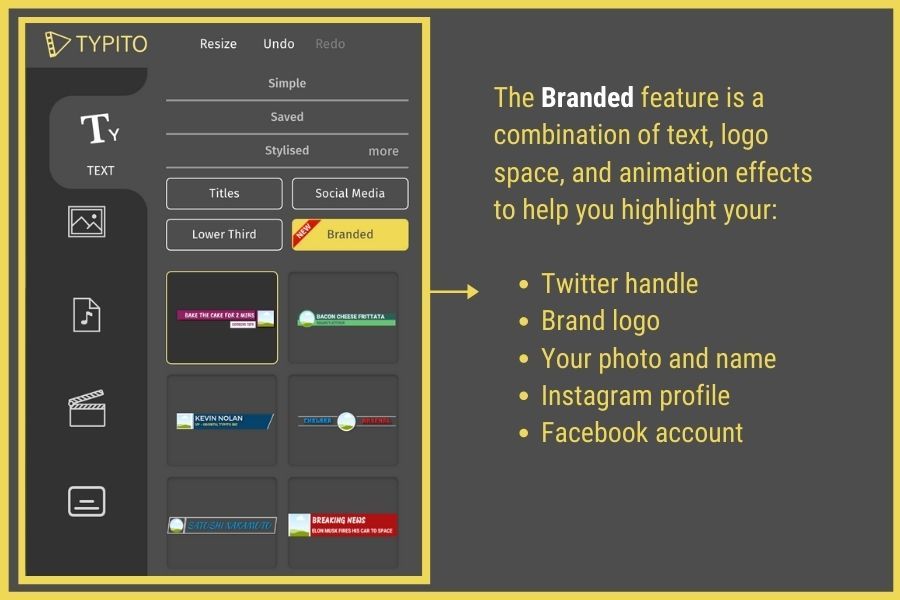 Step 3: Add captions to your video
Once you change the font, the appearance, the animation, and others to your liking, the only thing left is to click "Next, add content," which opens the content section.
Interestingly, the content section at Typito allows you to add captions in 3 ways:
Upload SRT file: Enables you to upload the preexisting subtitle file to the video.
Voice to text: The voice to text algorithm on Typito adds the subtitle automatically.
Add manually: You will have to listen to the audio and type in captions manually.
While most of us are acquainted with the options to Upload SRT file and Add manually, the Voice to text option kicks up the dust in an otherwise familiar field of features.
The moment you choose this option, a miracle unfolds where the subtitles are added automatically, but at the end, you may have to glance through the content to fix small punctuation errors in the voice to text transcription.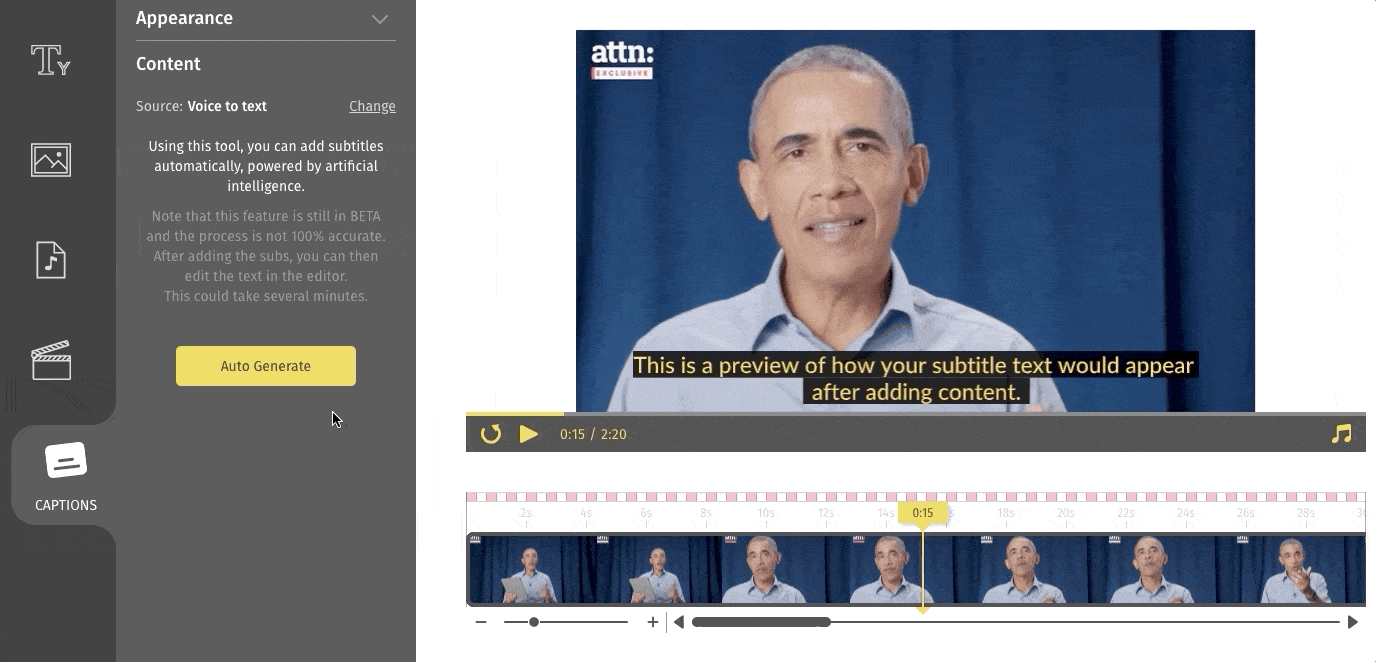 This breakthrough technology was unfathomable just 10 years ago and the fact that it is getting better by the year is mind-boggling. The content for the caption is added to the video, further which on double-clicking, should give you a set of options again you can play around with.
However, you will see 2 more new features here, which helps you to:
Increase or decrease the letter spacing
Increase or decrease the line-height
Step 4: Export your captioned video file
The final step to the caption adding process is to export the file. Click on the 'Export' button showing up on the top right. After you confirm that you are ready to export, the process begins.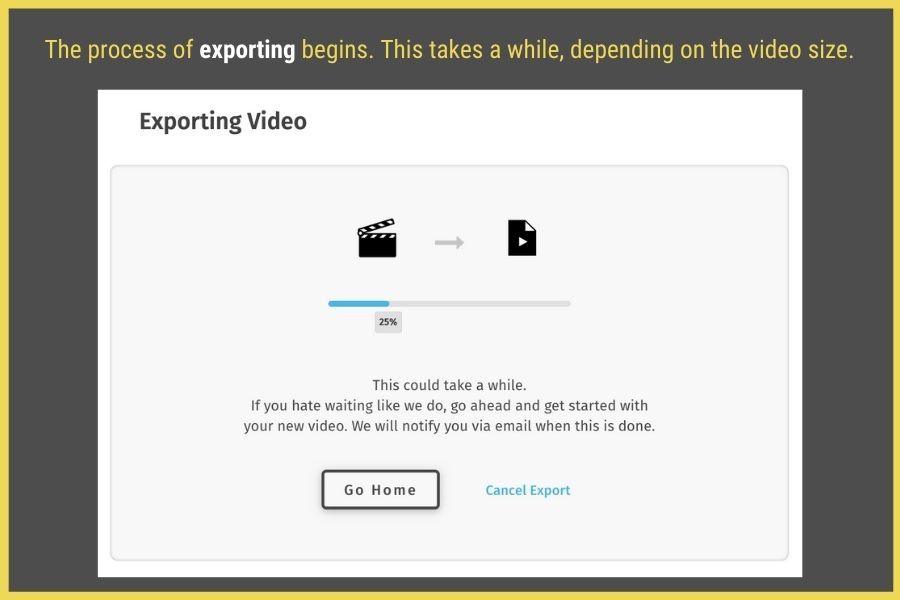 The good thing is that Typito allows you to download the subtitle file separately for future usage or to improve SEO on the landing page or the website.
Finally, your captioned video is now ready to be:
Downloaded to your PC
Shared on the internet via a link
Posted on Facebook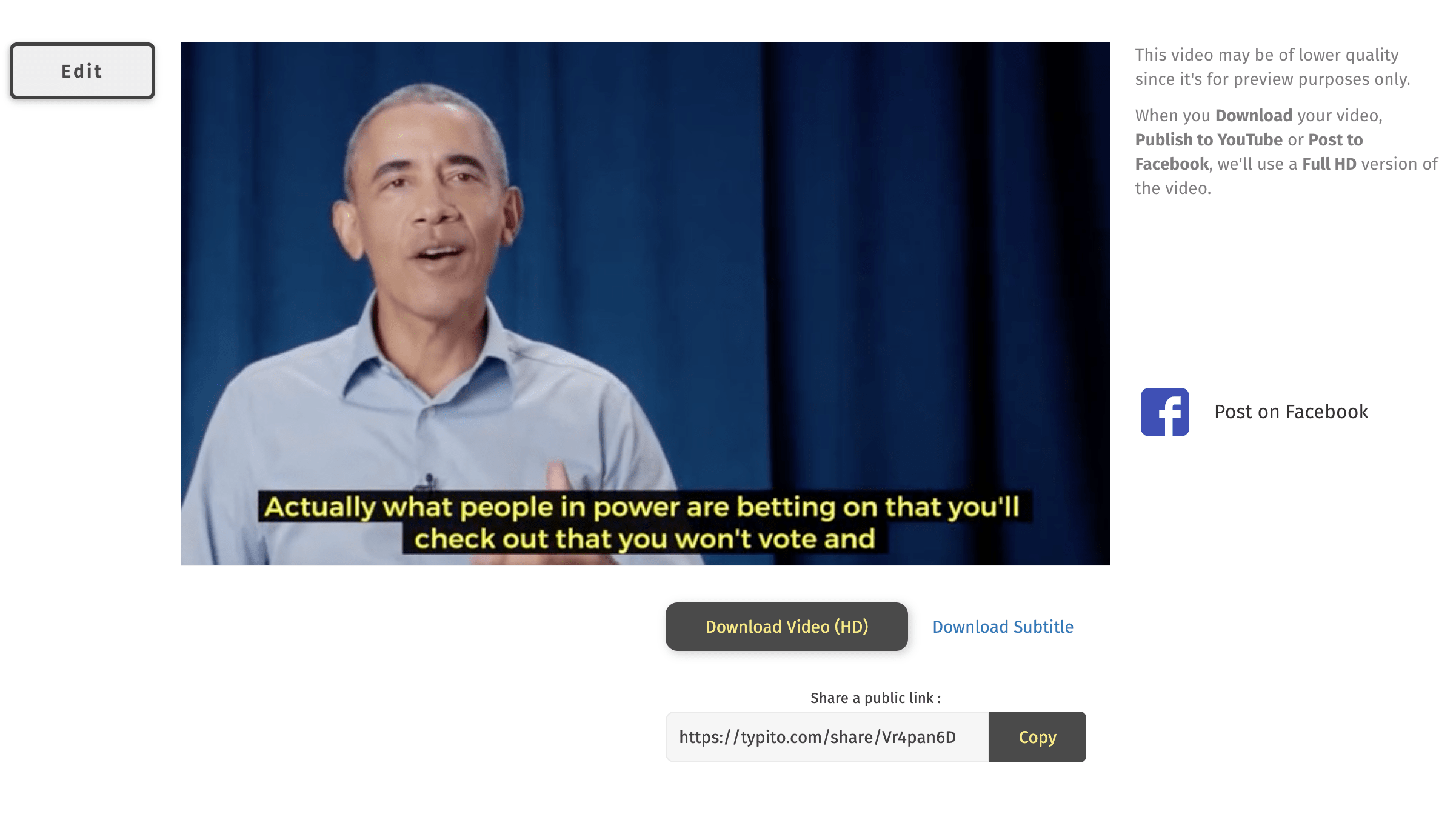 However, if you wish to do a few more changes, you can Edit the project easily.
I am sure you now know how to add captions to videos online, without being dependent on a professional service or transcriber. But before I wrap up, there are a few more things I would like to share so that you understand the importance of adding captions to videos.
Important Statistics, according to WHO:
3.5% of the global population has a vision impairment, which is 253 million (where 217 million people have vision impairment and 36 million are totally blind).
More than 5% of the global population suffers from hearing loss, which is 360 million (328 million of them are adults whereas 32 million are children).
Speaking of Americans in specific, 20% (which is 48 million people) of them are Deaf or have problems in hearing.
10% (which is 23.7 million people) of all Americans (adults) have problems of vision loss to some extent.
62% of the employees with disabilities tend to either have an invisible disability or something that you cannot identify immediately even after meeting the person.
71% of the people who have a hearing or vision disability leave the website instantly if it's not accessible to them.
Key information with respect to Online Videos::
The video space on the internet is huge. The number of videos uploaded per month on the web is much higher than what the television industry has created in the last 3 decades.
78% of internet users watch videos every week.
80% of the traffic was through online videos in 2019.
41% of the videos are not understandable without captions or sound. Surprisingly, 80% of the users react negatively to the videos that auto-plays with a sound. That's why most social media platforms play them in silent mode.
Captions help with terminology clarification, concentration, engagement, and dialogue comprehension.
Wrapping Things Up...
If efficiency and effectiveness are what you are looking for in the video creation game, then I cannot stress the importance of adding captions enough. You can increase your reach, organic visibility, boost SEO, accessibility, and yet ensure that your viewers enjoy the video to the fullest.
So, good luck in creating memorable and engaging videos.