Guide to Instagram Video Ads for Shopify to Increase Sales
With more people spending their time scrolling through Instagram, it only makes sense for business owners to focus their paid advertising efforts on this visual-centric platform. Instagram introduced ads within the feed as well as Stories, allowing advertisers to maximize their reach and hopefully in return, increase their following. This is said to be very useful with helping out businesses, along with other strategies such as looking to buy instagram followers to help with business growth.
If you're looking to scale the growth of your Shopify store, you may want to start looking into Instagram ads. Statistics found that 30% of users have bought a product they discovered on Instagram. With higher engagement and better performance, Instagram is where you need to invest your ad budget.
Now, better you grab any product images from your website and set up your ads on Instagram, you need to ensure your Instagram ad strategy is sure to convert. For this, you need more than just a few images to do the trick, maybe even a visual that tells a story. What better way to get your ad audiences to connect with your brand than with video?
In this guide, we're giving you the rundown to Instagram video ads, how to create them, and best practices for your Instagram video ads to increase purchases on your store.
Why are Video Ads on Instagram Effective?
Audiences on Instagram are highly invested in the platform's content. Unlike Google ads, Instagram ads appear in line with content from accounts that the user follows. An estimated 75% of Instagram users will take action on at least one ad at some point. Due to this, the user is less likely to be biased about engaging with your Instagram ad. Advertising on Instagram is one of the most popular ways of marketing these days, so businesses should really consider investing in that method. When trying to look reliable on Instagram, companies should really have a significant online presence before creating these advertisements. That helps users to trust the company, increasing the chance of a user purchasing from you. To create an online presence, you might want to look into getting some more followers. This can be done by using companies like Nitreo. Although you have to pay for this service, you could always use a nitreo discount code to save some money. This should help your company to look more reliable. From there, you'll probably want to start creating your adverts.
The content strategy within your Instagram ad plays an important role in whether the ad viewer proceeds to engage with you further. Videos demand more attention from the Instagram user, making them popular among Instagram advertisers these days. Video is, without a doubt, the most consumed format of content.
That's why top advertisers and large brands are prioritizing Instagram video ads in their ad strategy. Sponsored videos have also proven to see 3x more comments than a sponsored photo, and Shopify stores must tap into this opportunity to attract audiences that are sure to want to buy from you, either immediately or in the future.
Here's a quick primer on what Instagram video ads appear and behave. Unlike Instagram image ads which have more flexibility and versatility, advertisers only have 2 formats for their Instagram video ads:
1. Instagram Feed Ads
These ads appear right within your Instagram newsfeed as you're scrolling through content made by people you already follow. You can either set them up as a single post video or as carousel video adverts so that viewers can scroll to watch more of your video
Instagram feed ads allow 3 dimensions:
Landscape video: 600 x 315 pixels
Square video: 600 x 600 pixels
Vertical video: 600 x 750
Your Instagram feed videos should not be more than 60 seconds long within one post. If you are creating a video carousel for your Instagram ad, you can increase the length of your video by adding the rest of it within the second and even third carousel. Disney successfully created a video carousel ad.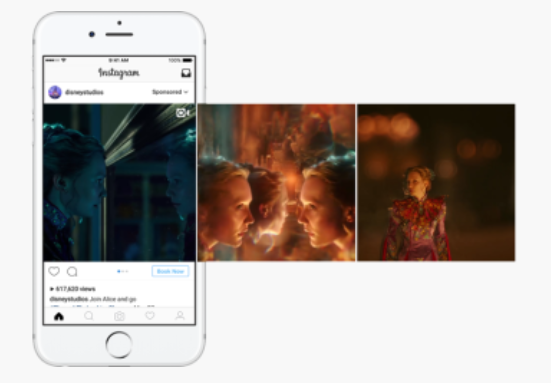 For Instagram feed videos, you can also add a caption as well as (a maximum of) 30 hashtags to increase reach.
2. Instagram Story Ads
Story video ads are shown among the Stories that you tap or swipe through on your Newsfeed or your Explore page. Unlike Instagram Feed Ads, these ads can only be of one dimension: 1080 x 1920 pixels.
Story ads only allow 15 seconds of video so advertisers are known to create fast-paced videos or gifs of their products with some text to make the product sound sweeter.
Note: We've seen many Instagram feed ads mistakenly set up as Instagram story ads, with square visuals and a lengthy caption. While you could set up your Instagram feed ads within Story, the dimensions will make the ad unappealing to view and your audience will see the caption and the hashtags collapsed under the video asset. This unoptimized look of your ad will lower your chances of converting audiences.
How to Create Instagram Video Ads to Increase Shopify Sales
Step 1: Storyboard your video ad
The first step to making an online video is to storyboard what the video will look like. Define how your video will be shot and what each frame will contain. There are 3 elements of your video that you need to describe in your storyboard:
Text: The text overlay added over the video.
Visuals: The background video that is used to display the product.
Intent: The purpose of the visual in the video.
A storyboard will help you get your resources together and understand how long it'll take to shoot and edit the video. It provides a detailed direction for you, giving you structure so that you don't have to figure things out on the fly.
Step 2: Gather your footage
Now that you have your storyboard, you can quickly source your footage. You can get your footage in 2 ways:
Shoot your visuals by sourcing a space, picking up requirements like props and your products, and scheduling a day or two to get all your footage. Ideally, a DSLR and some lights would be the best set of equipment to get your job done but, even a high-end smartphone can do the job.
Pick up stock footage from resources like Pexels Stock Video. You can use stock videos for generic shots that will be too expensive to shoot. It is important to note, however, that it would be better to show more of your products than generic footage.
Step 3: Edit your video on Typito
With traditional software, video editing is a complicated skill. However, Typito has simplified how you create videos, allowing even non-videographers to put together attract videos. Typito's drag-and-drop video maker allows you to upload your footage onto the software, put it together and add transitions, motion animation, text, and audio to create a video worth sharing.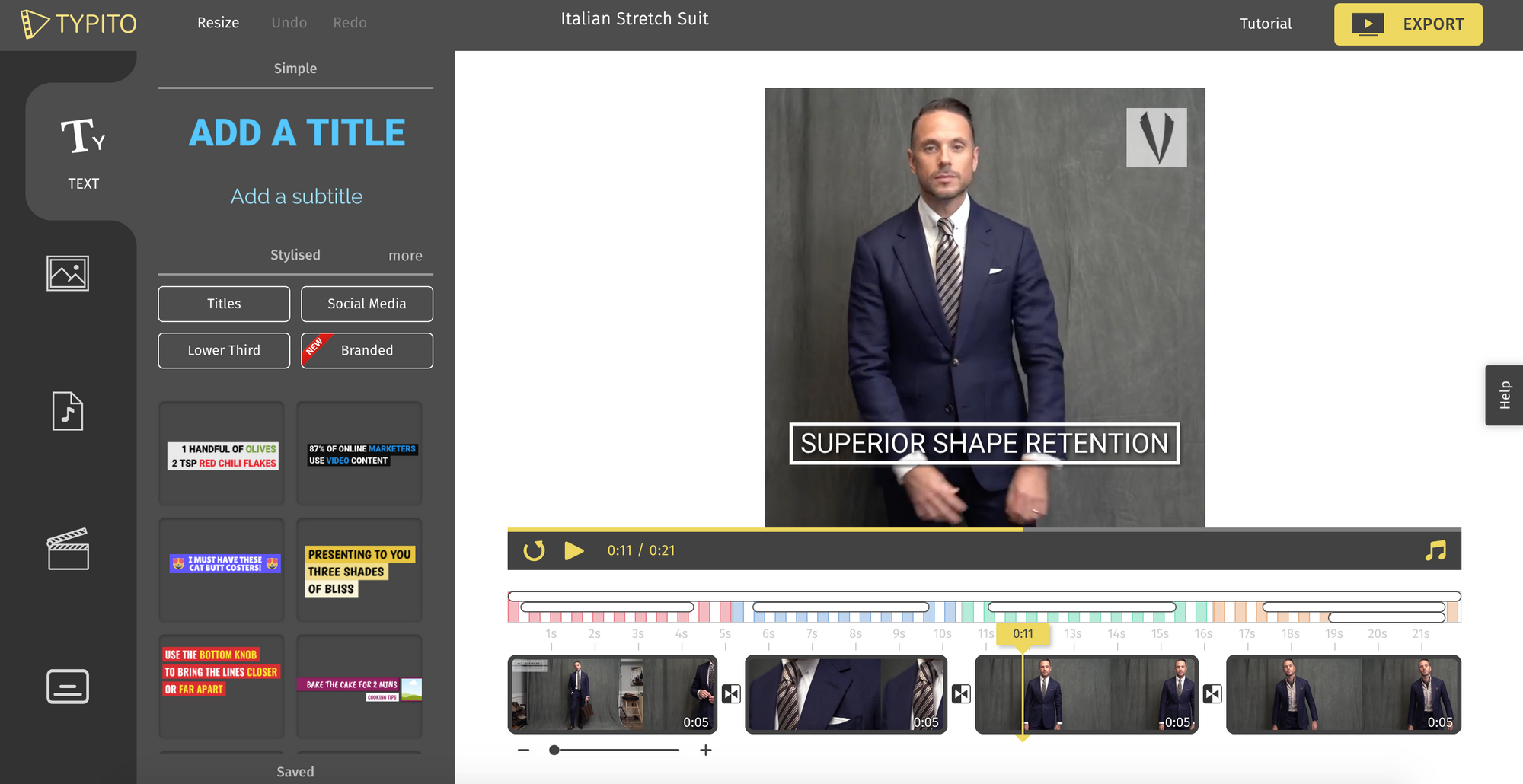 Keep these elements in mind when creating your Instagram video ad:
Font: Use the font you've picked for your store so that it is consistent with your branding.
Text Color: Stick to black or white for neutrality. You can even highlight your text with a bright color to give your video a little pop.
Brand identity: Add your logo on the bottom right. This ensures shoppers can identify your store without the logo distracting them from the product.
Audio: Pick up copyright-free songs from open libraries like YouTube Audio Library.
Step 4: Set up your Instagram ad
You can start setting up your Instagram video ad within Facebook Ad Manager. This help guide by Facebook explains how you can set up a video ad. While setting up your ad, recheck these important elements within your ad:
Ad caption (for Instagram feed): Keep your ad caption short but catchy.
Link: This will be the page that your audience will be directed to from your ad. Ensure that your page is optimized for mobile.
Call-to-action text: This is the text seen for your viewers to click (on Instagram Feed Ads) or swipe (on Instagram Story Ads) so that they are taken to the landing page. Use text that will incite your shoppers to take action instantly.
If you find Facebook ad manager too complicated or want a simplified tool for your Facebook ads, here's a listicle that recommends 4 different Shopify apps created for ad setup and management. You can also get help from companies such as Linear if you want to see what other management styles there are.
Step 5: Monitor ad performance and optimize
No ad has been perfect with just one iteration. That's why when you create your video ad, you should monitor how it's performing and optimize it in real-time.
Facebook's ad insights give you detailed reports of how your video ad performed- views, clicks, and purchases. The report helps you filter your ad results, compare different versions for A/B testing, and learn how viewers interact with your ad.
Optimizing your video ads is simpler when you've created your ad asset on Typito. The drag-and-drop builder makes it easy to make minor changes, whether it's the effects you use, the text added to the video, or even the placement of the footage.
Pro-tip: You can connect the Shopify Kit to help you monitor your ad performance. Kit is an app built by Shopify that works like a virtual assistant. It informs you about trends within their Facebook ad, helping you identify opportunities to attract new audiences.
Best Practices for Video Ads for Instagram
Now that you know how to create an Instagram video ad, don't forget to get the details right! Here are the 8 best practices for creating video ads on Instagram that increase Shopify store sales:
1. Ensure your first seconds compel viewers to keep watching
The first few seconds of your video is make or break. Your viewers will either continue watching it or scroll past it. That's why your video ad's first seconds must deliver a compelling message about your brand/product.
Your first 3 seconds can do a few different things to attract attention. You can incorporate movement, bright colors, or ask a question.
Apple's ads are fast-paced with all the information about the product delivered in less than a minute. In the video below, they show a man dancing and quickly cut to the Airpods and its sleek design.
2. Set one goal you want your ad to achieve
Many advertisers try to use one ad to achieve multiple goals. Some ads even get to you by helping you achieve your goals. If you're into betting for example, and want to learn more about the best sportsbooks and betting platforms, then ads will aim to promote this. By doing this, they create generic ads that have low engagement rates. Your Instagram video ad must be created to achieve just one goal. This goal can be to drive awareness for your brand, show why your products are special or prove credibility with an influencer collaboration.
Once you choose your goal, ensure your content and visuals align with what you want to achieve.
3. No sloppy copy
Despite being a small part of your Instagram ad, a well-written copy can make audiences want to look at your ad asset a little longer. Many eCommerce stores use generic copy to talk about their brand and they fail to resonate with their audience consistently. Optimizing every part of your ad is crucial to maximizing the revenue you generate.
When writing your copy for your ad- your ad caption as well as the text within the Instagram ad- ask yourself:
Why someone would want to buy from your brand.
What makes your brand worth trying?
Why did you create these products?
What's unique about your brand that your competitor can't deliver?
What benefits do your products deliver?
Give an example of how you helped one customer with your product.
Ensure that these answers align with the goal you have for your Instagram ad. With these different angles, you will be able to craft copy that fits your narrative and gets your shopper to take action.
4. Reflect your brand personality
From color to the tone of your copy, your brand personality matters. If you don't have your branding set in stone, take some time out of your day to brainstorm what your brand looks and sounds like. Your color could also just be the color within your logo or your store.
The tone in your copy should create consistency in how you portray your brand to your audience. With your tone defined, it's easier to write your copy and it's easier for your audience to recognize you.
5. Increase Revenue with A/B Testing
Use A/B testing to test different versions of your video, ad caption, or video thumbnail, and understand which one your audience engages with better.
For instance, you can show your product first in one ad variation and in the second variation, you can show a title in the beginning and later introduce the product. When you test both versions, you'll know which one makes your sample audience convert better. The better version of your Instagram video ad will then be rolled out to all your targeted users.
6. Set an eye-catching thumbnail for Instagram Feed ads
The thumbnail on your Instagram feed ad will determine whether your audience will want to watch your ad, turn up the volume, or even wait while the video loads. Set a thumbnail that tells your audience enough about your brand/product to make them curious. Hook your audience with a thumbnail that shows your products, asks a fun question, use keywords or show expressive faces.
You can even take the most exciting part of your video ad and turn it into a thumbnail. Don't forget that even your video thumbnail can be tested to see which one performs better, helping you improve your conversions.
7. Lead viewers to an actionable and optimized landing page.
Ever clicked on an ad you were interested in just to end up on a page that is poorly designed? We've all had to deal with websites that just don't fit our mobile screens or don't navigate well. It's hard to look through the product catalog, much less purchase from such an online store.
Before going live with your Instagram video ad, ensure that your landing pages are optimized, reflecting the goal of your video ad.
For brand awareness ads, you could either take them to your Shopify store or your Instagram page to nudge them to follow you. If this is your Shopify storefront, make sure your best products are on display and even showcase different collections your shoppers can browse through. Provide store visitors an option to subscribe to your emails so that even if they don't end up buying, they can be re-engaged later.
If you're running ads for a new product collection, you can lead your ad audience to a page dedicated to this collection, putting a spotlight on these new products and showing what offers shoppers can avail themselves on them, after all, you have done all the hard work, going through product development and hiring a consultant from companies like TCGen to assist you with this phase, and now it is time to show the market what you have made.
You should also test out the link yourself on a mobile device. Check if there are any loading errors or design glitches, and make sure the product images appear high quality.
8. Design for sound off
Oftentimes, viewers on Instagram mute the videos they watch. However, if the video has no captions or text, viewers are sure to move on to look at more comprehensible content.
To ensure your Instagram video ads don't lose out on valuable views, cater to this specific need. Add text that explains your video, whether it's copy that provides context to the visuals or captions to dialogues being spoken by people featured in the video.
Insider does a great job of designing for people who choose to watch Instagram videos without the audio.
Ready to create Instagram video ads that increase your Shopify conversions?
With Typito, creating Instagram video ads is sure to be simple. Now, you can set up ads that are interactive and make your ad audiences want to shop from you. Tell a story, show how your product is used, and use video to increase your revenue.