Copy Your Typito Projects in a Click!
"Agreed! It makes absolute sense to provide a project copy option, especially for our creators who produce videos for different languages." This was part of a conversation between me and my co-founder Srijith 10 days back. And in a few minutes we got a ping on live-chat:

Customer asking for Project Copy feature
We didn't spend any more time thinking about it. We knew we were not acting impulsively because of 2 reasons:
We'd already received feedback from 4 other active users asking for Project Copy feature (2 of them create videos for multiple languages)
We did a product feature analysis for Copy feature the last month and had decided that it's important in our Product roadmap.
Abhishek, the youngest engineer in our team who joined us recently, started working on the feature a week back and here we are, with a live demo of Project Copy doing a fine job: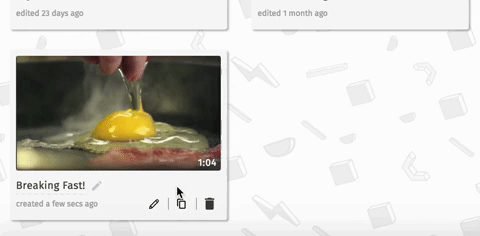 Create a copy of your project in a click!
Who will find Project Copy helpful?
Anyone who created multiple versions of the same video. We've seen some of our customers create variants of the same video for multiple languages (text). Project copy would also help if you plan to use most of an existing video and modify a bit to create a new video.
We really hope the feature helps our creators.
~Matthew CEO & Co-founder Typito