5 Tips To Get Your YouTube Thumbnails Right
Processing more than 3 billion searches every month, YouTube is the 2nd biggest search engine on the planet with 100 hours of video being uploaded and indexed on the platform every minute. For a moment, let's try to understand how YouTube is different from other search engines. Like Google, Bing and other search engines, YouTube enables discoverability for content by listing relevant videos on a list page using its proprietary video search ranking algorithm whenever a person searches something on the platform. While this is obvious and not really mention-worthy, what's indeed interesting to note is the way each video resource shows up on a YouTube search list compared to a search on Google, Bing or other search engines.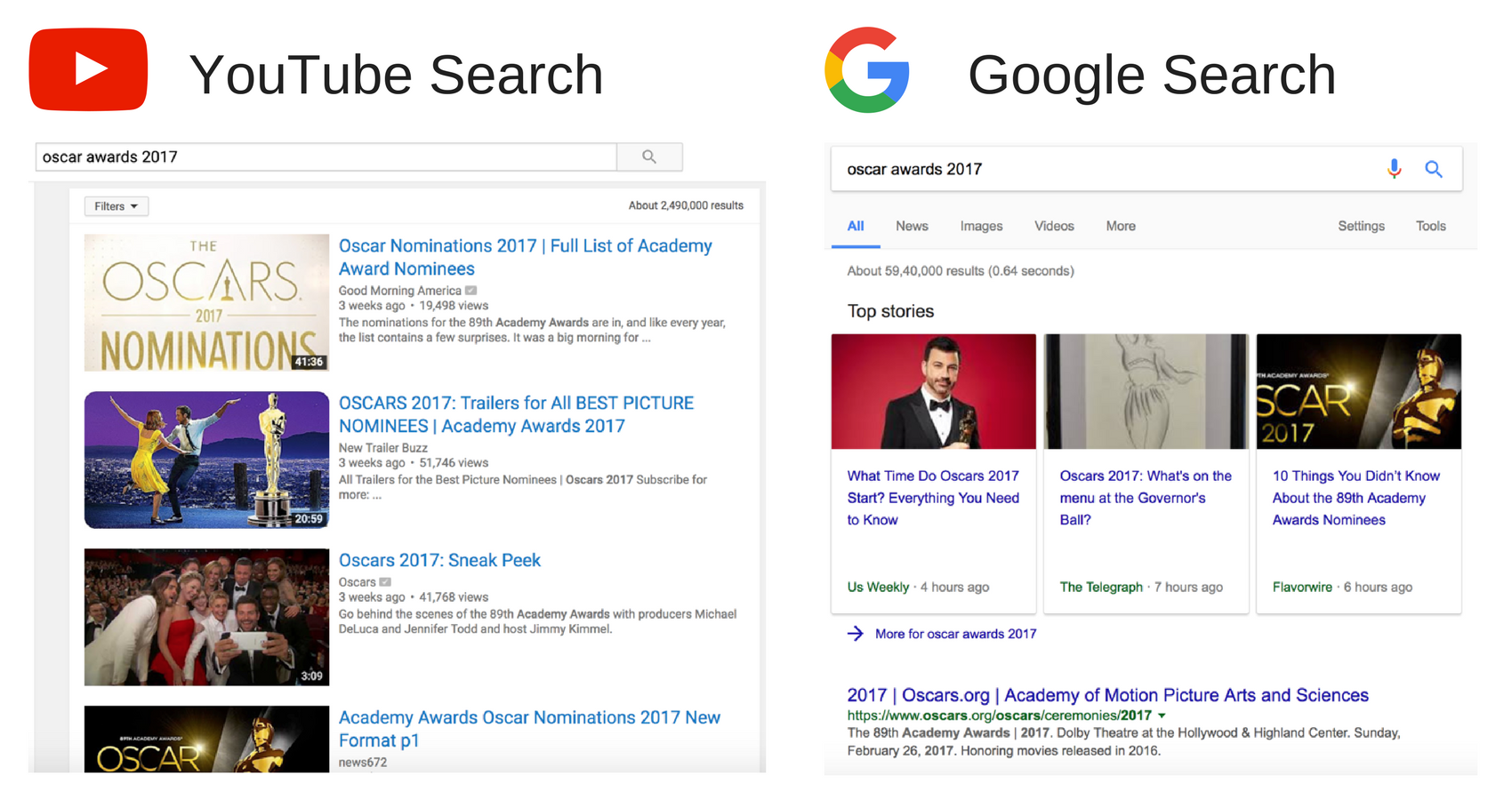 What a search page looks like on YouTube and other search engines
I hope you get where we are going with this. It's without doubt that among the other video entity attributes like title, description, duration, views and of course the order at which the video is listed on the video search page there is one attribute that's right on the face occupying more than 2/3 of a search result. It plays an important role in deciding whether the user watches a video or not - it's the YouTube video thumbnail.
This is precisely why you should get your thumbnails right when publishing a video on YouTube. It is up there with the importance of your Search engine optimisation being at it's best when working with websites. You want people to see your thumbnail just as a website owner wants their website promoted in every way possible. It drastically improves the probability of your video getting noticed in a list and eventually being watched by your audience, compared to other attributes of the video modifiable by the video creator like the video's title and description.
Let's now look at some of the key aspects of creating a YouTube thumbnail that gets your video engagement and discoverability:
1. Do not settle for the default thumbnail given by YouTube
This is the first step in your journey to create a good video thumbnail. YouTube provides a default thumbnail that's based on an intelligence that extracts a frame of the video that's most likely a one with the main subject of the video. While that holds true, the thumbnail is usually far from creating any sort of excitement. So first things first - stay away from the default YouTube thumbnail.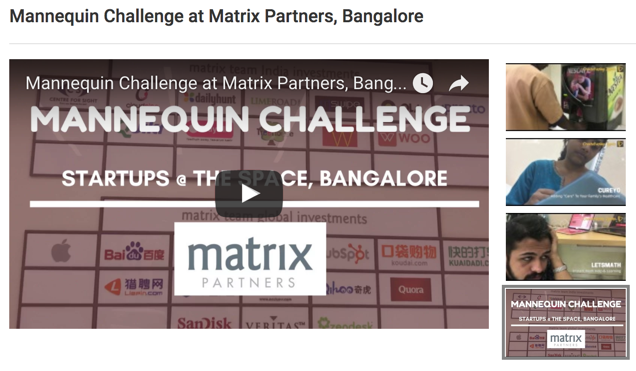 Comapare the top 3 thumbnail recommendations given by YouTube with the thumbnail created by us for a Mannequin Challenge video we did. The winner is obvious.
2. Create a thumbnail with a contextual background image
We already discussed that we shouldn't be satisfied with the default thumbnail that YouTube provides. So what next? Create a thumbnail of appropriate size (1280px x 720px is preferred) which gives more context about the video's content. Best way to think of your thumbnail is to treat it like a movie poster. Use a blend of images or the most important portrait in the video or a collage of characters in the video to drive home a point on how rich the video content would be. You can use Adobe Photoshop or other poster creating tools for creating your poster image.

The thumbnail clearly sets up the stage to watch the top goals by 2 of the best strikers in football.
3. Create a thumbnail with an engaging title graphic
It's a good idea to create a thumbnail that has a title graphic that reaffirms the content of the video. While doing this, ensure that the title graphic doesn't have the same text as that of the video title on YouTube - that would be a wasted opportunity and become redundant content. Think of a small and catchy title that would persuade users to watch at least the first 10 seconds of the video. Check out Canva for an easy way to add an engaging title graphic on your video.

Rosanna Pansino pays a lot attention to making the title graphic attractive and engaging on her YouTube videos
4. Build anticipation using your thumbnail
All YouTube videos are effectively stories of some sort. So you can use your thumbnail to create an anticipation to persuade the user to figure out what happens at the climax, i.e, end of the video. Thumbnail can also be used to give an idea about the craziest thing that the audience would be able to watch in your 5 mins video - an opportunity to sell the highest engagement point in the video. While there is no set formula to do this, this is an art that you pick up gradually and the approach usually changes with the nature of videos.

Lilly Singh (Superwoman) clearly wins at building an anticipation about what happened when she met Dwayne Johnson
5. Clickbait thumbnails - Should I or Should I not?
Having said all this, it's now become a tendency for video creators to exploit the customisability that thumbnail provides and create clickbaits for users to watch their content. You need to realize that if the video content eventually doesn't rise upto the expectation set by the thumbnail, there's bound to be disappointment for the audience and that could result in a lot of 'dislikes' for your video and that will hurt your video's ranking. And yes, please keep away the notion that YouTube pays for views; YouTube's monetisation is deeply linked with watch time and you are not doing yourself any favour by creating a clickbait thumbnail with no relation to the video content - it will reduce your average watch time per view.
Hope you liked the tips on how to create a YouTube video thumbnail that drives more growth for your channel. Please share other tips and tricks that you use to create awesome thumbnails for YouTube videos on the comments section below.