How to Add a Progress Bar to Video Easily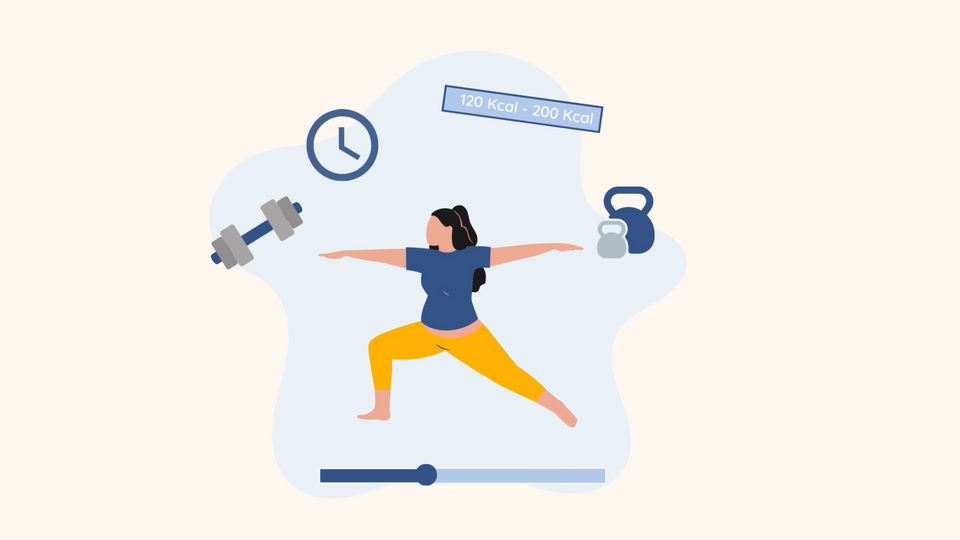 A good number of us have seen many types of videos on YouTube or social media, each featuring a unique combination of attractive overlays that sets them apart from the crowd.
A video progress bar is a trendy feature that has been gaining popularity among content creators. You've probably seen a progress bar in a workout video or instructional video that you can follow along with.
Adding video progress bars in your video is a simple but effective way to keep your viewers engaged for the duration. Usually, the progress bar is a thin bar at the bottom of the video or around the frame of your video that paces as the video plays.
Before we dive into how to easily add a video progress bar, let's look at why progress bars could help your video perform better.
---
Why is it essential to add a progress bar to your videos?
1. Helps viewers know their video-watching progress
Video progress bars give viewers a sense of how much of the video they've watched so far and how much is left to ensure they stick around till the end.
Video progress bars are also a handy addition to fitness tutorial videos. A progress indicator is useful for keeping tabs on your exercise routine and staying on track with the instructor. It is crucial to inform viewers of what to anticipate and the progress of their training.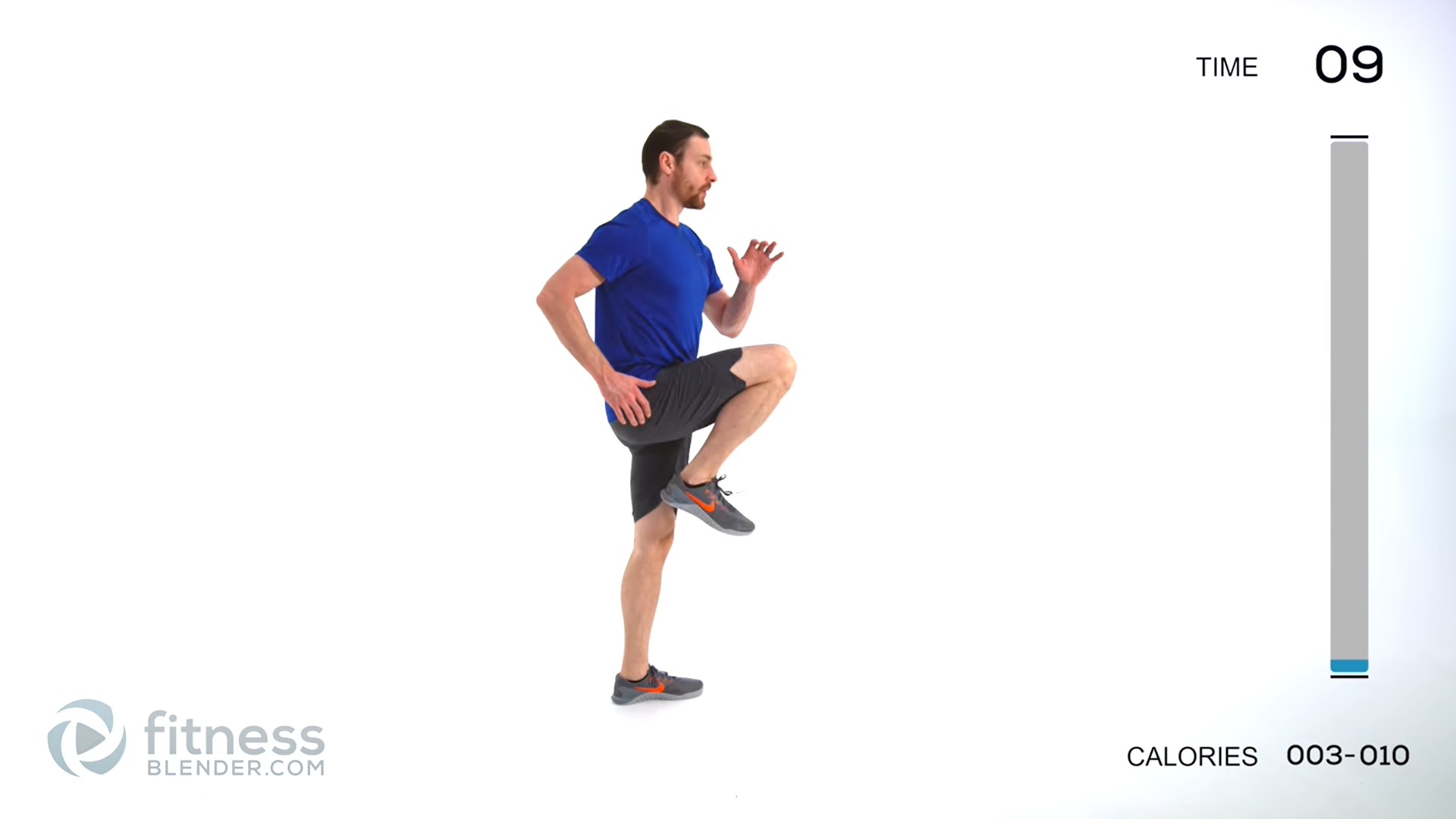 2. Generating better video engagement
Progress bars can ease your audience's mind and retain their attention better. Creating a sense of excitement and eagerness is one way to accomplish this goal.
Progress bars influence how long (or short) your video is, since they provide the viewer a preview of the duration. This may be a lifesaver at times - especially when your video is lengthy and the progress bar indicates that you've more than half the video, it prompts viewers to finish just that last bit of the video instead of dropping off midway.
As soon as the progress bar reaches the end, the audience knows their time has been well spent. Consequently, this will set off a domino effect of subsequent events.
3. It makes your videos more dynamic
The majority of fitness videos are shot in locations that are more calm and quiet, and there is not a lot of activity taking place in the background of your video. The addition of an animated progress bar to your video might serve as a visual centerpiece.
Animated progress bars are ideal since they are more likely to attract the attention of the viewer.
---
How to Add a Progress Bar to your Fitness Video
Step 1: Head over to Typito and get started for free
Login to Typito if you have an account, or get started directly and sign up later. If you already have an account with Typito, you can sign in, or you can just start editing and sign up later.
Let's start by choosing the right format for this video.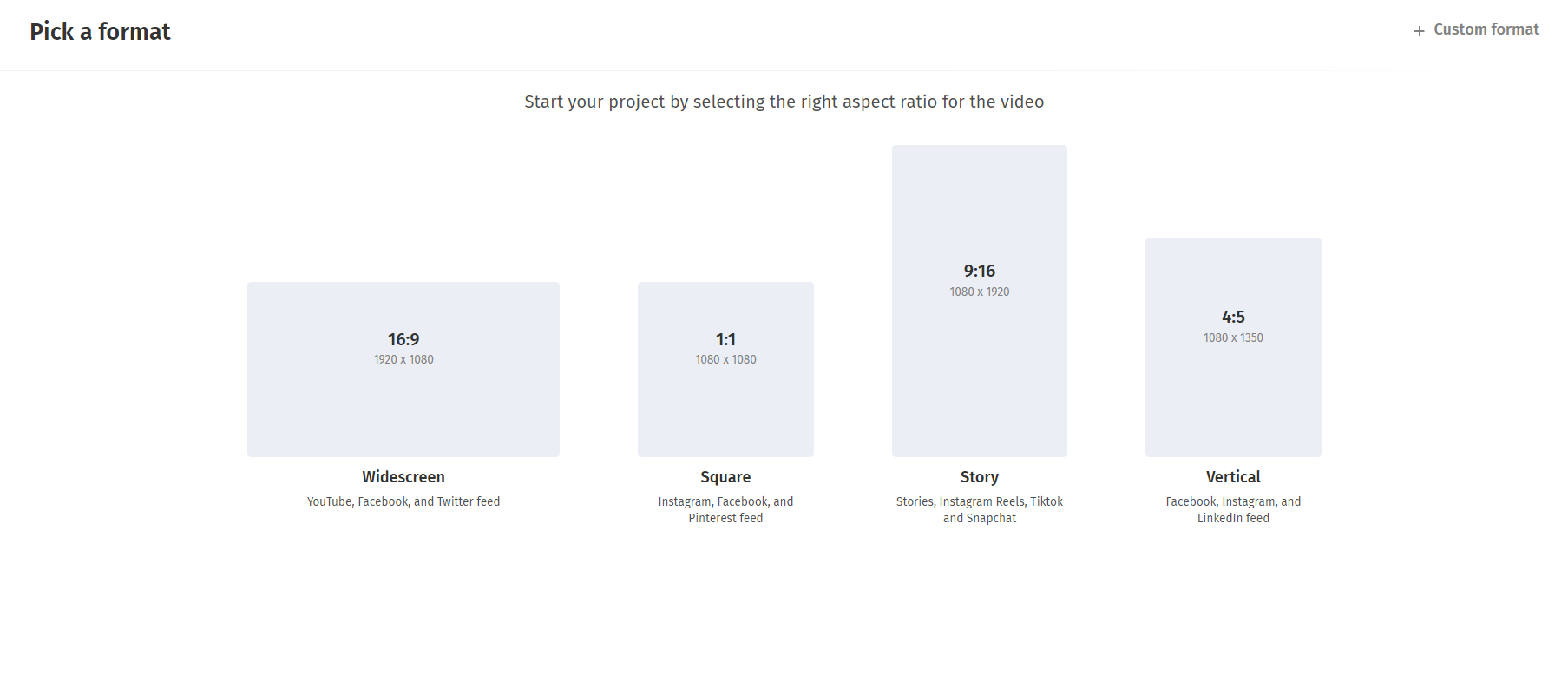 Once you've decided which format to use, upload your video. You can add files from your local storage by browsing or by dragging and dropping the file.

You can always upload more videos or images to your video as you build out your story.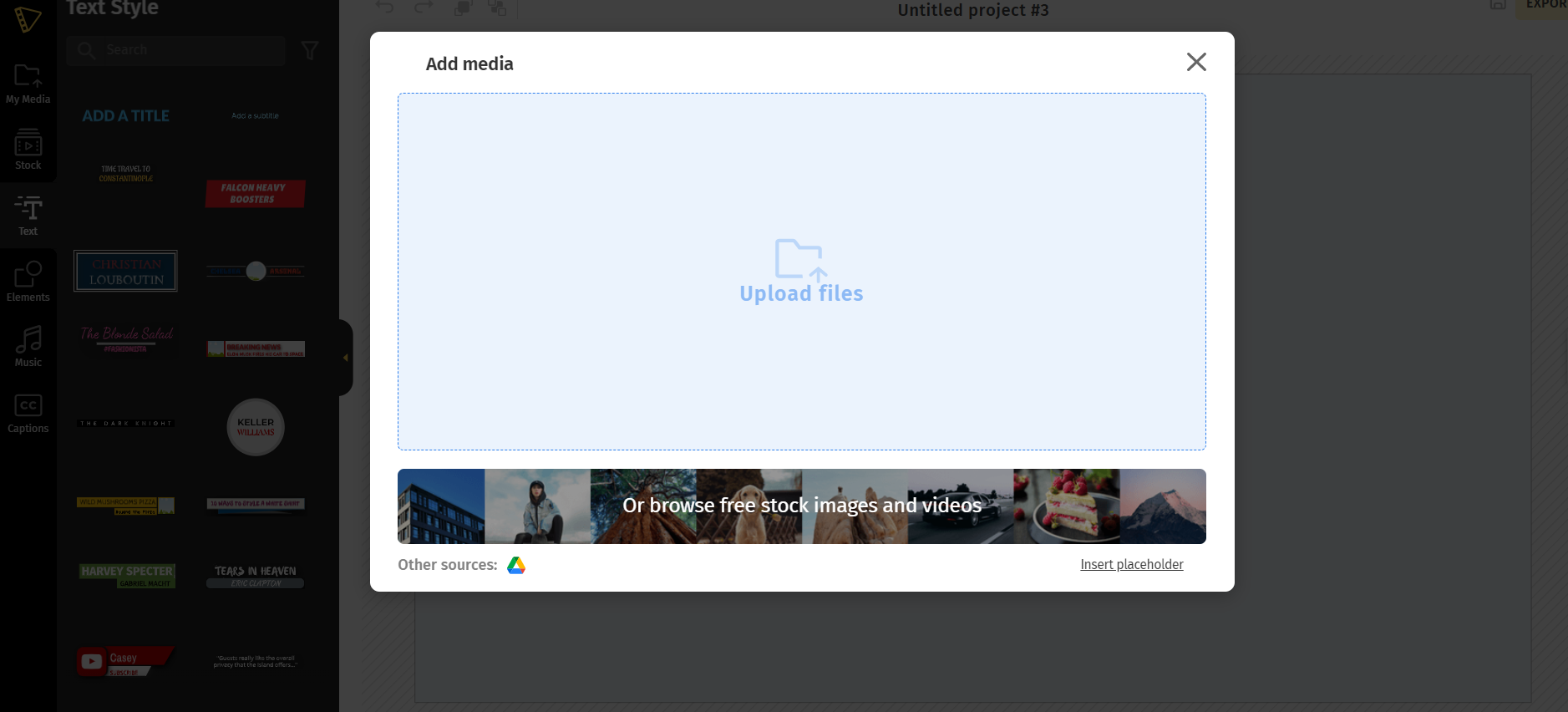 Step 2: Adding a progress bar
Navigate to the left panel and click 'Elements'. Go to the section that displays the progress bar, and then click "view all" to browse through multiple styles.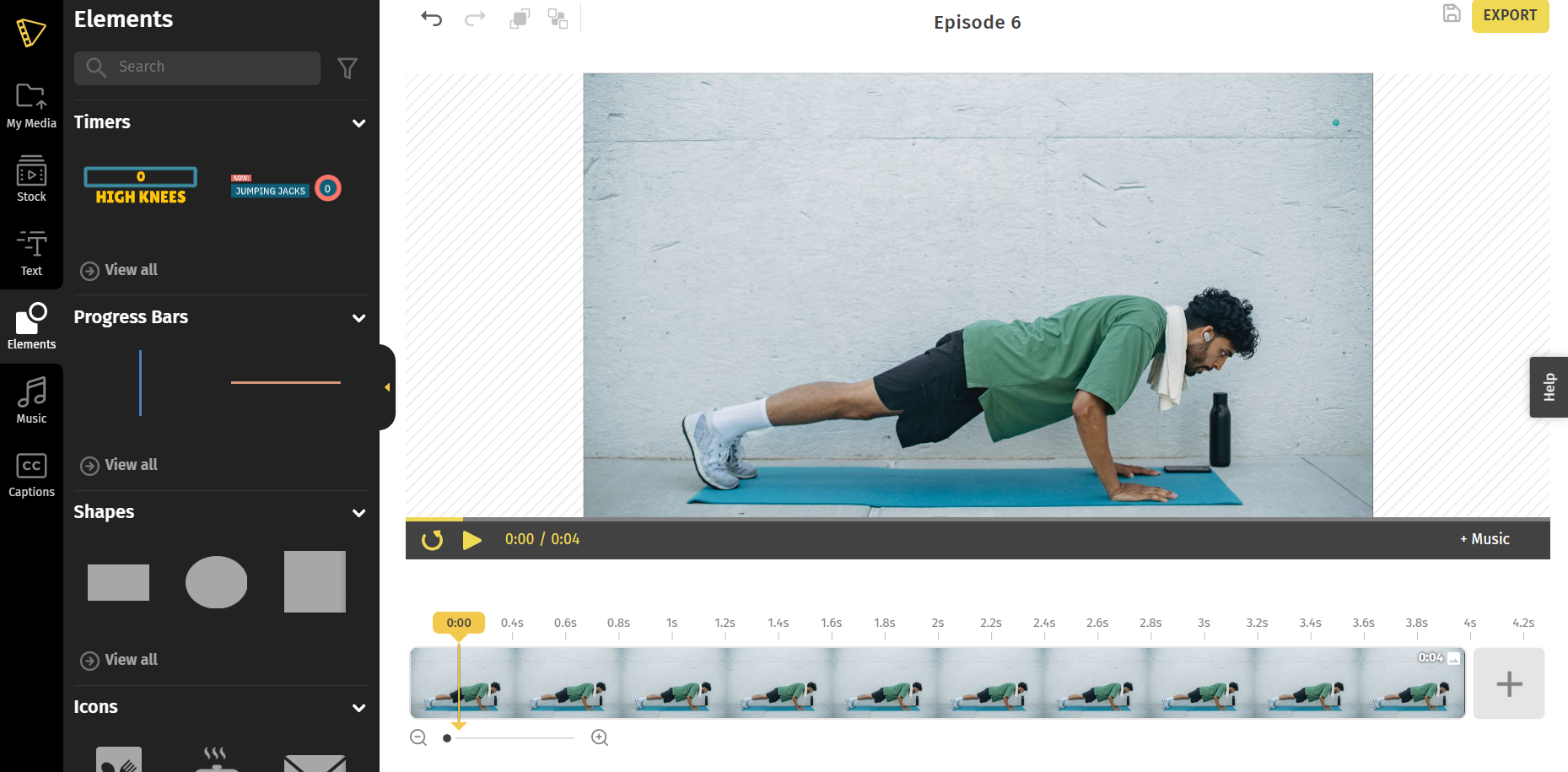 Typito offers professionally animated progress bars in two styles -  bars that progress horizontally and bars that progress vertically across the screen.
Pick the one that fits your video. Click the template to add it to your video.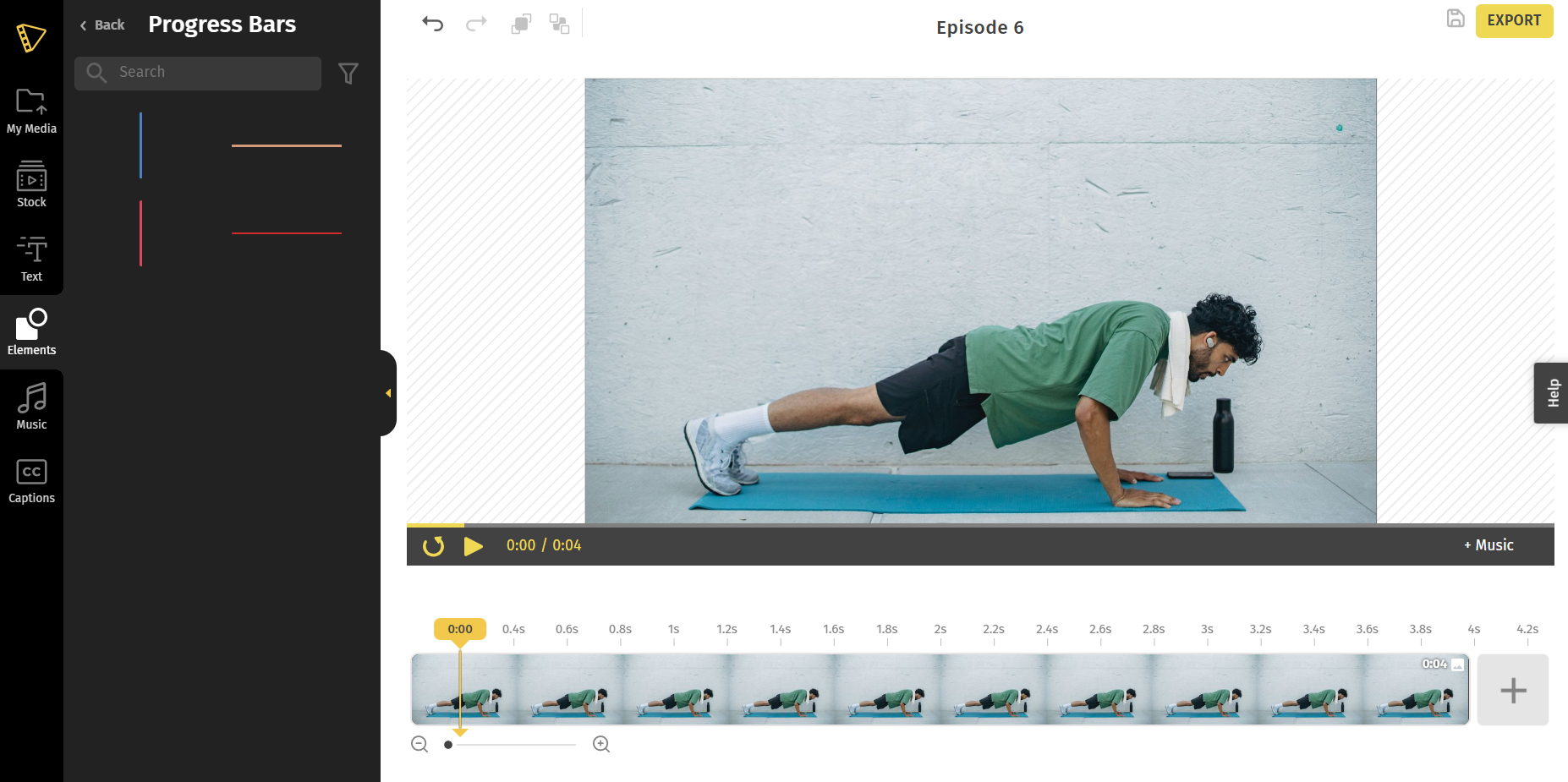 Step 3: Let's style your Progress Bar
The first step is to place your bar where it will look good in the context of the video. To do this, simply drag the bar on your video and place it where you want it.
Positioning is crucial. The progress bar shouldn't be so small that it's hard to see and follow, nor should it be too massive that it takes away from the viewer's focus from the video.
If you click on on the bar and drag the corners, you can alter it whatever size you choose.
Next step is to edit it.  Click on the progress bar in the video.
On the top of the bar, you will options to change how your progress bar appears. You can change the color, duration, overlay options, and more.
Customize the color:
You will notice a little circle on top of which will be the color you chose for your progress bar. Simply clicking on it will allow you to choose any color you want it to be. Pick the hues in such a way that they go harmoniously with the video that you have uploaded.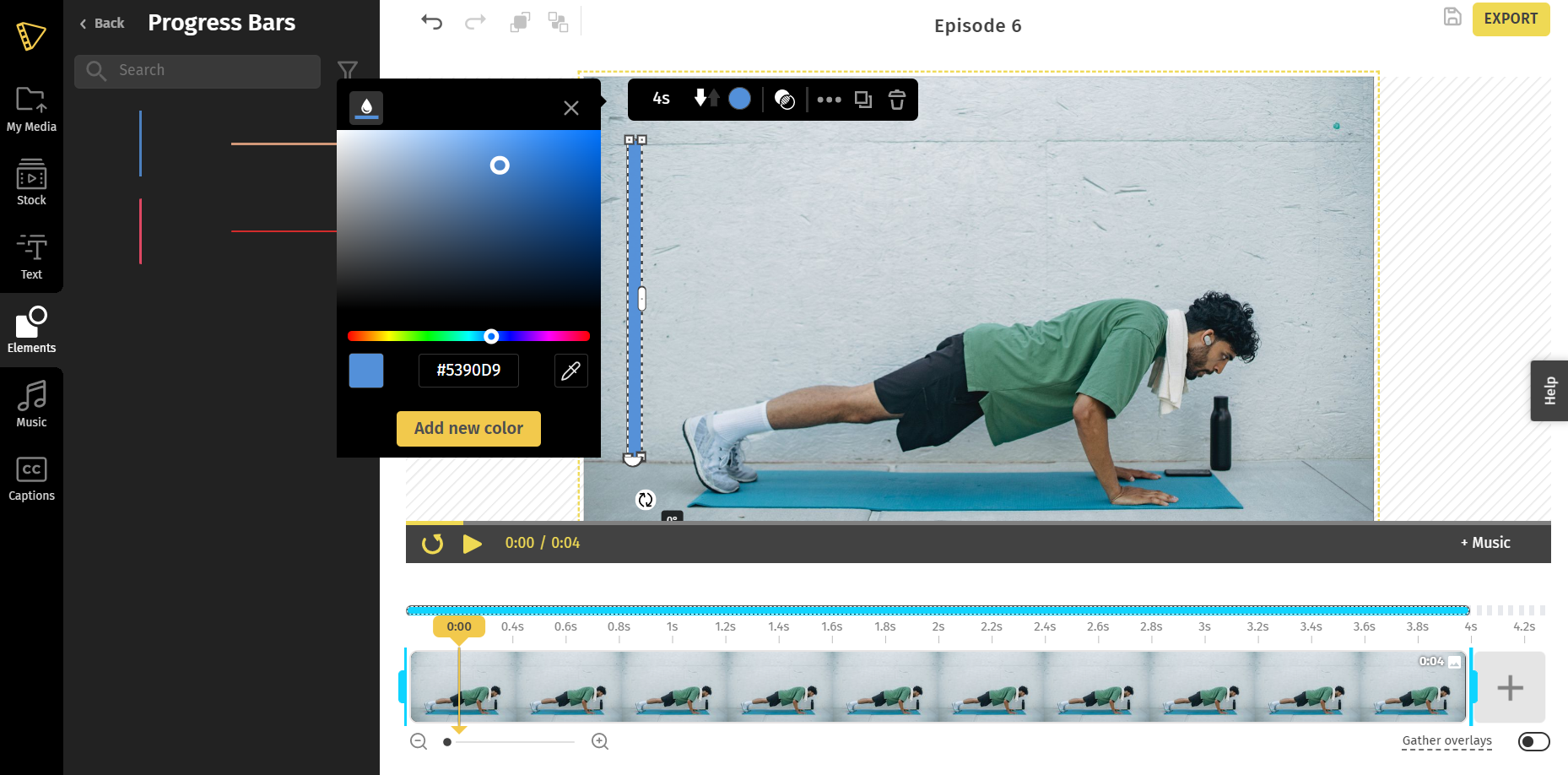 Simply clicking on the circle that is located next to the color picker will allow you to adjust the opacity of the bar.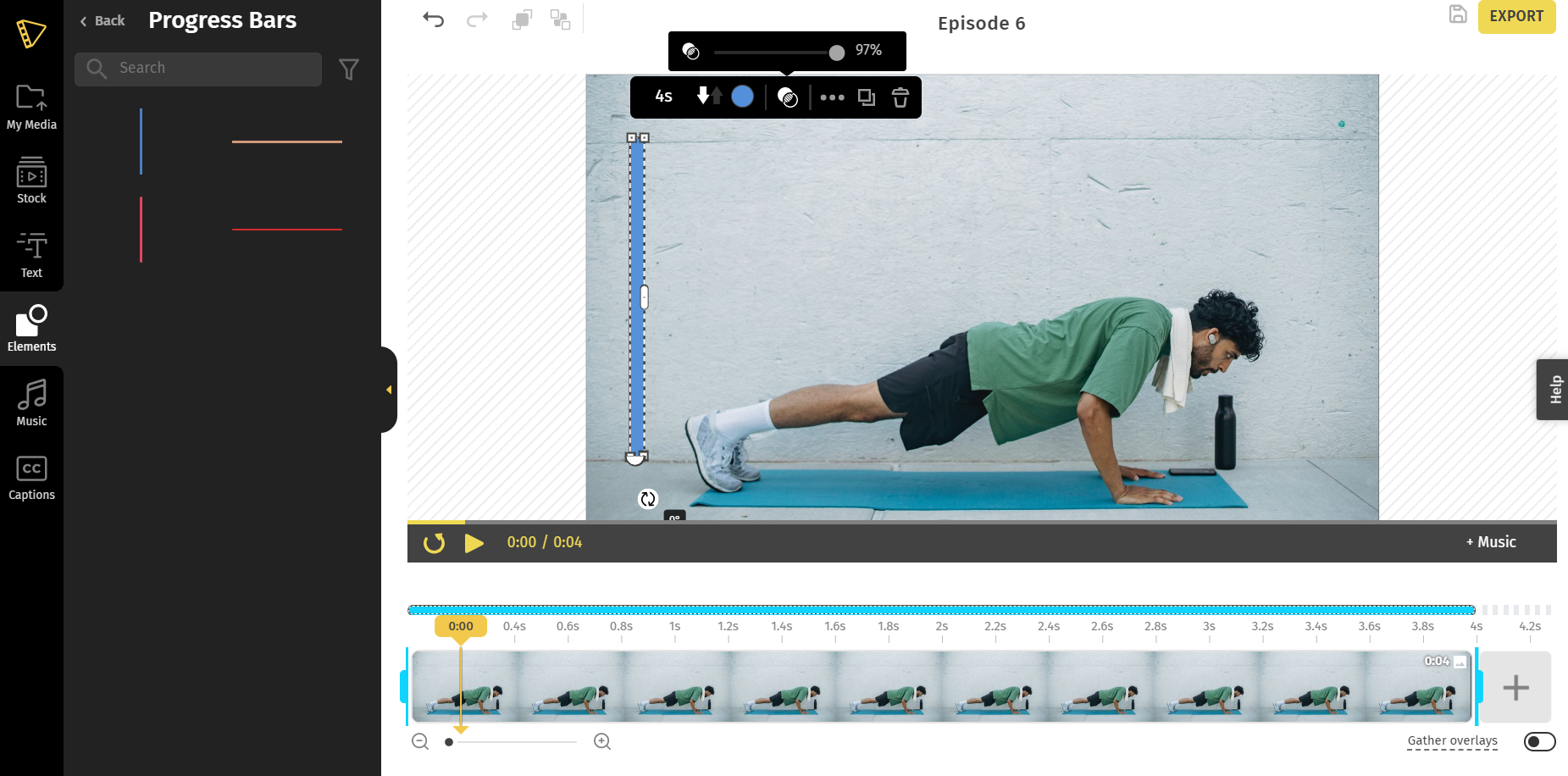 Adjusting the timer:
Click on the timer at the top of the bar to set the time. You can set your time from seconds or minutes.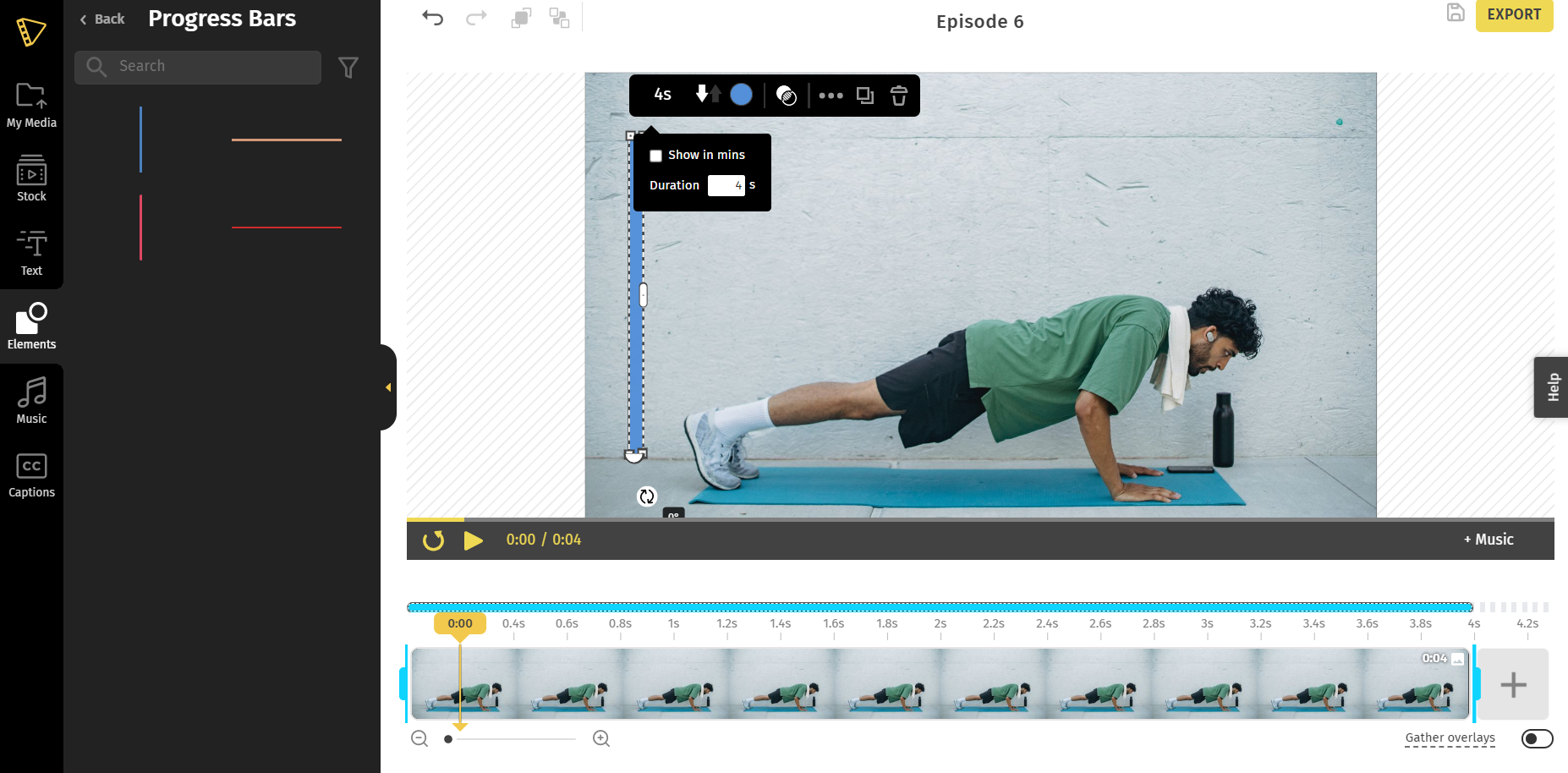 Rotating the bar:
Click on the bar. You may either use the controls on the video player's interface to change the orientation, or choose "Rotate" from the panel on the left. You may also manually enter the required angle to rotate the bar to any angle.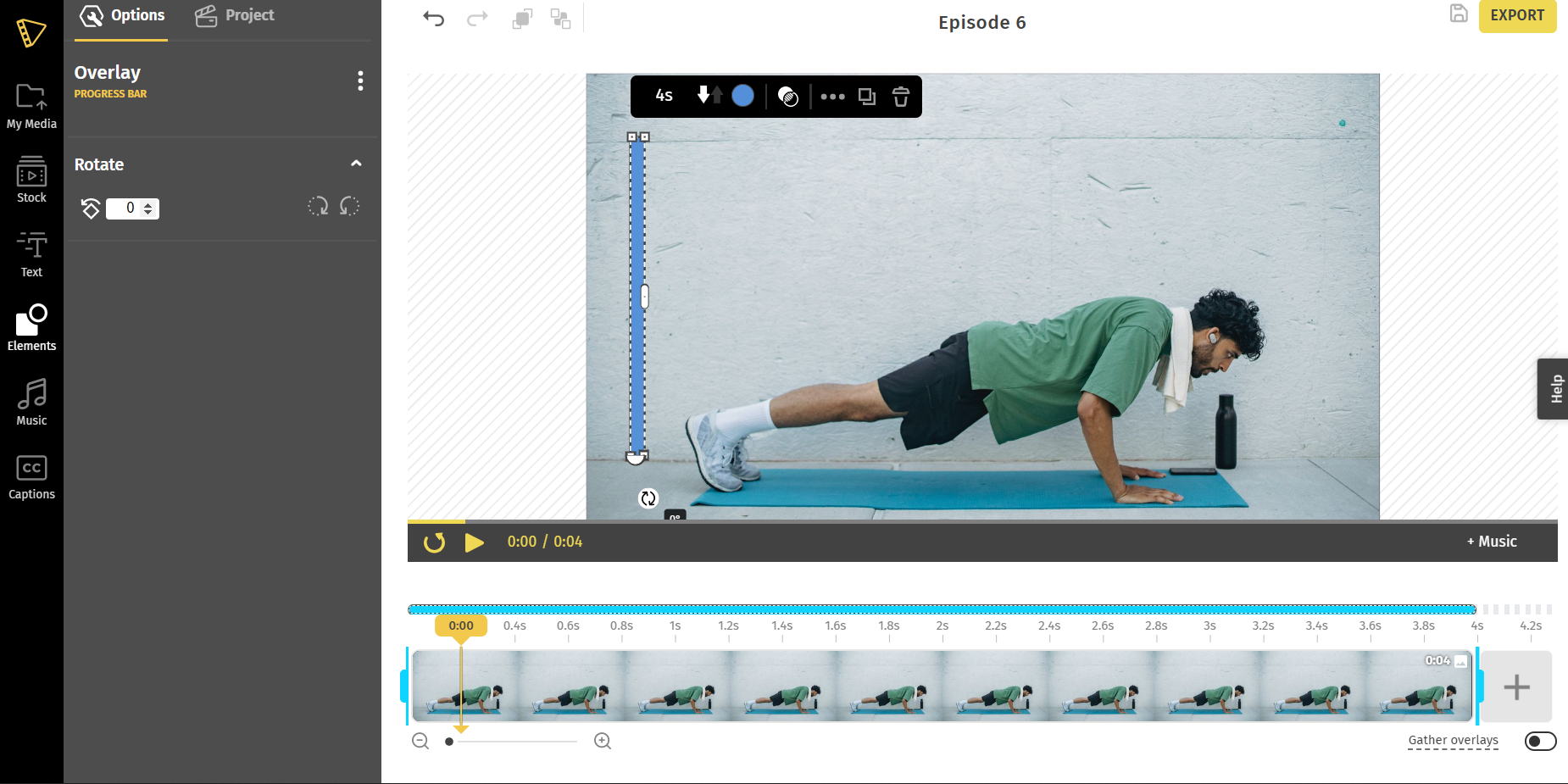 Step 4: Preview and export
As soon as you've finished adding and customizing your bar, you can take a last glance at the video to make sure everything is in the right place. To begin the export process, choose "export" and then "yes."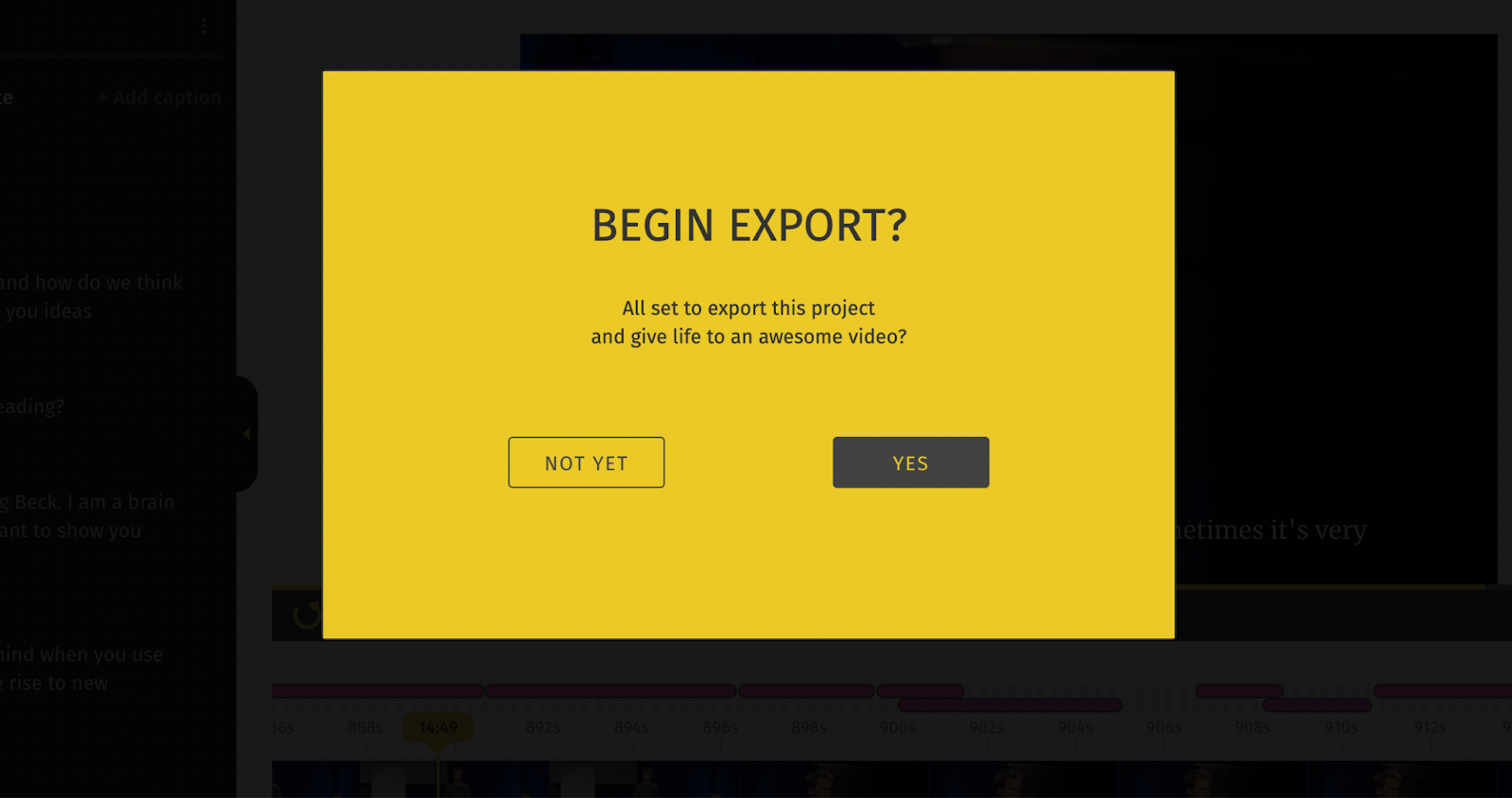 Once your video has been exported, you can download it or share it directly on any social media platform.
---
FAQ's
How to add a vertical progress bar?
A progress bar may help consumers feel more at ease by setting expectations and giving the illusion of progress. When properly executed, good design can elevate even the most ordinary object to a state of wonder.
Go to Typito and upload your video
Click on Elements and go to progress bars
Go to view all
Choose the desired vertical bar design
Another option is to rotate the bar
2. How to add a round progress bar?
Radial progress bars are becoming a popular element among many fitness content creators, businesses, and even personal websites. It keeps the audience interested and lets them know when their set is about to end.
Go to Typito and upload your video
Click on Elements and go to timers
Go to view all
Typito gives you the option to choose from multiple templates.
You can customize the time duration, the font, colors and even rotate it.
To add the beep sound go to audio on the left panel and add the time duration at which you want it to start.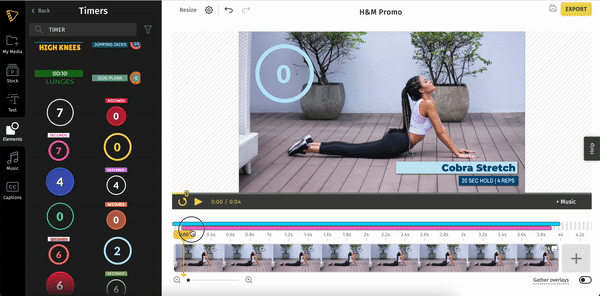 3. What are the different types of progress bars?
There are three types of progress bars. Head over to Typito to browse through progress bars that you can add to your video in just a click.
Horizontal and Vertical Progress Bars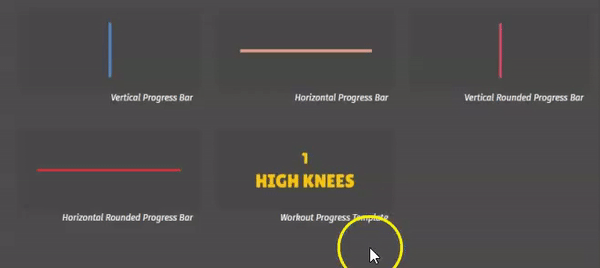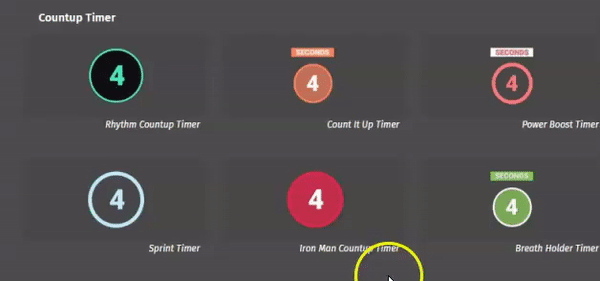 Final Take
Now  that you know how easy it is to add progress bars to your workout videos (in fact we added a progress bar to video in just a click), you won't need to spend time creating, designing an animation, or any other task like that.
You can just drag and drop progress bars and edit them. The watch experience provided by your videos is greatly enhanced by the addition of seemingly little details such as progress indicators, timers, and text.

If you have no prior video editing knowledge, Typito is the best platform that will help you create videos like a pro. Typito makes it simple to produce text-based films of professional quality.