Branded Templates on Typito
According to Hubspot, branded content was the most popular content marketing tactic in 2014, and it's set to grow in 2018. Well, it is 2018 and it is time to take branding seriously if you haven't yet.
Why Branding in Videos?
As Seth Godin said, "Every interaction, in any form, is branding."
Branding helps build credibility and trust and gives your company/business a personality. As mentioned by Brafton in one of their blog posts, branding is a visual process with several components to keep in mind like color, typography, name, logo, tagline and shape. The same post also mentions that 77 percent of B2B marketers state branding as critical to their companies' growth. A video is a combination of many mediums. It can have a podcast, text and include images as well. Branding on videos can do justice to all the above mentioned components that together make a brand. If you take the help of web design companies such as The Web Designer Cardiff (thewebdesignercardiff.co.uk/web-design-cardiff/) to create a stellar website with unique branding for you, then you can also include video elements on the site to create a more engaging and interactive experience with your audience, while also showcasing your brand boldly!
What has Typito got for you?
For the first time ever, a video editing/making tool provides the easiest way to add branded templates on your videos. Just a few clicks and drags and your audience will identify your brand way better than before on your video - wherever it sits - on a Facebook page, a Whatsapp group or even a personal computer. We've released 8 new branded templates for users and we're hoping that this would truly be irresistible for most out there :-)
What Inspired Us?
There are so many things around us that we probably do not pay enough attention to. Have you guys noticed the news channels and programs? The news tickers that appear on the bottom of the screen with the channel logo/show logo on the side is one of the most efficient ways to build your brand image. We've made sure that this does not stop at news channels alone but will be available for every video creator and marketer out there.
How to add Branded Templates?
Creating and saving your branded template is just 4 steps away on Typito.
Step 1: Upload your logo/image under 'My uploads' in the 'Image section'.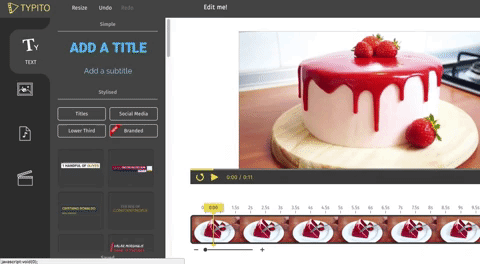 Step 2: Select the branded template of your choice and click on the placeholder area of the template
Step 3: Drag the logo/image to the placeholder area of the template.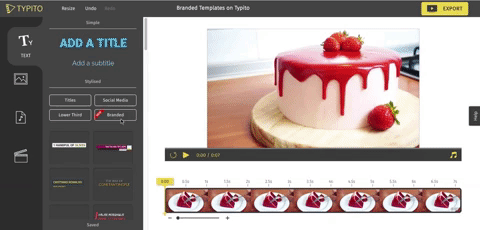 Step 4: Customize the template (colour, text) and save the template for your future videos.
Hope you liked branded templates on Typito. Do let us know how you plan to use these templates for your video campaigns.