How to Transcribe a Podcast Easily & Download Transcriptions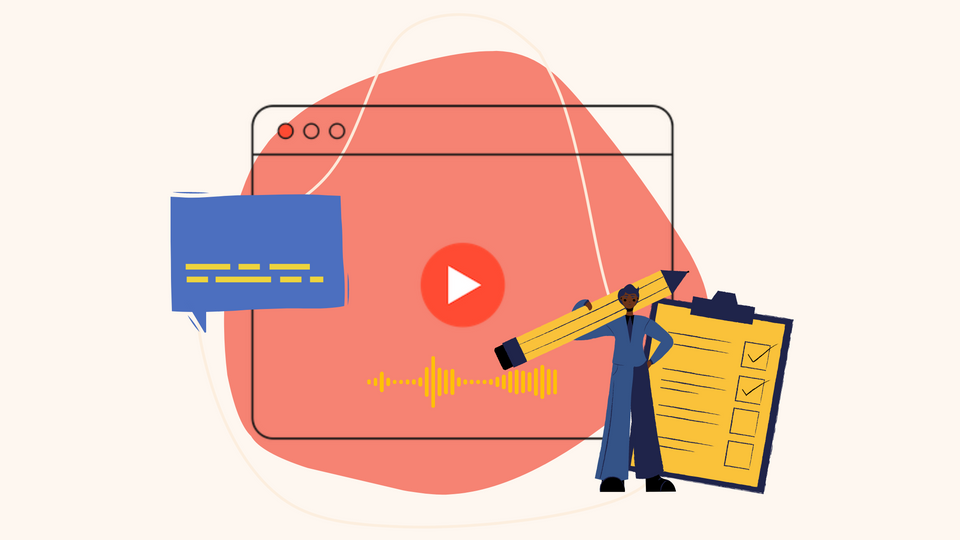 Have you ever contemplated launching your own podcast? The good news is that there is a lesser hurdle to overcome for beginning your own podcast. Even if you lack any technological expertise, you can still get started.

Creating a podcast is within the reach of almost anybody who has the enthusiasm and commitment. The podcasting medium essentially combines the flexibility of blog writing with the convenience of digital audio technology. If done correctly, it has the potential to provide an almost infinite supply of material.
Podcasts encourage deeper involvement since it is unusual to discover anything that can retain your attention for more than 30 minutes at a time. You can listen to a podcast while you are driving or cooking, giving you the ability to multitask more effectively than with traditional media.
Are podcasts going to be available in several languages?
The popularity of podcasts available in more than one language continues to rise. The majority of customers are searching for products that are convenient, particularly when it comes to the things they do in their spare time.
The goal is straightforward: if you want to grow your listenership, it makes perfect sense to have your podcast converted into other languages so that it may be heard by people all over the world.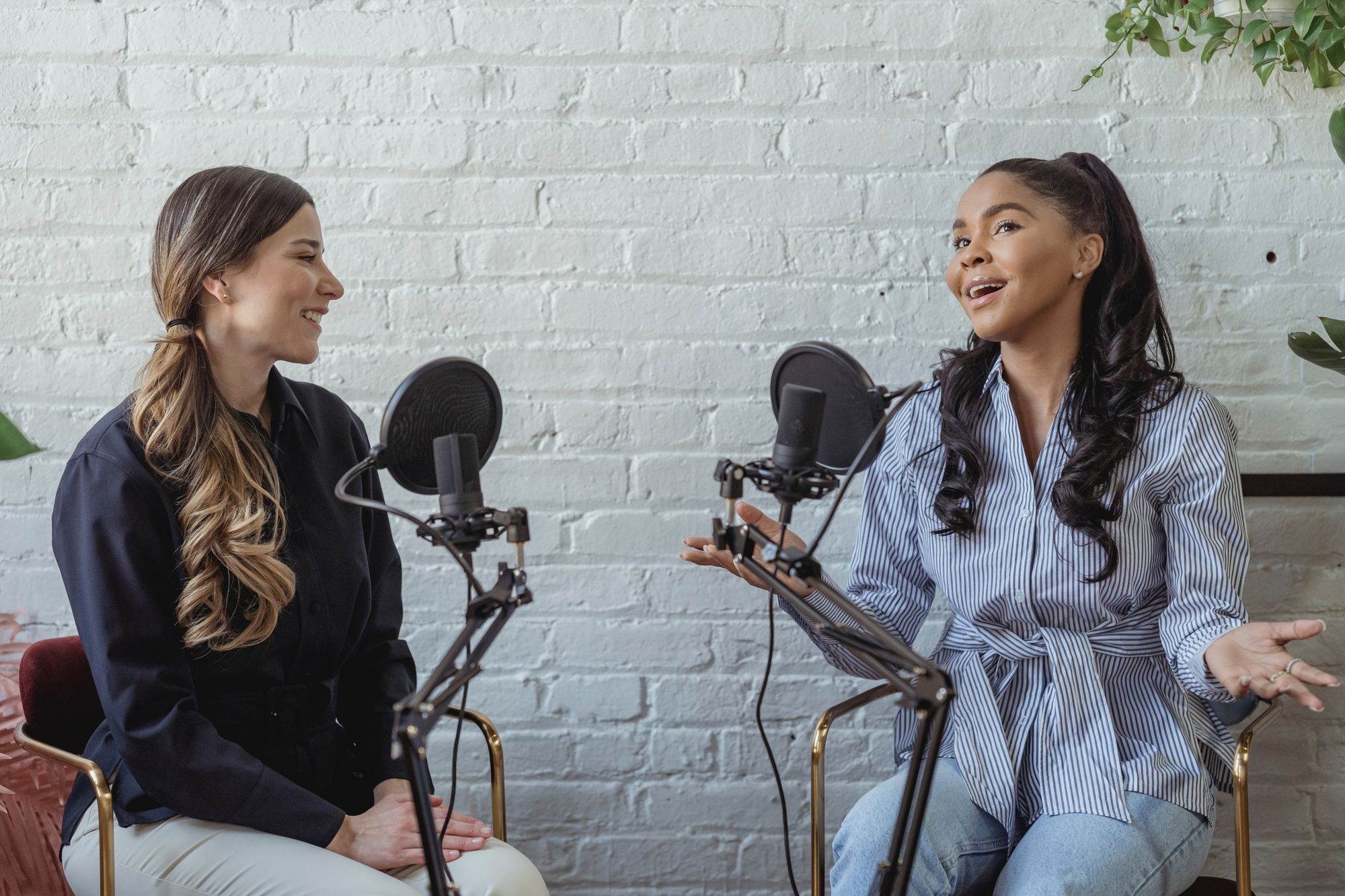 However, because more than 72% of people spend their time online interacting with content in their own language, marketers who want to get into the global podcast industry need an inventive strategy to communicate with consumers that speak other languages.
---
The Value of Transcribing Your Podcast:
Better watching experience- This connects to the ease you're giving your user by including a transcription. An additional way for more people to access and interact with your material is via transcripts.
Accessibility to a wider audience - According to the Hearing Loss Association of America, 20 per cent of Americans 18 or older report some form of hearing loss. 11 million people in the UK and 10 million people in the US are Deaf or hard of hearing. A little time spent learning the basics of accessibility can help not only impaired users but every consumer of your content.
Optimizing SEO -Search engine optimization may be improved by using transcripts of podcast episodes. Transcripted text has a far greater chance of being picked up by search engines than audio. Statistical analysis shows that the addition of the audio transcript pages resulted in a 4.36 percent increase in fresh visitors..
Help promote business- People between the ages of 18 and 34 make up the largest and fastest-growing demographic of podcast listeners in the United States. These demographics have heavy engagement on alternative social networks. You can make it far less of a headache for people to share it on social media sites like Twitter and Facebook. Making it simple for your listeners to spread the word about your podcast can boost your visibility and subscriber count. In addition to the audio recording itself, you are providing your viewers with a wealth of useful information.
---
Different Types of Podacast:
The Interview Podcast- Interview podcasts include a host or a pair of co-hosts who conduct an interview with one or more guests, who are often a notable figure in some field. The format is very much like that of a chat show on television. If you want to present listeners with a variety of perspectives, particularly those from specialists, this is an ideal decision to make.
Example:The Lptop Lifestyle by Alexis Teichmiller


Monologue/Solo Podcast- Consists of a single host carrying out all of the duties associated with hosting over the whole of the programme. If you are an expert in a certain industry and you want to share your extensive knowledge with your audience, this is something that you may want to think about doing. If you have never recorded a podcast before, here is the ideal spot to begin your journey.
Example:Dan Carlin's Hardcore History


Conversational Podcast- The format consists of two podcasters having intriguing talks on a variety of subjects and topics, such as news that is currently trending. This format is often ideal for two individuals that want to start a podcast together, have excellent chemistry with one another, and have the same interests in a certain subject or issue.
Example:Yo, Is this racist?


Video Podcast- A video podcast is similar to an audio podcast, but it also includes a video or other visual component. With a video podcast, listeners can become even more involved with their favourite shows and creators than they could with just an audio podcast.
Example: The Joe Rogan's Experince

There are several positive outcomes that may result from using a professional transcribing software for your podcast. Typito is an online service that offers a wide variety of tools for creating and sharing videos. The automated video transcription tool on Typito converts the audio from your video into text with very few typos.
Transcripts may be uploaded with videos as a text file (.srt file). Whether your goal is to generate captioned videos, increase viewer participation, or provide closed captions so that people can watch your video without sound, Typito will make the process of transcribing a video a breeze.
---
Here is a quick glance of what all we will cover in this blog:
How to Transcribe Your Podcast with Typito
How to Translate Youtube Videos to Any Language with Typito
---
How to Transcribe a Podcast: Step-by-Step Guide
Step: 1 Upload your video
Sign in to your account on Typito, or you can get started immediately and sign up later. Let's start by choosing the right format for this video.
You may choose a video format that is ideal for the social media site on which you want to publish this video.
You can choose between 1:1 square, 16:9 widescreen, 9:16 vertical, and 4:5 vertical. You also have the choice to modify the format in the way that best suits your needs.
Once you've decided which format to use, you can upload your video. You can add files from your local storage by browsing or by dragging and dropping the file. Adding new material to an already-in-progress edit is possible.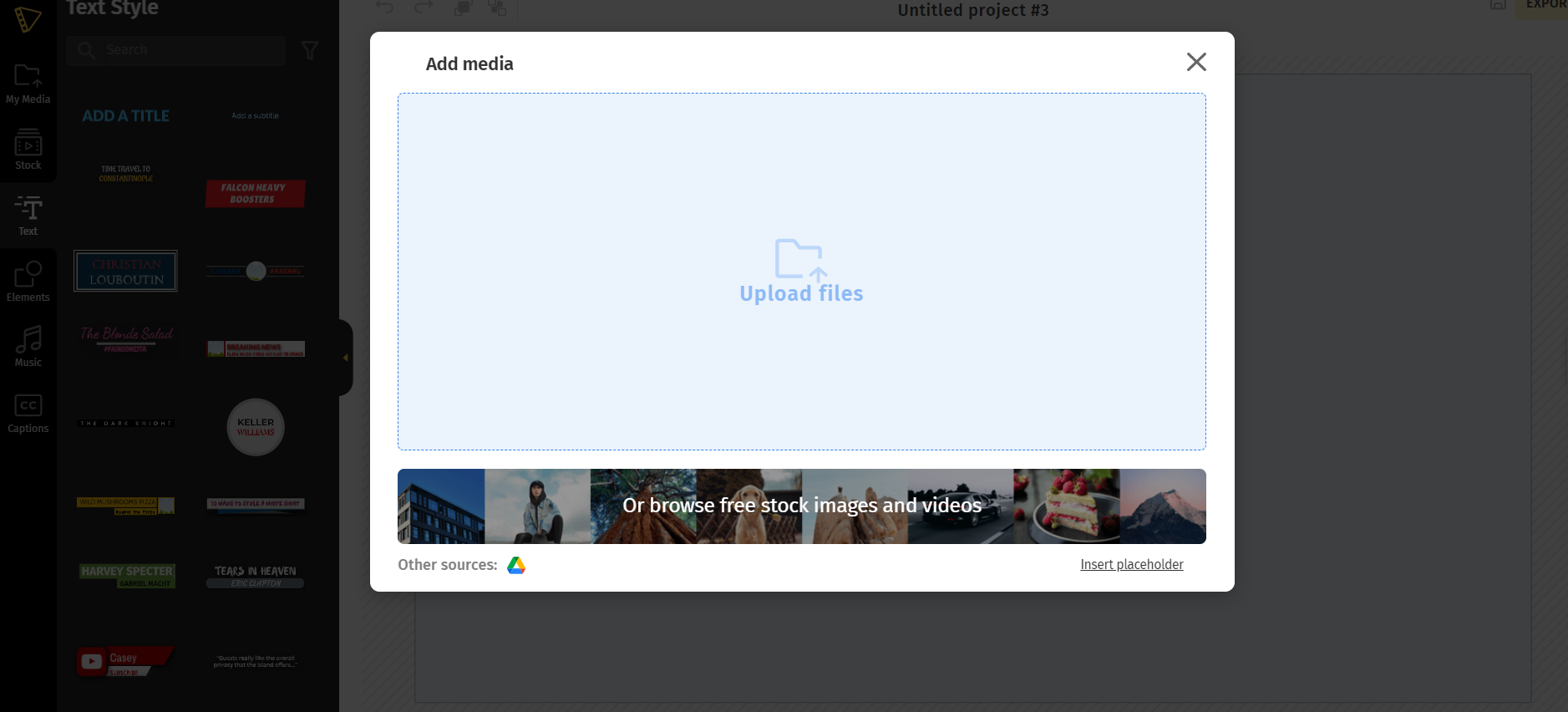 Step 2: Transcribing your podcast
Next, click the caption tab. Move to the left side of your body and click caption (last tab with the CC picture).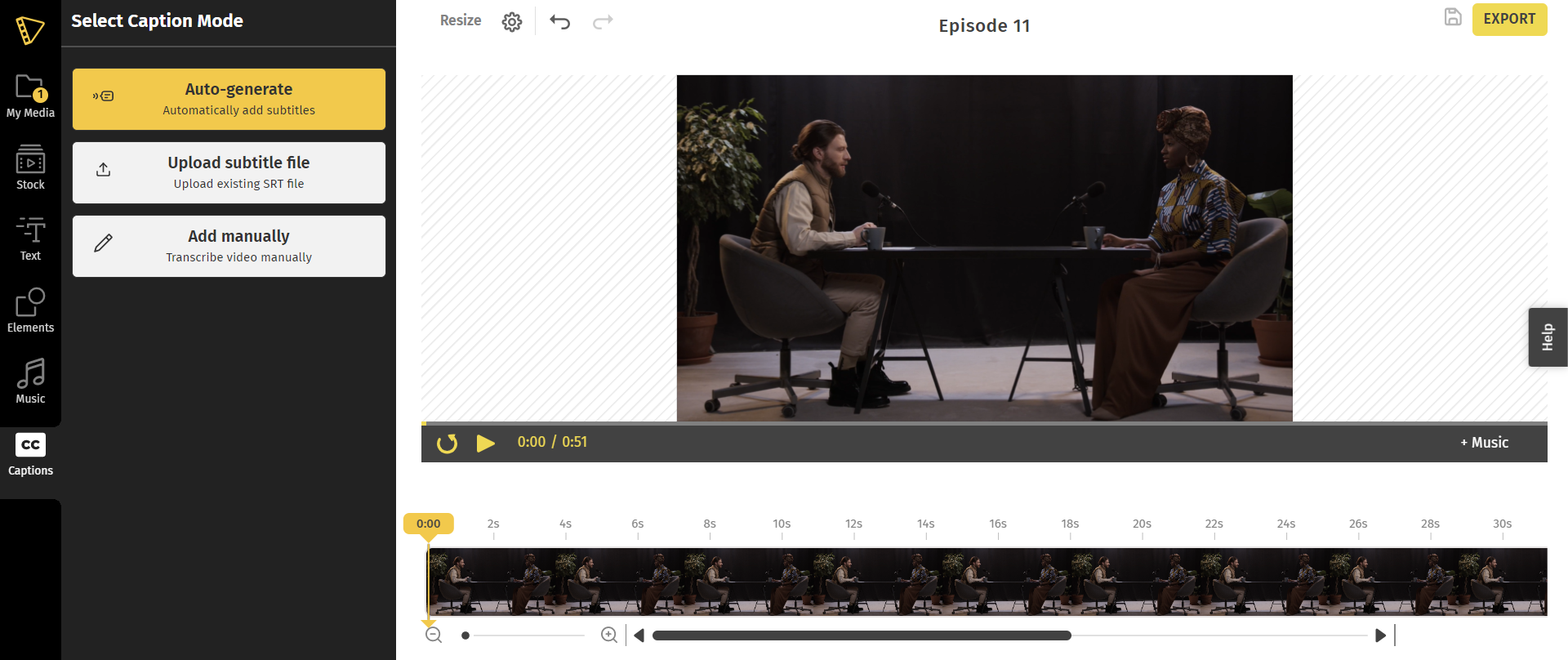 With Typito, you can explore three different ways to transcribe your video: automatically transcribe, upload an srt file, or manually transcribe. In this case,, choose the "Automatically -generate" option.
It's the quickest and easiest method to get professionally generated captions in just a few minutes' time.
When you choose this option, you will be taken to a section where you can choose your language. You can choose from more than 100 languages on Typito. First,, pick the language of your video or audio. Next, choose the language you want the captions to be written in. To move on, click "next."
After settling on a captioning method, you'll be sent to a new page where you may choose a visual style. It's important that the color scheme and typeface of your chosen theme go well with the visual style of your final video. The best results will be achieved with captions put at the video's bottom, although you may move the text around if necessary.
When you press "Start," you'll see that your captions are ready. It can be seen in both the video and the left panel. Watch your video to see if there are any mistakes. You can make changes to the video itself or on the left panel.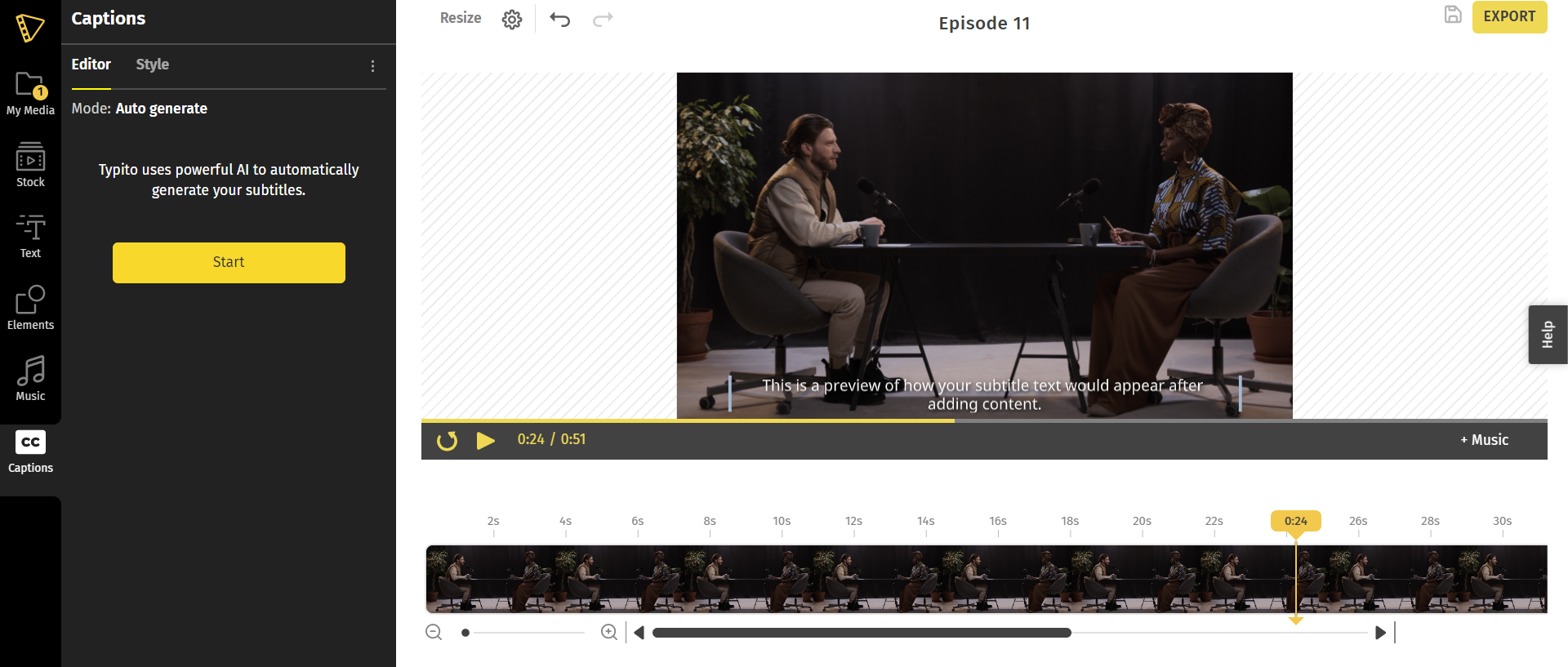 Typito's online auto-translation service is lightning quick and boasts an impressive 95% accuracy rate. Even if you do need to make changes to the transcription, it will only take a fraction of the time it would take to type it by hand.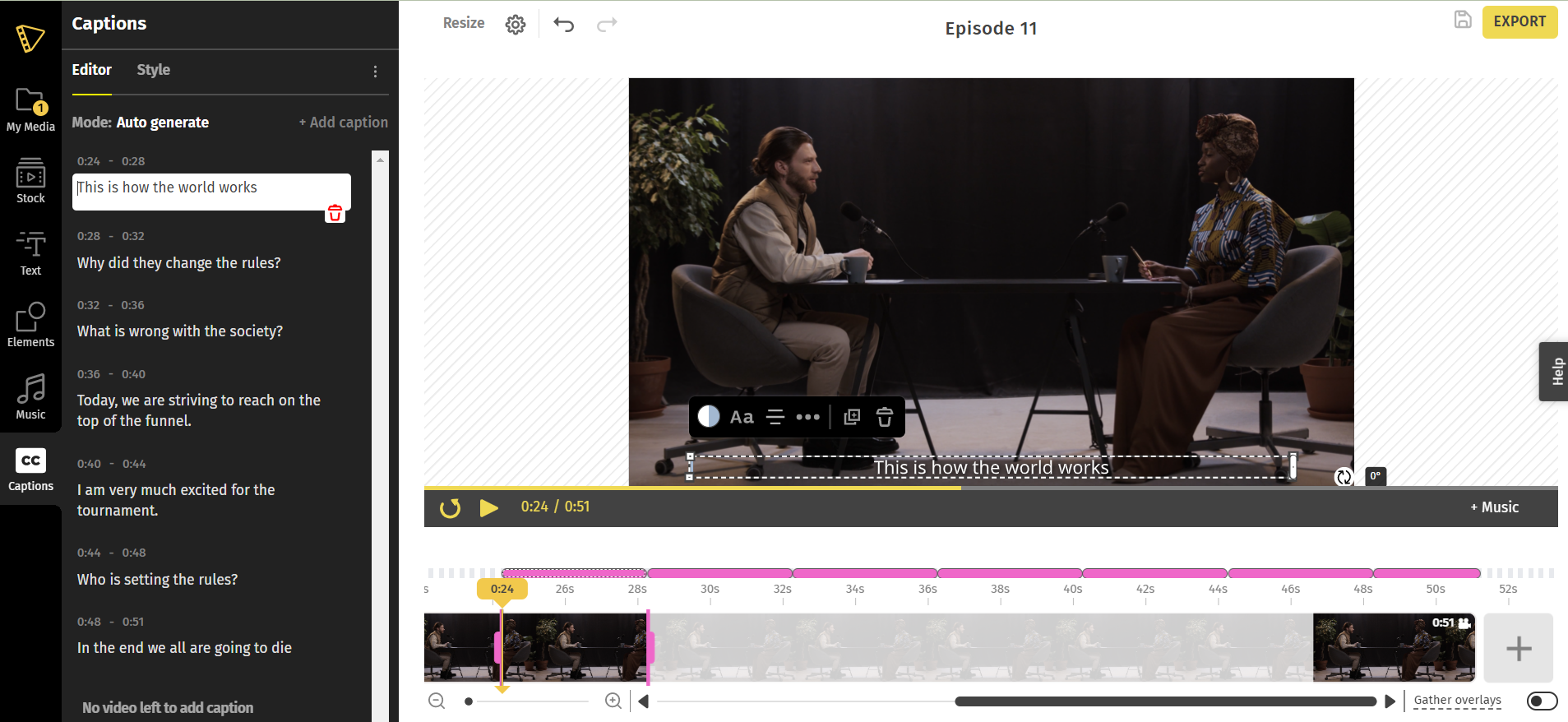 Step 3: Downloading your transcribed file
Give your video one more glance, and if everything seems to be in working order, you may proceed to export it by clicking the button that says "export."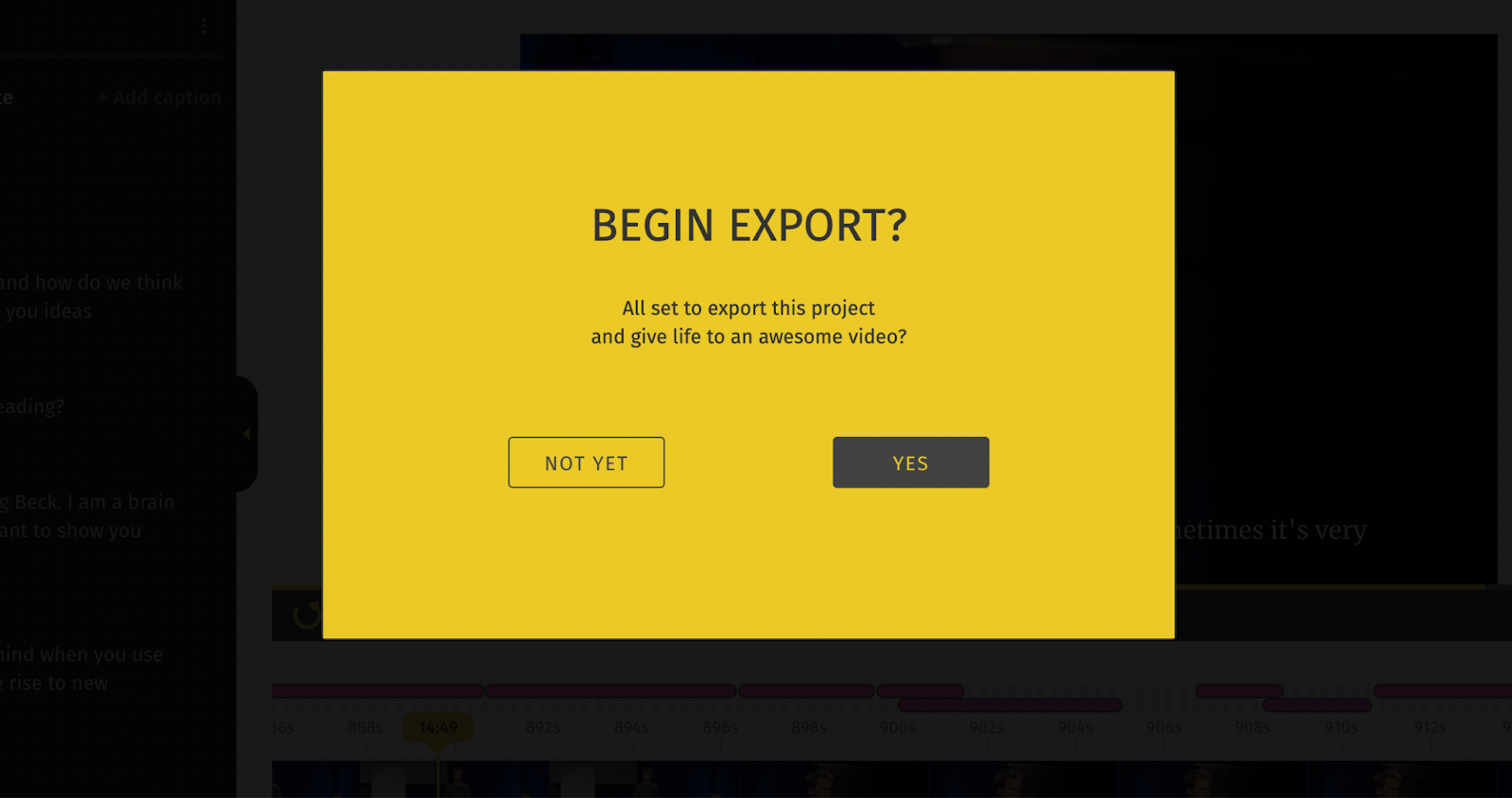 The.srt file format will be used for the generation of your transcription file. You may download the file by clicking the button that says "download subtitles" that is located at the very top of the video.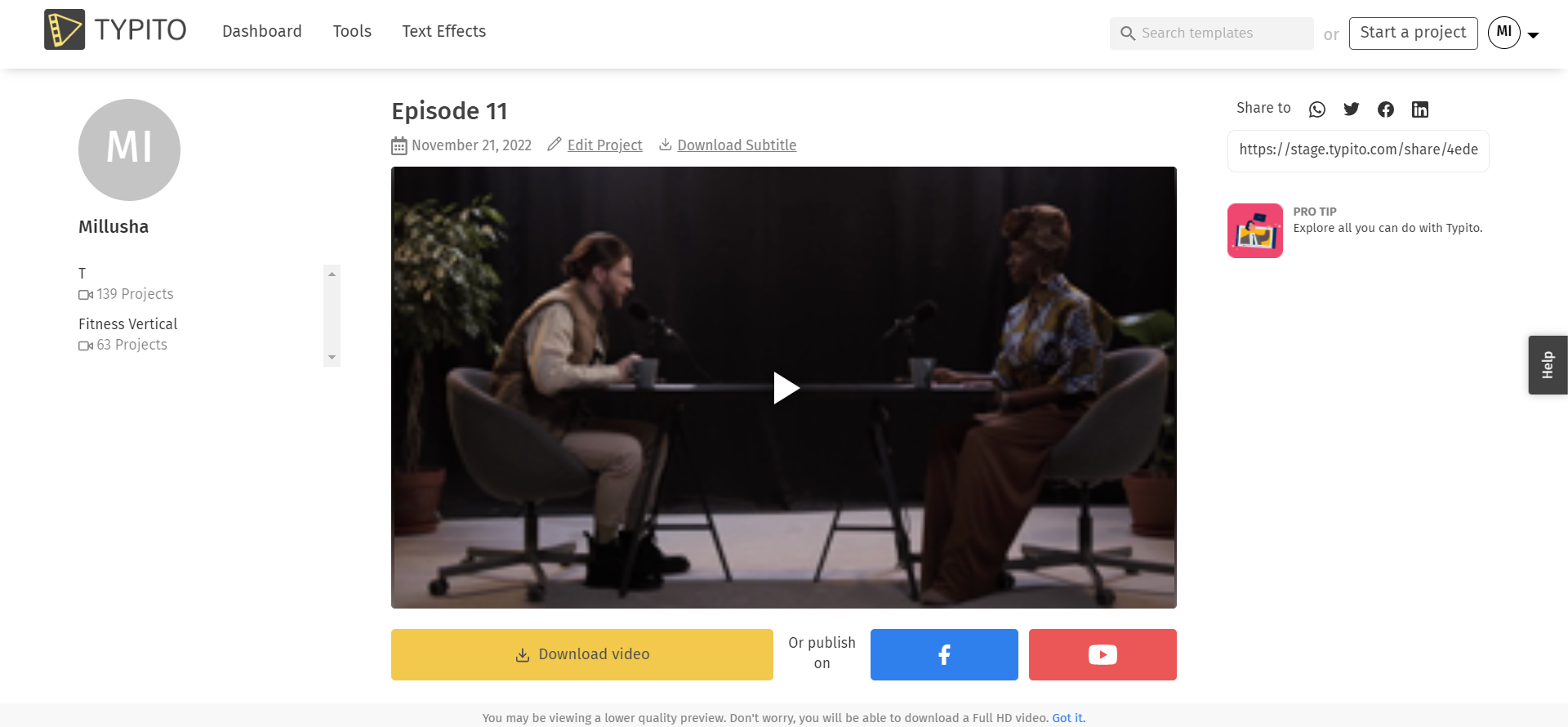 Any text editor, including the one built into the browser, is able to open the file that was downloaded once it has been successfully saved. You will also be able to see the beginning and ending timestamps of the file, in addition to the subtitles.
This is a sneak peek at what the downloaded srt file will look like:
---
How to Translate Podcast Videos
If you're looking for a quick way to translate your podcast videos - we can help. Typito's caption tool also allows auto-translation that's simple and quick.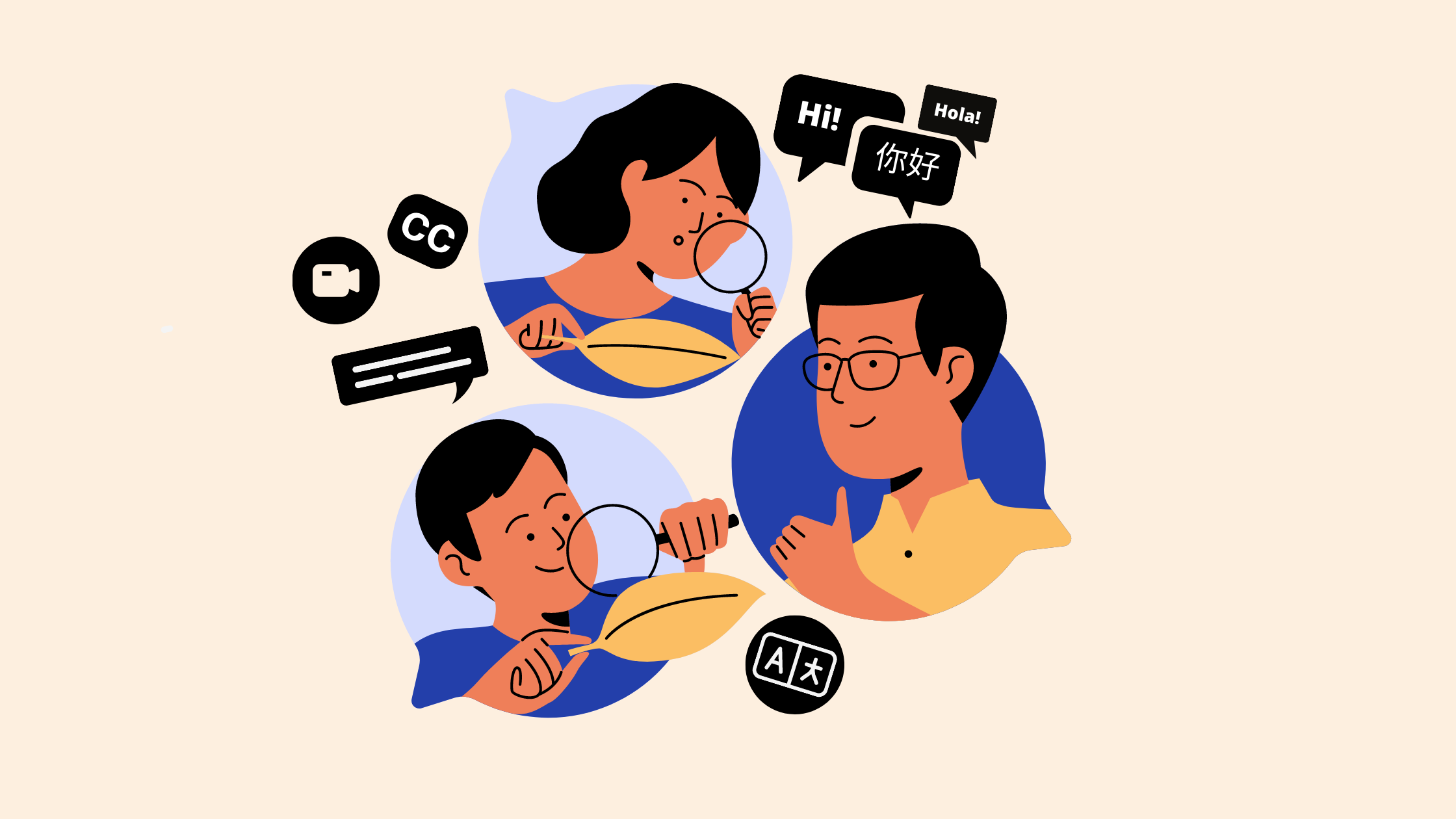 ---
Final Touch
To some smaller podcasters, the expense of translating and re-recording episodes may be overwhelming. In markets where podcast listening is growing, this opens up your content to a potentially massive new audience. Your podcasts that are available in other languages not only have the potential to attract millions of new listeners, but they also have the potential to help generate income and brand exposure owing to local distribution and monetization arrangements.
If the podcasts you make have been accurately transcribed and even translated into many languages, it shouldn't take more than a few minutes to look through the text and find the information you need. Businesses that want their engaging content to be heard by customers might benefit from this.
Your listeners, no matter where they are in the world, will appreciate having access to the full text of your episode. If you invest in a reliable transcription provider, your listeners will have no trouble following along with your show.
👉
Get set to strike it rich with a worldwide podcasting audience! Go to Typito right now to learn more about our wide range of services and how we can help you make sure your message gets across well in every language and every country! For more engaging and relevant content, feel free to visit the platform's YouTube channel and blog.