How Almabase used LinkedIn Video to Engage with their Customers during Covid-19
February 29, 2020 - It was a fine Saturday morning and Kalyan was sipping a hot cup of coffee while trying to wrap his head around this funny rule of having an extra day every 4 years. He is the CEO and co-founder of Almabase which was recently announced the most popular Alumni Management Software by G2. The curiosity around the concept of leap years didn't last long as he started reading a note from one of his customers about the challenges they were facing with alumni fundraising, thanks to the spread of a certain n-Coronavirus. Little did he know at that time that n-Coronavirus would later be popularly christened Covid-19 and it would impact the alumni relations and advancement teams in schools and colleges around the world.
In the following days, instead of panicking about converting new prospects and closing active sales in the pipeline, Kalyan and team decided to do just one thing: reach out to all of their customers and let them know that the entire Almabase team is with them during these troubling times. Kalyan decided to learn how their customers are being impacted by Covid-19 and go out of the way to help them. This choice of action wasn't entirely new and alien to the Almabase team - for they have been customer-centric since day one and kept customer needs above everything else.
As the team started addressing customer challenges in the light of Covid-19, they realized that many of their customers were finding it exceedingly tough to work from their homes. Most of them were not equipped with the resources to adjust to remote working. Adding to that was the anxiety that all of them were facing because of the Global pandemic the likes of which most of us have not had to encounter in our lives so far.
And that's how the #30DaysofAdvancementIdeas campaign was born
By mid of March, Kalyan decided that it was time to step up as a team and find more innovative ways to reach out to his customers and help them. The Almabase team brainstormed and eventually came up with a marketing strategy to help their prospects and customers power through common challenges during these testing times. The team decided to create one LinkedIn video per day for the next 30 days, highlighting advancement ideas and strategies to help their customers and prospects deal with the current crisis and keep engaging their alumni. Kalyan was a bit apprehensive about the audacious goal ahead. By then he had already published a few videos on LinkedIn but creating 30 videos in 30 days was like giving Gary Vaynerchuk a run for his money. YouTube creators dreamt of a 30 days run but seldom managed to do it because of the operational nightmare that it is.
Almabase started with the first and most crucial step: Content for the #30DaysofAdvancementIdeas campaign. Kalyan didn't waste any time and started gathering ideas from his team members on Slack - all of whom by now were working remotely. Because of their Covid-19 related outreach that was conducted in the previous weeks, the team was able to share many ideas with Kalyan about how their customers were coping with the pandemic.

The Slack comment that started it all.Within a week's effort, Kalyan was able to nail down the content calendar for the video challenge. He got all the ideas (with specifics on what each video should cover) captured in a Google Sheet: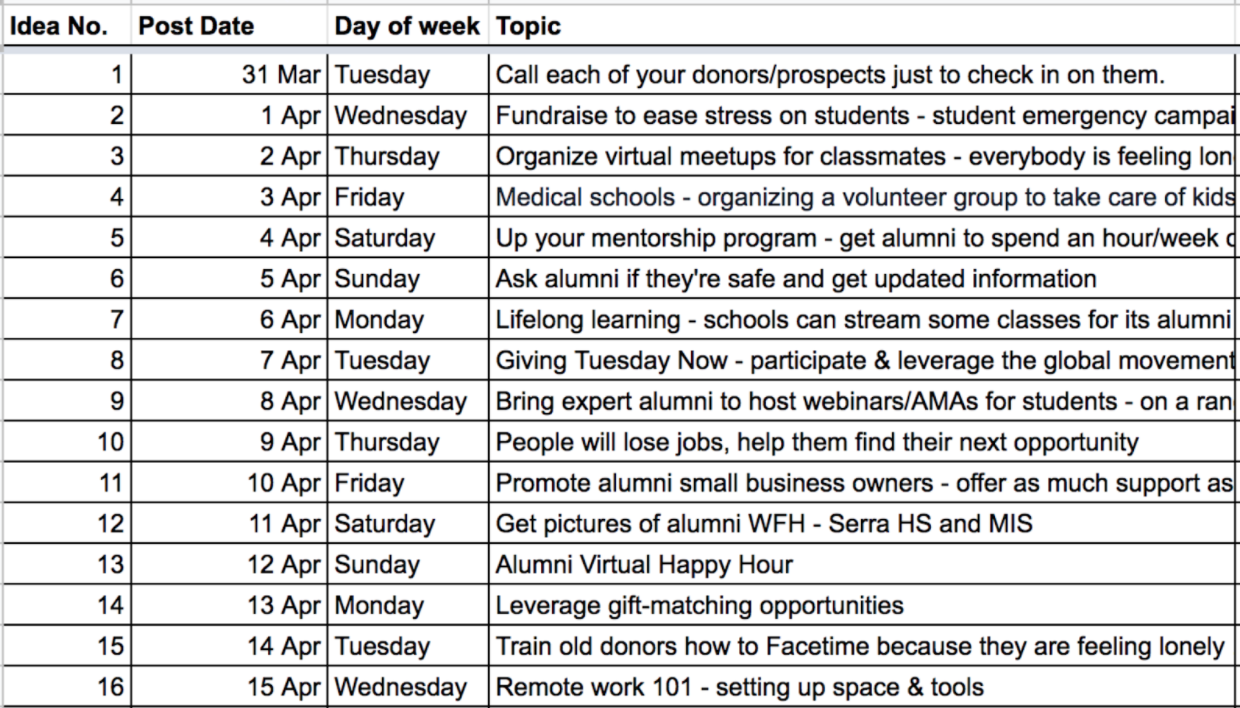 A glimpse of the Google sheet where the Almabase team organised ideas for the 30 videos.The team decided that the content for each topic would be drafted at least 2 days before the shoot giving ample time to research and review the final deliverable. Now that the content ideas were charted out and agreed upon, the team got to the next important part of the campaign: video design.
Video Design for #30DaysOfAdvancementIdeas
The Almabase team decided to choose the most popular video format on LinkedIn - that is the talking head video with a presenter facing the camera and addressing his / her audience. They also kept a few slots for experimenting with Zoom call video footages to learn how their audience received them. These were video recordings of conversations Kalyan had with other stakeholders and influencers in the advancement industry.
After considering the depth of content they wanted to cover for their audience (alumni relations and advancement teams), the team decided to design and publish videos with the following design attributes:
Video duration: 60 - 180 secs (time needed to address each topic with reasonable detail and usefulness) Video format: 16:9 (1920px x 1080px) Video style: talking head Video design components: captions, hashtag annotations and the logo
The team also decided that they should be able to shoot, edit, and publish the video - all of it in less than an hour per video. With these constraints, they scouted for video design products in the market to create videos for LinkedIn and chose to go ahead with Typito, thanks to the flexibility in video design and automatic on-brand captions feature.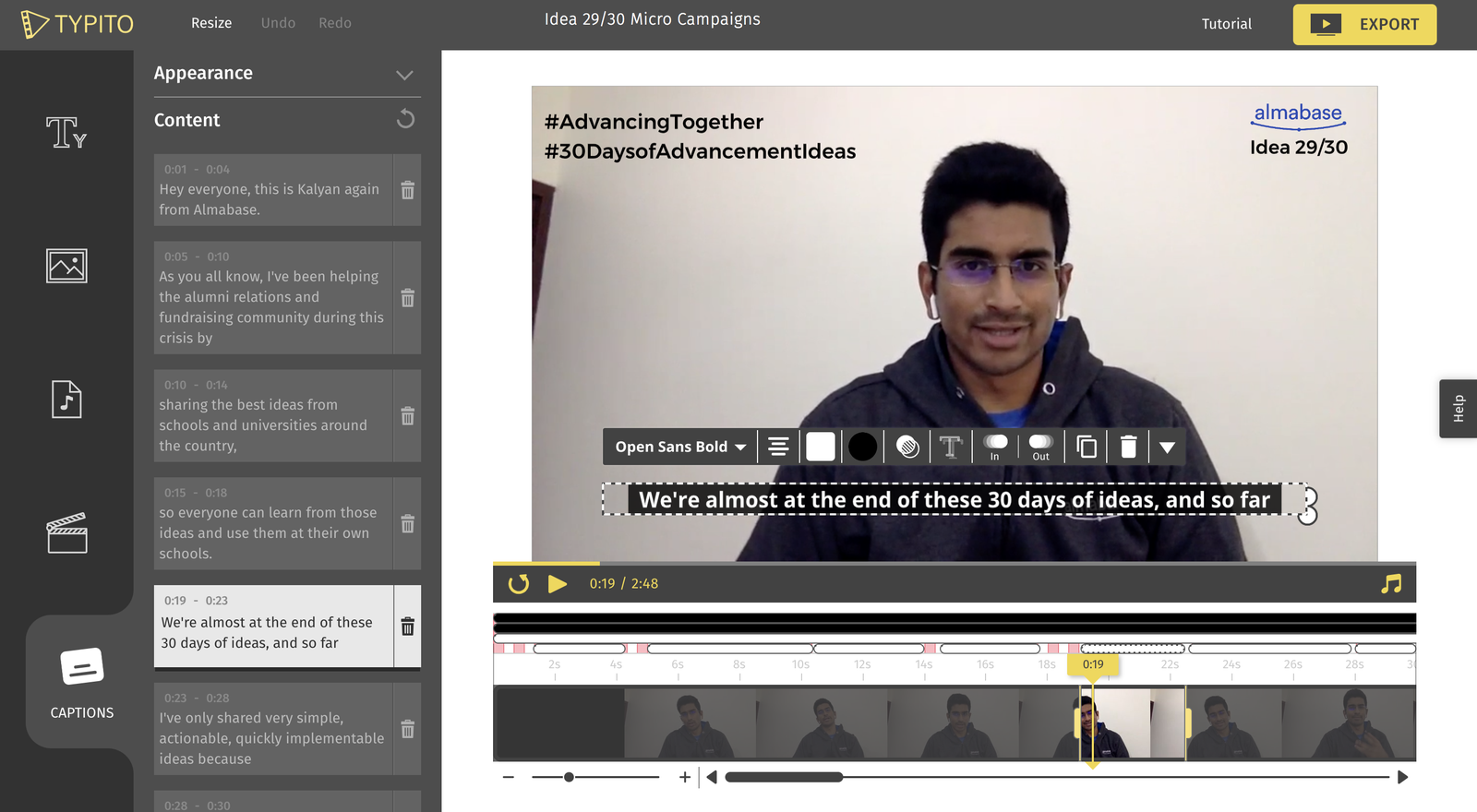 Almabase team designing video number 29 on Typito with automated captionsKalyan was also conscious of ensuring that the video be designed brand-compliant starting with the font they use (Open Sans Bold), the colors used for the overlays, presence of the logo, and even the hoodie / t-shirt that Kalyan sported in the videos talked about Almabase!
Verdict for the 30/30 LinkedIn Video Challenge
Let's now try to learn how the campaign performed for Almabase. The #30DaysofAdvancementIdeas campaign got more than 20K views till mid of May 2020 (45 days since starting the campaign). The campaign proved to be highly effective as it witnessed over 80% engagement from relevant advancement professionals. Beyond that, the videos also spurred a lot of LinkedIn conversations for Kalyan where he exchanged notes with users who found the videos informative and helpful. Right now the team is brainstorming on how to repurpose the gold-mine of videos and they've also started using them for sharing content with their customer-base via other channels like email.
When asked if there was something he'd do differently for the next video campaign, Kalyan pointed out that he'd like to experiment spacing out the video launches - maybe 15 videos in 30 days to see how that performs. But overall the Almabase team is excited about the opportunities to leverage LinkedIn video as a channel to engage with their audience in the future. As LinkedIn video continues to be a growing channel for thought leadership and subject matter expertise in business, there's certainly a thing or two other startups and companies can learn from Almabase's 30/30 LinkedIn video challenge.