A Complete Guide to Product Videos to Increase Shopify Sales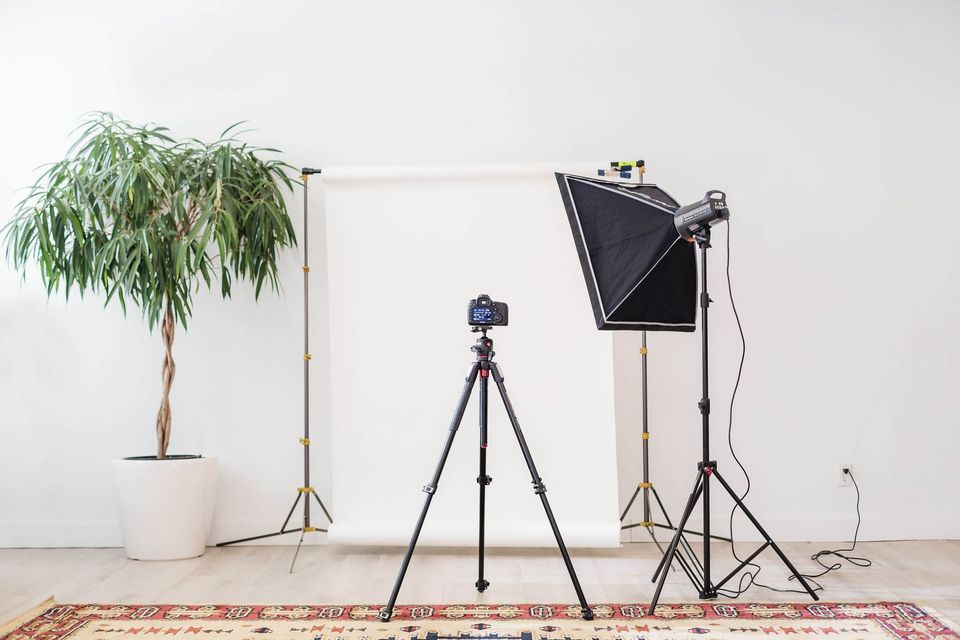 Did you know that one of the Best SEO-Practices in e-Commerce to increase SEO-Traffic is to include videos of your products?
As long as you tick the other items on your on-page SEO check-list like metadata descriptions etc., then making a product video is a surefire way to get more traffic.
Have you ever tried shopping for a specific item online just to get confused about whether the product has certain features you want? A majority of online stores only use product images to show shoppers what the product looks like, alongside putting in a function for global payments via FastSpring or other services.
But, are images enough for shoppers to get a comprehensive understanding of your product? Not really.
Why should you add product videos to e-commerce pages in 2021?
Video has proven to make a positive impact on every stage of the customer journey. Search engines have now evolved to include video results from Youtube. By adding eCommerce product videos, you can help your brand rank better on Google.
A website is 53 times more likely to reach the front page of Google if it includes video. Having rich media like video on product pages, as well as, on distribution platforms, increases your chances of easily acquiring new audiences looking for products that you offer.
Your eCommerce product videos will also help you attract and nurture interested shoppers better. Internet users prefer visual content to text because of how easy it is to digest.
Unlike text descriptions, a video on product pages would relay the message to the shopper better, using multiple senses to deliver a satisfying experience. How effective is this? - 81% of people are convinced to buy a product or service from watching a brand's video.
By adding videos on product pages, you can rank higher on search engines, engage your shoppers better, and give them a nudge to buy your product, increasing Shopify sales. The more visibility your products get, the more chances you have of increasing sales.
If you're planning on using video advertising, it's important to make sure that your eCommerce business is prepared. One way of preparing for the influx of sales is by ensuring you have some reliable international payment processing services on your website.
This will help customers from all around the world make secured payments for your products. eCommerce businesses need a safe and secure payment processing service to avoid credit card fraud. With technology like this, your business should be prepared for more sales. Of course, if you get more sales then you need to make sure that all your accounts are in order. Getting help from an e-commerce accounting company can be really beneficial for something like this.
Let's dive into what kinds of eCommerce product videos you can create, best practices, and how you can maximize this visual content piece.
Types of Product Videos For Your Shopify Store
As the store owner, you have an idea of what the product represents and how you want to portray it to your viewers.
Your eCommerce product videos should try and reflect this idea.  For example, if you prefer to be straightforward and quick, you would opt for a product-in-use video. If your product is complex to set up, then an installation video would be ideal. If your product is complex to use, a how-to video will clarify all doubts.
Simply put, there's no one-size-fits-all approach to product videos. Practices that might work for one store, may not necessarily work for you. So, feel free to test different formats, types, and storylines!
6 Types of eCommerce Product Videos with Examples
To give you a headstart, we curated a list of 6 different eCommerce product videos with examples for you to get inspired and make it a bit easier to decide on which type of Product Video might work wonders for your product.
1. Product-in-use Video
Every product has use and this simple video type can help you show what that is.
Fjällräven is a popular lifestyle brand. Their product videos show the different features of the product and how they see their shoppers using it. In the video below, they show their special edition bag, showing the compartments, the special additions, and what they are carrying within the bag.
Works best for: This video type is suitable for every kind of product really. If the way your product functions is unique and is what sets it apart, your best bet would be to create a product-in-use video to draw attention to this feature.
2. How-to Video
If your product needs to be explained, a how-to video can allow you to show your viewers exactly how to use the product to achieve its goal. Brands that usually create this type of video have a slightly complex product.
Unlike seeing the product in use, how-to videos show viewers the product in action. This will also allow you to build narratives that position your product as a solution to a posing problem.
You'll see that in the video below, the product is being used to accomplish a task- brewing coffee. While showing viewers how to brew the coffee, the brand uses its own product to show you how easy it is to use even if you're looking to make coffee while on a trip.
While this video is a great example of a How-to video, your product doesn't have to be complex for you to create a how-to video. See how Levis creates how-to videos to show shoppers how they can mix and match their style with one pair of Levis jeans. In this case, the how-to video is more fun, giving shoppers options on how to style a pair of jeans in different ways.
Works best for: Consider creating How-Tos videos if your product is not easy to use or a how-to guide can enhance the way your shoppers would use it.
3. Close-up video
If your product has multiple features or detailed work, you should create close-up videos of your products. With a detailed video, you can show your viewers why your product is special.
Peak Design shows the different compartments in their backpack with close-up shots, along with how users can customize it and how the backpack can be expanded. The brand chose to use close-up shots to highlight the features of their product.
Close-up videos are great even if your product has very few features, but is extensively detailed. Apple uses close-up shots to show the sleek design of the iPhone, iPad, and even their Airpods.
Works best for: If your product has multiple features or has specific details that make it stand out, consider including Close-up videos for your product.
4. Installation video
If you sell products like furniture, an installation video can help your shoppers understand how the product arrives for them and how it looks once it's assembled.
Ikea's installation video on how to put together their speakers is a good example to understand how to communicate visual instructions on how the product looks and works.
Works best for: Your product has a few installation parts or is not easy to set up.
5. Product story video
If you want to give your product personality, story videos are your answer! Show how a typical customer would use the product and how it fits into their daily life.
Away adds character to its collection of luggage. In their ad for the Weekender bag, they build a narrative about their duffel bag in their customer's life and how the bag travels with them during their short weekend getaways.
Besides building a narrative about the product within the shopper's lifestyle, story videos can also focus on the history of the product.
Clothing and accessories eCommerce businesses can easily create such how-to style guides. Levis is a genius with eCommerce video marketing. Their story video of one of their classic pairs of jeans, in particular, talks about the history of jeans and what makes it a part of popular culture.
Works best for: You want to tell a story about your product and how it caters to a lifestyle. Or, your product has a rich history.
6. Behind-the-scenes video
Behind-the-scenes videos show how the product comes to life and while it may not seem like a traditional product video, such videos are a great option if you think your product doesn't have enough features to boast about.
Chanel proves why their clothes are so expensive by going into the making of their collection, showing their tailors stitching, and emphasizing the effort it takes to make their collection look the best.
Works best for: Your product has a unique story about how it's made.
How to Create an eCommerce Product Video
Once you've figured out the kind of eCommerce product video you want to create, it's time to get started on video creation! Most merchants have little to no expertise in shooting and editing videos. But, with Typito, even non-videographers can create a well-edited video!
We're simplifying video creation with our drag-and-drop video editing tool. Here are 3 easy steps for you to create your videos for product pages:
Storyboard the video sequence
Your storyboard is a graphical representation of how your video will look, shot by shot. Set up your storyboard by defining your video with 3 sections- text, visuals, and intent.
Text: The text overlay added over the video.
Visuals: The background video that is used to display the product.
Intent: The purpose of the visual in the video.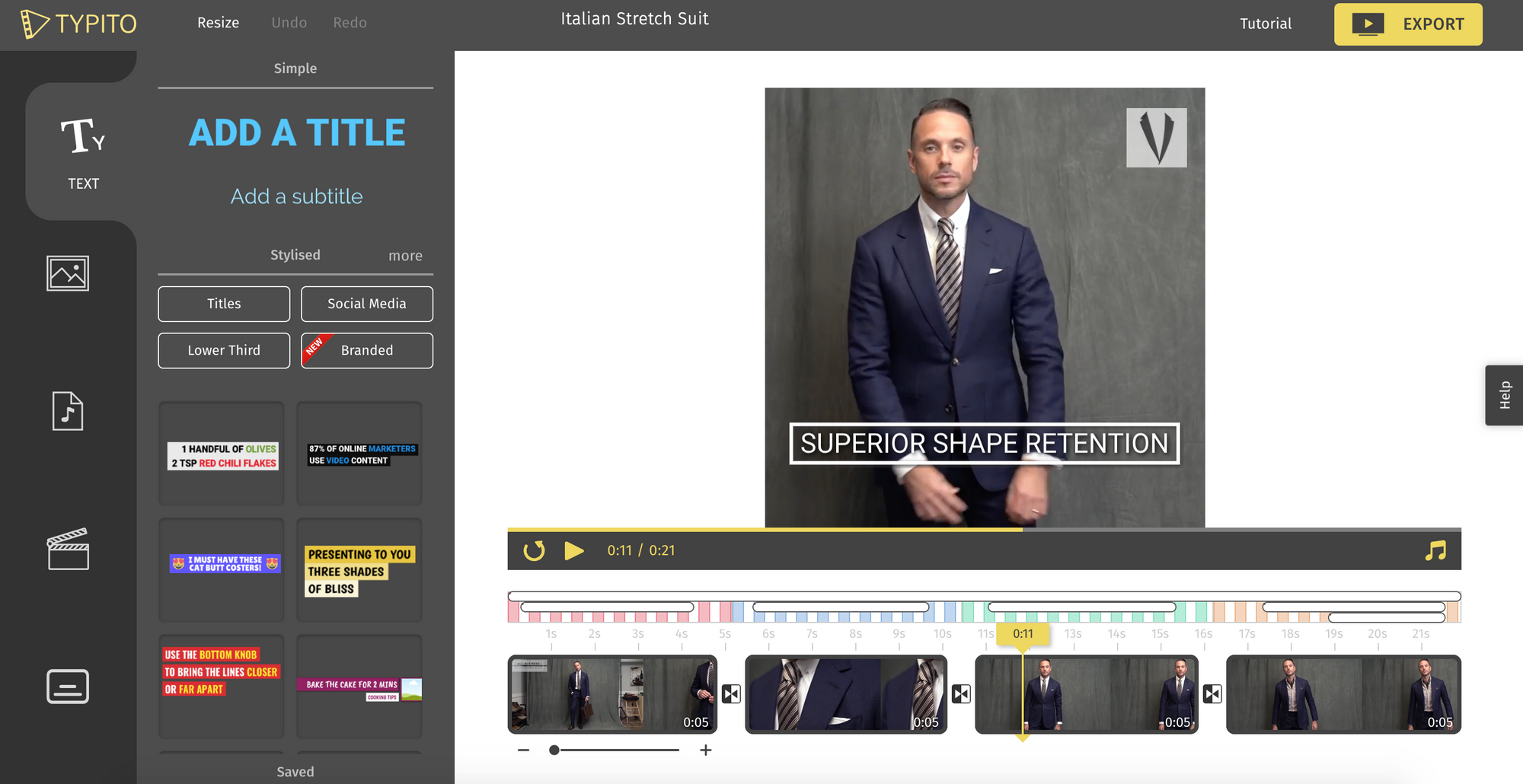 Shoot your visuals
You are now ready to shoot the visuals defined within your storyboard! Source a space to shoot the video, pick up requirements for your videos, and most importantly, keep your product ready. Since you have the list of visuals (footage) you need, shooting it would be quick.
If you have a DSLR in hand and know how to use it, go ahead and get high-resolution visuals. However, DSLRs are not a mandatory requirement. You can instead use a smartphone to capture your visuals and still be able to put together a high-quality video.
Put the video together on Typito
Use Typito to edit the video, putting the visuals together, and adding text and audio to finally end up with an engaging eCommerce product video.
On Typito, you can drag and place the visuals in a sequence, crop them based on your preference, add text with motion animation, and insert audio. Here's how your project file would look on the video editor: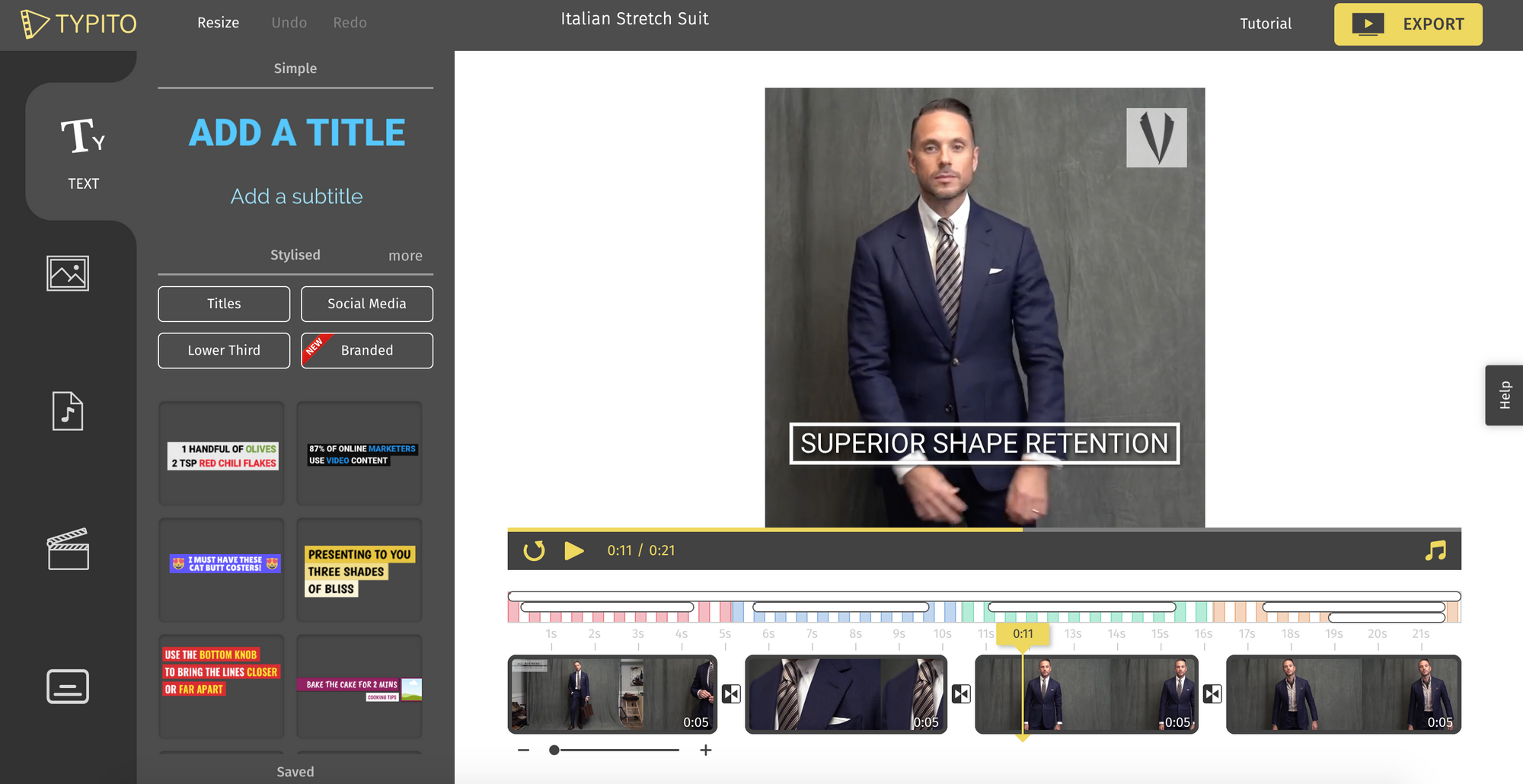 When editing your video, ensure your design is aligned to your own branding. Keep these elements in mind when putting your product video together:
Font: Use the font you've picked for your Shopify store webpages.
Colour: Stick black or white for neutrality.
Brand identity: Add your logo on the bottom right. This ensures shoppers can identify your store without the logo distracting them from the product.
Audio: Pick up copyright-free songs from open libraries like Youtube audio library.
Your video is ready to go live!
6 Tips to Create a Product Video that Converts
Creating a product video is as easy as 3 steps but creating a product video that converts may be a little more time-consuming.
Since these videos will be used to attract more shoppers, it's important that you put more thought into the video, its goal, and the elements that make it worth a watch. Here are 6 tips to help you create eCommerce product videos that convert:
Do the research
Before you create the product video or even start working on a structure for the video, you need to first know what it would solve for your shoppers. What questions do your shoppers ask about your product that the video would be able to clear? Understand how the video will help shoppers by conducting a survey.
You can talk to your existing customers and ask them what they would have liked to know about the product before buying it. Conducting this survey will help you create product videos that will convert.
If you need help understanding customer queries you can visit forums to understand problems that shoppers who buy products like yours have. Forums are also a resourceful place to dig into what your competitors are doing to learn what works well for them.
Understand the goal
If you aren't sure how to create eCommerce product videos, one way to give yourself inspiration is to ask yourself two questions:
Who is your target audience?
What makes this product special to your target audience?
What would shoppers want to see about the product to make them buy it?
The answers to these questions can help you figure out how to shoot the product and the kind of shots you will need to create an enticing eCommerce product video.
You may find that people like certain features about the product or there are USPs about your product that your competitors don't have. Leverage these highlights within the video to create eCommerce product videos that convert the shopper easily.
Short is sweet
People barely watch 5-minute videos online these days. Your product videos should take very little time to watch and comprehend.
The ideal length of product videos would be 1 -2 minutes long. You'll want to pack as much information into the video within those few minutes.
Show the product in use
Video content seems like a time-consuming and expensive project. As a business owner, you may find it to be too much of a hassle to create eCommerce project videos. Instead, here's how you can simplify how you create these videos- show the product in action.
It doesn't have to be a highly choreographed video of your product in use. Your product video just needs to show what the shopper can do with it- it's special features and why people love the product. Here's how simple it can be:
You can use text to highlight the different features as the product user in the video is using the feature.
You can even add some creativity to your video by making one of your own customers model the product's use. For instance, if you sell durable travel bags, you can show the product in different environments to prove its versatility.
Be careful of the text on video
The text you add to your product video serves to create more context as the viewer watches the video. For instance, a video about travel pants can use text to show what each pocket is designed for.
By adding copy at relevant parts of the video, you can convey your message to your viewers- whether you want to let them know about the multiple features it has, its USP, or its benefits. Ensure your copy is easy to read, using fonts and colors that your brand commonly uses, and in either white or black.
Pick video dimensions and stick to it
Some people prefer to create landscape videos to make them compatible with video players. In the age of Instagram, more people are opting for vertical videos because of the clarity it provides, and because of how well vertical videos fit the phone screen.
How you want to size your product videos is up to your preference and how you'll be using it. Ensure that all your eCommerce product videos are sized the same way, maintaining consistency.
5 Different Platforms to Distribute Your Ecommerce Product Videos
Videos are a versatile format for eCommerce stores, especially new businesses who are juggling Shopify store optimization with marketing and growth. The eCommerce product video that you create can be used in multiple places to help you reach new audiences.
Here are 5 different types of platforms where you can distribute your eCommerce product videos:
Product pages
Adding a video on product pages is a priority! With video, shoppers can get more context on the product they are interested in, learn about its features, and engage with your brand for longer.
Product pages are your make-or-break point to turn your qualifying leads into customers. You can follow the steps of popular fashion stores and add videos within your image gallery.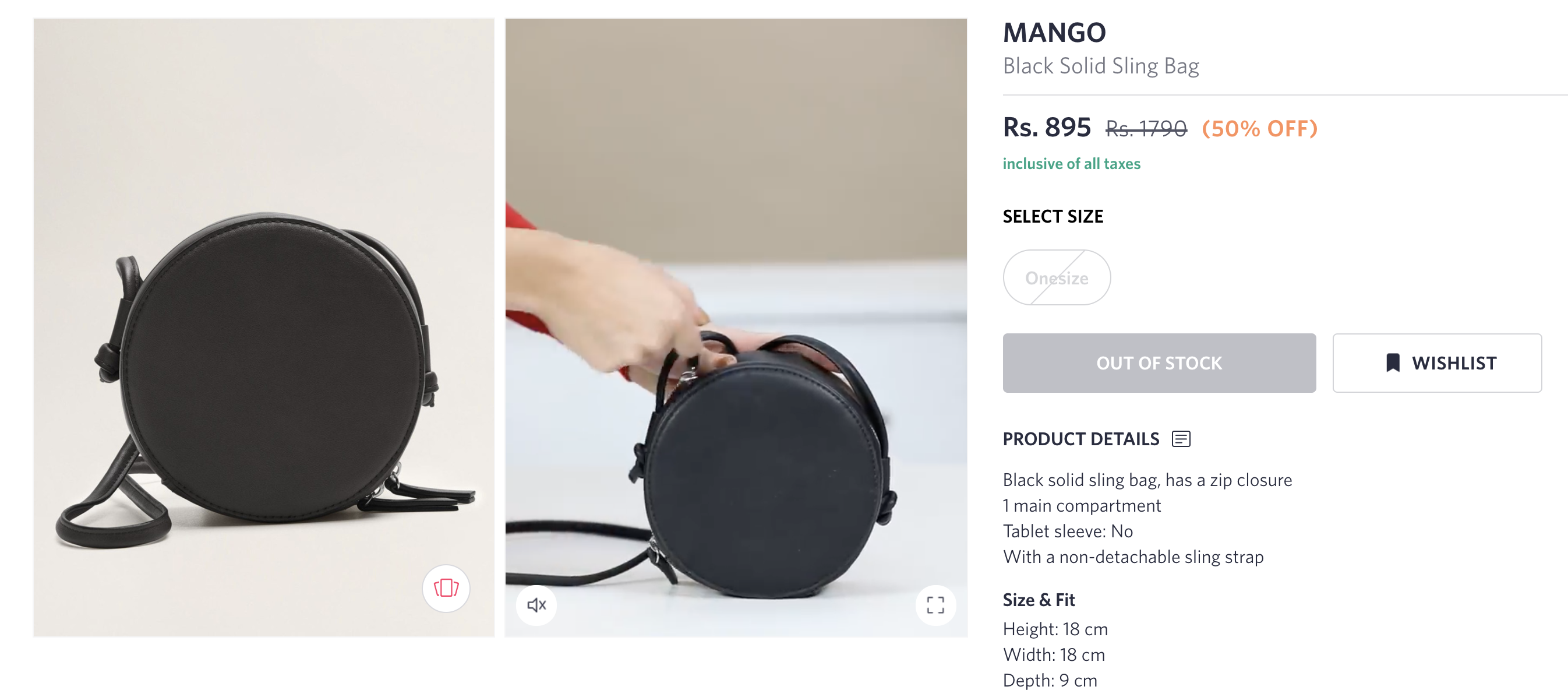 Ensure that your videos on product pages are optimized for mobile. The video player must not wrap over the text on mobile nor extend outside the screen. Here's how Myntra, a top Indian fashion app frames videos on their product pages on mobile.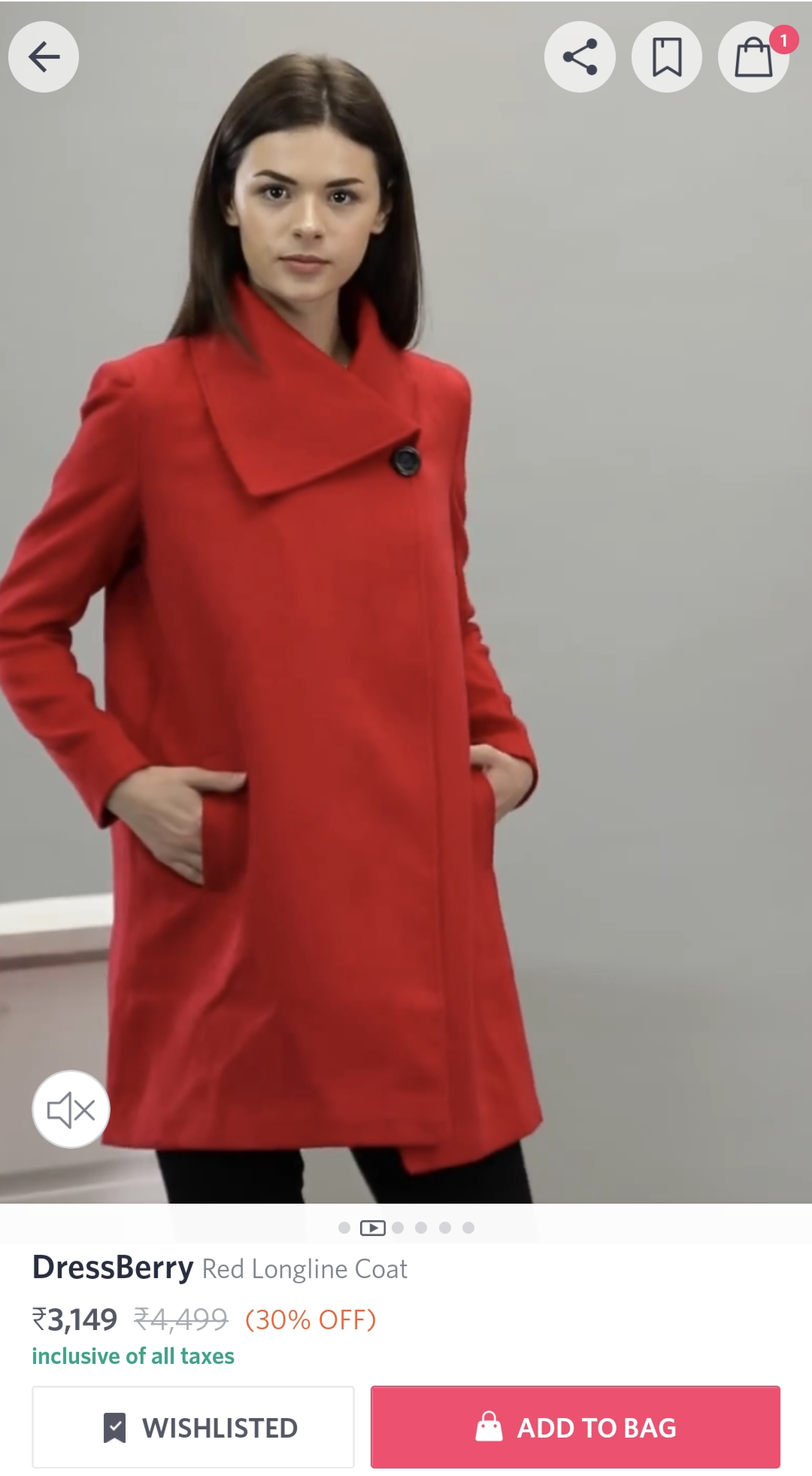 Product Image Optimized for Mobile
YouTube
Contrary to popular belief, Youtube is more than just for entertainment. People use Youtube as a search engine, finding answers, instructions, and even new products to buy.
90 percent of people say they discover new brands or products on YouTube. By listing your eCommerce product videos on Youtube, you can broaden your reach, and target people who are looking for products that you sell.
Having a brand presence on Youtube can also help you garner an audience which is useful if you create other kinds of videos for your brand marketing.
One eCommerce brand that successfully promotes itself on YouTube is Everlane. With 2.9K subscribers and fun videos about how to style their products, they consistently engage their shoppers and show their product in use.
When the brand first started on YouTube, they were only posting product videos, but over time they have expanded their video context approach incredibly well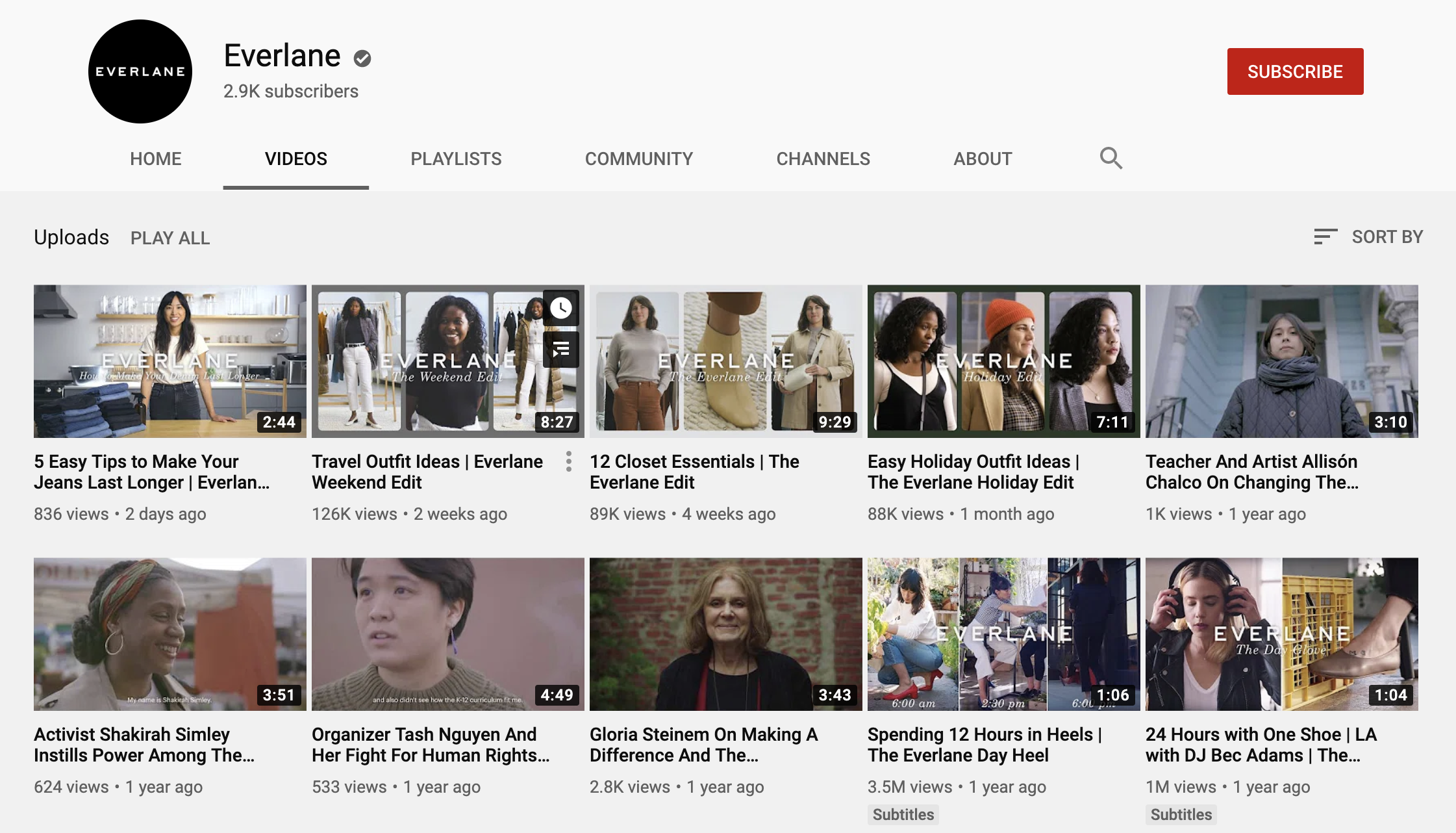 Source: Everlane Youtube Channel
Social media
Most social media platforms are more compatible with video than with textual content. Facebook videos receive about 135% more organic traffic and engagement than images. Since Facebook auto-plays videos, users are compelled to stop and watch the video.
Even on Instagram, video posts receive 38% more engagement than image posts. This is because Instagram's Discover page shows videos related to the user's interest and continues to play video after video.
If you aren't sharing your product videos on social media, you're missing out on an opportunity to get engaged with an expanded audience. Share snippets of your product video or even turn parts of your video into a GIFto make your brand page more interactive.
View this post on Instagram
A video on what Claire can carry. Everyday essentials under one secure zipper.
Email
Let's face it- newsletters are seeing lower clickthrough rates these days. The common strategy of using conversational text within newsletters with a bunch of aesthetic images just isn't cutting it.
If you're facing this issue, you may want to transform your newsletter to just be visuals. Adding video to your emails can increase click rates by 300%.
Make the most of the eCommerce product video that you've created by using it within a newsletter to highlight your product. You can even go back to your video editor and collate different videos together to create a collection for your newsletter.
Advertisements
Video ads are dominating the paid advertising market. Youtube, especially, has users viewing video ads for longer than 30 seconds. You can increase your reach by setting up advertising efforts on Youtube. Use your eCommerce product videos as assets. Youtube will show your advertisements to users who have previously shown interest in products like yours.
However, if you are hesitant to set up ads on Youtube, social media is the perfect way to start. Facebook and Instagram have never seen higher engagement rates. 64% of consumers have purchased a product after seeing a Facebook video ad.
Leverage user attention by running advertisements with your product videos. This way, you can nudge audiences to follow your brand's social profiles or even visit your store.
Start Creating Product Videos With Typito
Videos are a powerful medium of communication and it is proven that a well-created video on a landing page can increase conversions by more than 80%. But, creating a video doesn't have to be tough. Once you have your footage in place, you can simplify your editing process with tools like Typito.
With this smart video drag-and-drop tool, you can add text, music, and effects to your footage and without the hassle of a complicated video editing tool. Add videos to your product page on Shopify and grab shoppers' attention easily!